Two men hold hands around Moscow; the reaction they face shows the hatred faced by LGBT community in Russia
Seeing two men holding hands in the park, one man cried, 'Hey gays there's too much of you nowadays'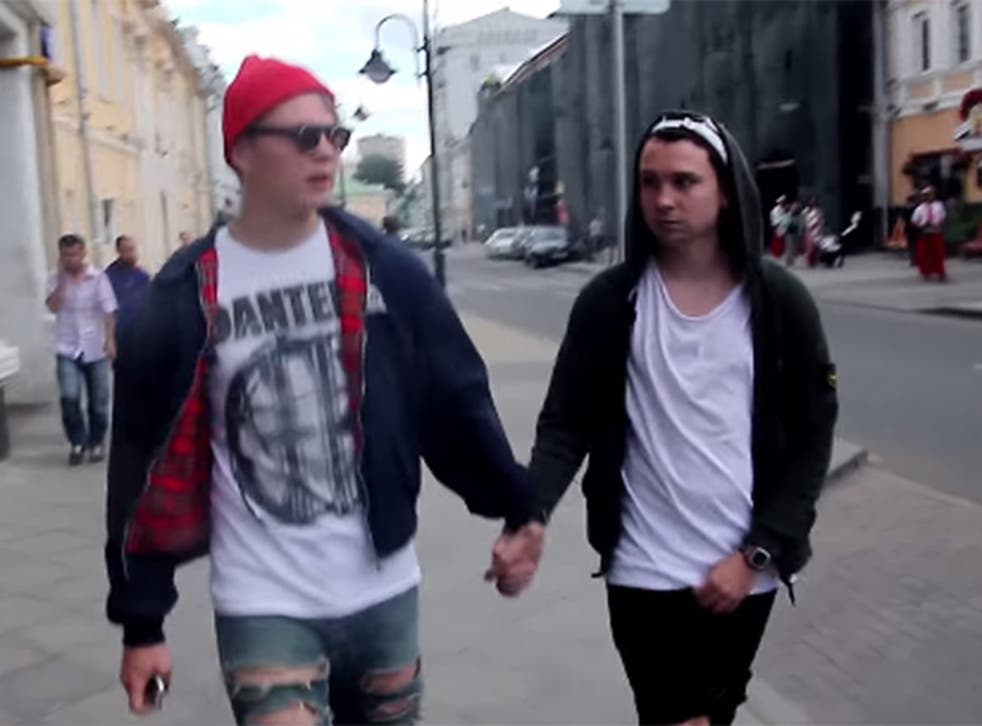 In America, same-sex marriage is legal across all 50 states. In Russia, a gay couple cannot walk down the street in the nation's capital without being heckled and even facing physical abuse.
That's the message that comes across powerfully from a new social experiment video by ChebuRussiaTV. The two male presenters explain that gay marriage has become a hot topic across the world after the US Supreme Court struck down same-sex marriage bans nationwide, leading to huge celebrations in the USA, with companies like Facebook and YouTube joining in to embrace the LGBT rights movement and the rainbow flag.
Thus, the two Russian men in the video want to "check how people in Moscow, Russia, will react to a gay couple," showing that while the LGBT community achieved a huge, historic victory in the USA, in other countries there is still a long way to go.
77 nations still ban same-sex marriage and in Russia, while homosexuality is not illegal, President Vladimir Putin introduced a law in 2013 that bans symbols which promote "non-traditional" values.
ChebuRussianTV placed a hidden camera in the backpack of someone walking a few steps in front of two men holding hands, and filmed the pair as they walked through the streets of Moscow. A similar "secret filming" technique was used in 2014 in the video "10 Hours of Walking in NYC as a Woman" to raise awareness about street harassment.
The video shows the couple experiencing a range of unpleasant reactions from the Moscow public. Many stare, others laugh and point. One man says to his friend, "Look at those gays going by." One of the men holding hands says, "I'm not really surprised he said that, after all the reactions we are getting."
Other phrases heard include, "Hey gays there's too much of you nowadays" and "Leave Russia."
Same-sex marriage legalised across the US

Show all 15
Some reactions are frightening. One man deliberately barges into one of the pair and then attempts to put the blame on him. "What's your f***ing problem? Come over here you gay!" The pair walk away, visibly upset. In a separate occasion, another man does exactly the same thing, only this time barging right in between the pair and then squaring up to one of them, not saying anything, just staring.
The video emerged just days after Vladimir Putin's United Russia Party hit back against the recent successes of the gay rights movement with a new "straight" flag. The banner celebrates the traditional, nuclear Russian family. The flag depicts two parents - a woman and a man - holding hands with three children.
Andrei Lisovenko, deputy head of the United Russia branch in Moscow, told the Izvestia newspaper, "This is our response to same-sex marriage, to this mockery of the concept of the family.
Register for free to continue reading
Registration is a free and easy way to support our truly independent journalism
By registering, you will also enjoy limited access to Premium articles, exclusive newsletters, commenting, and virtual events with our leading journalists
Already have an account? sign in