Uber protests in Paris: Government outlaws online service which connects passengers with unlicensed drivers after taxi demonstrations
The banning is already illegal in France, however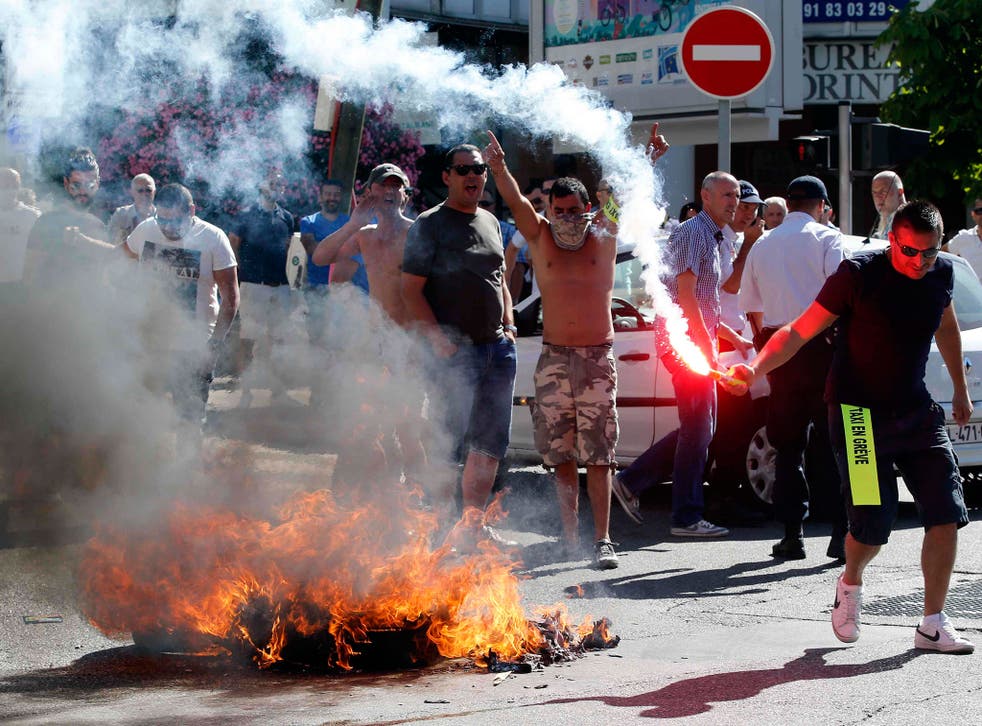 Even for a city used to disruption by strikes, taxi protests in Paris set new standards of chaos, random violence plus political and moral confusion.
After cabbies overturned cars and blocked the Paris ring road with burning tyres, the government announced it was giving protesters part of what they wanted. An Uber service, which connects would-be passengers with unlicensed, private drivers, is to be banned by edict – even though it already illegal in France.
The US singer Courtney Love was caught up in violent scenes as taxi drivers blockaded the airport and allegedly attacked suspected Uber drivers. Love, 50, tweeted: "They've ambushed our car and are holding our driver hostage. They're beating the cars with metal bats. This is France? I'm safer in Baghdad."
In pictures: Uber protests in France

Show all 7
Then in another message, she said: "François Hollande where are the f****** police??? Is it legal for your people to attack visitors? Get your ass to the airport."
Earlier, riot police used tear gas and baton charges to disperse taxi drivers who blocked the Paris ring road with burning tyres. Suspected Uber cars and private-hire limousines were pelted with missiles or overturned. One driver was taken to hospital after being run over. Two taxi drivers were arrested.
Two days after protests by ferry workers had blocked the port of Calais and the Channel Tunnel, the taxi protests brought disastrous new negative publicity to the world's favourite tourist destination. Although politicians of left and right condemned the violence – there were also protests in other cities across France, including Marseille – most supported the taxi drivers' cause.
The interior minister, Bernard Cazeneuve, called for calm. "We are in a state of law," he said. "A state of law is not a state of violence."
He went on to announce a ban on UberPop, one of the services operated by the American company, Uber, which provides cheap rides with unlicensed, untrained drivers using their own cars. French courts have already declared several times that this service is illegal, although Uber has challenged this in the courts.
The government has said that nearly 500 legal cases have been filed across the country involving complaints about UberPop, the cheapest of Uber's services.
The taxi drivers – who can pay up to €240,000 (£170,000) for a Paris private hire licence – say that Uber drivers are ignoring court judgments and that the police are not doing enough to stop them operating. They want the government to jam the phone app – which is technically impossible.
One taxi driver, Malia, 50, said: "Taxi drivers have big mouths but we are not usually violent. We have to feed our families and we have big loans [for licences] to pay off. We feel trapped."
Uber, which claims 400,000 customers a month in France, said it is merely providing an alternative to the "poor" services offered by traditional taxis.
"There are people who are willing to do anything to stop any competition," said Thomas Meister, an Uber spokesman. "We are only the symptom of a badly organised market."
One of the few beneficiaries of the chaos was Uber. Its site announced "very heavy demand" all day.
Register for free to continue reading
Registration is a free and easy way to support our truly independent journalism
By registering, you will also enjoy limited access to Premium articles, exclusive newsletters, commenting, and virtual events with our leading journalists
Already have an account? sign in
Register for free to continue reading
Registration is a free and easy way to support our truly independent journalism
By registering, you will also enjoy limited access to Premium articles, exclusive newsletters, commenting, and virtual events with our leading journalists
Already have an account? sign in
Join our new commenting forum
Join thought-provoking conversations, follow other Independent readers and see their replies