Uber row in France: President Hollande condemns low-cost firm after violent taxi driver protests in Paris
President calls the firm 'unfair competition' as roads blockaded and tyres burned in day long protest
Caroline Mortimer
Friday 26 June 2015 11:53 Comments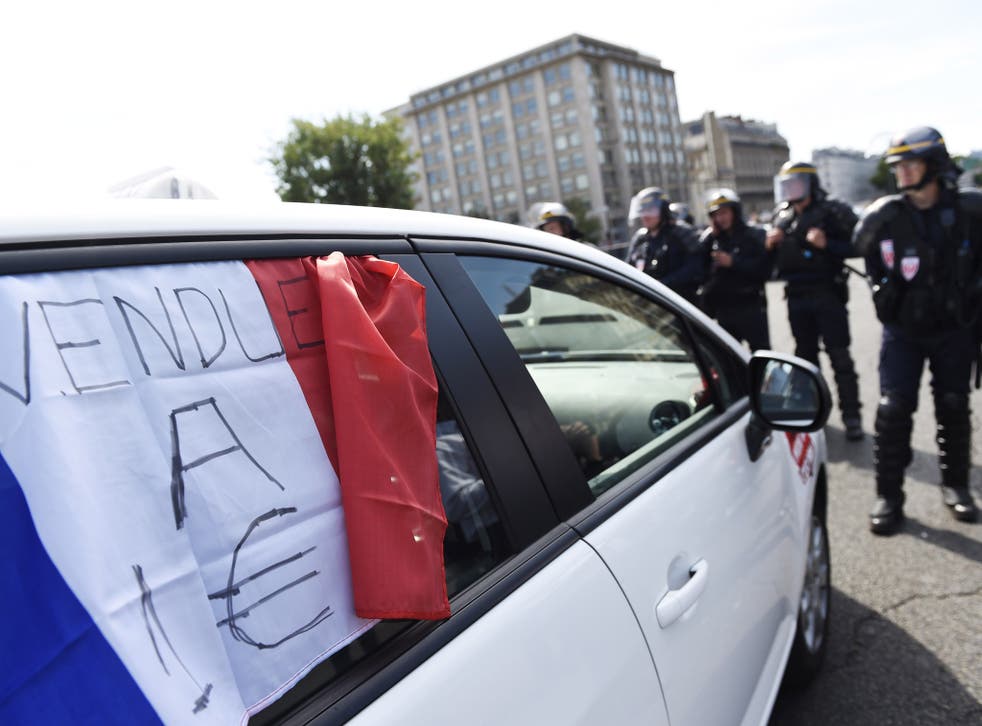 French president Francois Hollande has waded into the row over controversial taxi service after violent protests break out across the country.
Speaking at the EU summit in Brussels on Friday, he called for Uber's "dissolution" and the seizure of its "illegal"cars.
He said the company was an example of "unfair competition" and said: ""Non-compliance with tax and competition rules is illegal. UberPop should be dissolved and branded illegal and cars should be seized", according to the FT.
the day long protest in Paris yesterday
There were reports by the BBC of cars overturned with windows smashed in by baseball bats.
Hollande also condemned the rioting taxi drivers saying their actions were a stain on France and "inexcusable".
The country's interior minister Bernard Cazeneuve announced a ban on the company's online server, UberPOP, which connects drivers with customers and called on prosecutors and police to do more to crack down on the service.
The service was officially banned back in January but has proved difficult to enforce and the law has been frequently flouted according to the AFP news agency.
In pictures: Uber protests in France

Show all 7
The minister denounced Uber for failing to respect French law and said the service was "illegal".
He said: "The government will never accept the law of the jungle. It must, therefore, be closed."
He has called a meeting with anti-fraud officials for Monday to enforce the ban.
Singer Courtney Love was caught up in the chaos and tweeted:
Taxi drivers, who pay €240,000 (£170,000) for a Paris private hire licence, have lost between 30 and 40 per cent of their income over the past two years, Abdelkader Morghad, a representative of the FTI taxi union, told Bloomberg.
He said: "Many taxis drivers are infuriated. We're demanding that the Thevenoud law, which clearly forbids unlicensed drivers, be implemented. There's a lack of political will to do it."
But a spokesman for Uber, Thomas Meister, said: ""There are people who are willing to do anything to stop any competition. We are only the symptom of a badly organised market."
Additional reporting by the Associated Press
Register for free to continue reading
Registration is a free and easy way to support our truly independent journalism
By registering, you will also enjoy limited access to Premium articles, exclusive newsletters, commenting, and virtual events with our leading journalists
Already have an account? sign in
Join our new commenting forum
Join thought-provoking conversations, follow other Independent readers and see their replies