'So much chaos': Britons scramble to leave Ukraine as Russian invasion looms
Paperwork leaves some Brits stuck in Kiev after UK government urges them to leave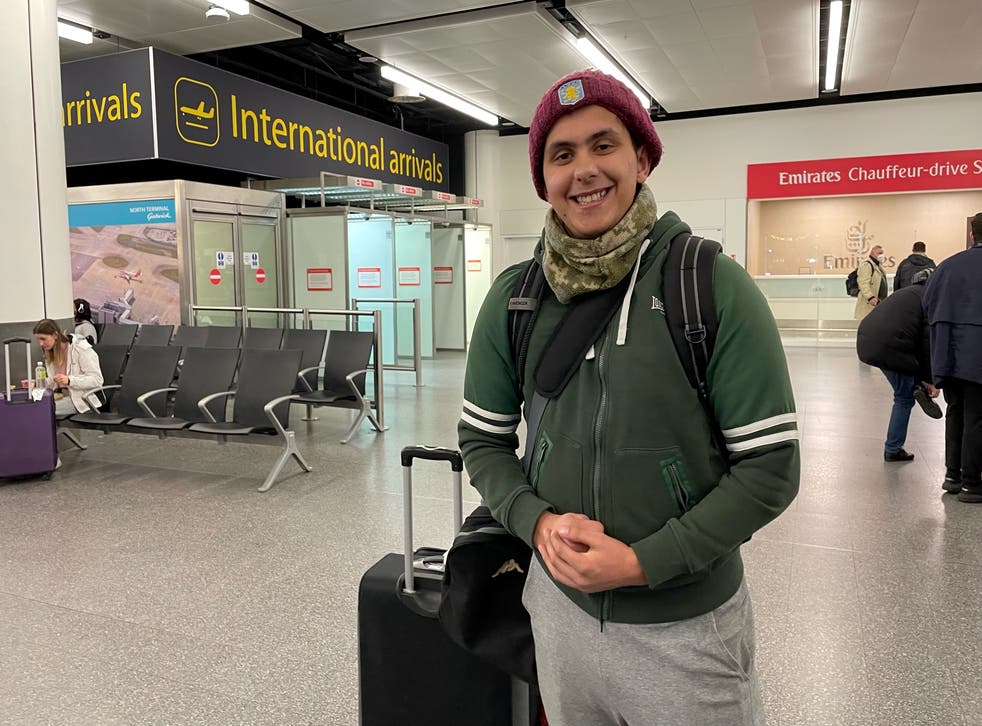 Britons have expressed fear over possible chaos at the border while trying to get their documents in check as they scramble to leave Ukraine amid warnings that a Russian invasion could be imminent.
British nationals in the country are being used to "leave now while commercial means are still available".
While some have vowed to stay, others are now trying to work out how to get to the UK as quickly as possible.
Ben Garratt and his wife Alice, who live in north London, have been in Ukraine since December. Their baby was born in the country under its "very different surrogacy laws", which allow for a swifter IVF and surrogacy process.
They are now waiting for their son's emergency travel documents to come through before being able to leave the country in line with the UK government's advice.
"We're essentially stuck in Ukraine until we can get the required British paperwork to allow our son, [who was] born here, to leave," Mr Garratt said.
The 40-year-old is due to have an interview with the passport office in Kiev next week to provide proof of his son's British citizenship. "They want to do a two-hour phone interview with me, but that's not until Wednesday," he said.
Stuart McKenzie, originally from Scotland but now living in Ukraine, said he was worried about what would happen as potentially thousands rush to leave around the same time.
"With young children in the country, I've got to take their safety as a priority, so we're definitely looking at how to get them out as soon as possible," he told BBC Breakfast on Saturday.
"So many people are trying to leave at the same time and there won't be flights, the roads will be blocked, are you going to be able to get fuel for your car? Is there going to be cash in the banking machines?"
The businessman added: "There could be so many things happening, so much chaos happening."
Other Britons in Ukraine posted on social media saying they would stay in the country as it faced the threat of an attack by Russia. Some said it was not easy to leave immediately because of family ties.
British journalist, Tim White, who is currently stuck in Ukraine's capital, followed the UK government's advice to leave the country and booked onto a flight with Dutch airline KLM due to leave Kyiv on Sunday. Hours later, however, the service was cancelled.
He has since been able to reserve a seat on another flight with a separate airline, but added in a Tweet: "If that falls through I'll be driving or train and hoping borders stay open!"
In Britain, passengers arriving at Gatwick Airport on a direct flight from the Ukrainian capital on Saturday suggested there were mixed signals about the level of concern in the country about the threat of war.
Haider Ali, 21, from Birmingham said his university, the Dnipro Medical Institute in Dnipro, central Ukraine, had advised students to "get out as soon as you can".
He said: "I'd been in two minds about coming back because of the advice coming out by the British Embassy, about the amber alert, red alert.
"A lot of people, a lot of students were waiting for the red alert, and it happened yesterday.
"Once that happened, everybody booked their tickets and left as soon as possible."
He said around half the students at the university are British.
Mr Ali said: "I think the main thing that people were getting worried about as well is, because it's along the Dnieper River, a lot of the people were saying, if Putin wants to suffocate Kyiv, push his warships along that path as well."
The student said he had paid £210 for his one-way flight ticket and thought prices would get much more expensive over the next three days as more people rush out of the country.
He said he was hoping to return to Ukraine by June to continue his studies.
Mr Ali said Ukrainians' opinions were split on the likelihood of a Russian incursion, but that the perception that Western media were blowing the crisis out of proportion was changing.
He said: "The Ukrainians are generally very laissez-faire but the last couple of days they've started to get worried.
"And when that happens, alarm bells should be ringing."
Another British citizen arriving at Gatwick on the same plane said Ukrainians did not seem worried.
Paul Meakin, 51, from Poole in Dorset, his Ukrainian-British wife Svetlana, 36, and their daughter, who had spent a week in Ukraine to attend a funeral, said most passengers on their flight had been Ukrainian, not British.
Asked about people's attitudes there, the IT company chief said: "You wouldn't even know. They don't care, that's what came across."
Pasha Honcharuk, 24, from Kyiv, who said he was "not too worried" and that he would have stayed home if it were not for work in the UK.
He said: "All news channels tell that there will be war but I don't think so."
Additional reporting by Press Association
Register for free to continue reading
Registration is a free and easy way to support our truly independent journalism
By registering, you will also enjoy limited access to Premium articles, exclusive newsletters, commenting, and virtual events with our leading journalists
Already have an account? sign in
Register for free to continue reading
Registration is a free and easy way to support our truly independent journalism
By registering, you will also enjoy limited access to Premium articles, exclusive newsletters, commenting, and virtual events with our leading journalists
Already have an account? sign in
Join our new commenting forum
Join thought-provoking conversations, follow other Independent readers and see their replies