UK Government in discreet move to boost relations with Russia
British officials hope to build bridges with the Kremlin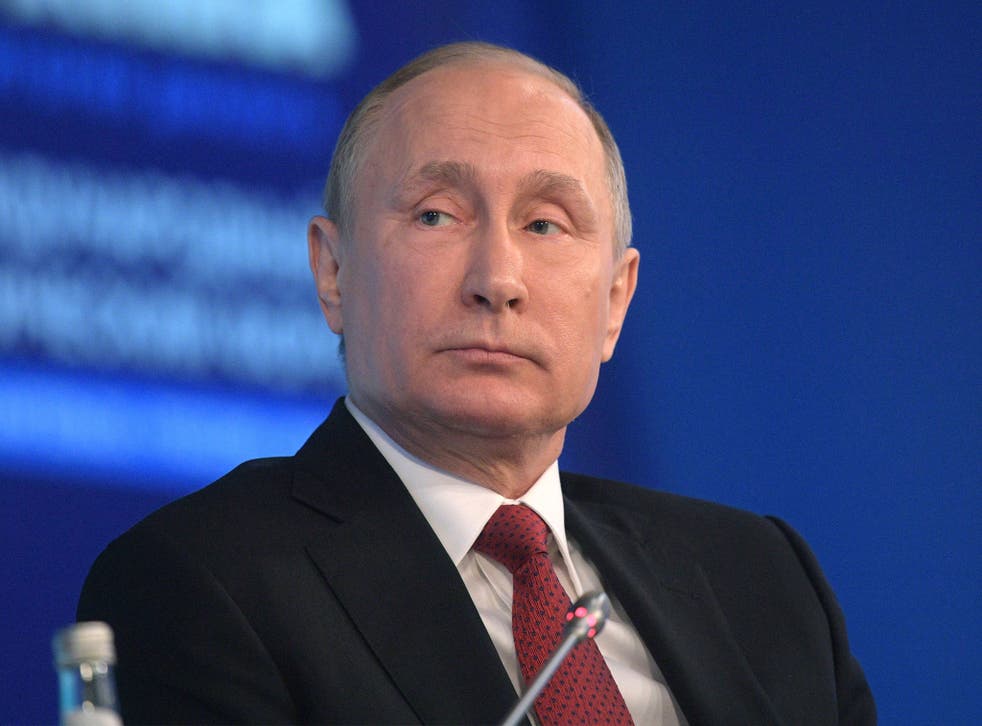 The British Government has made discreet approaches to Moscow in an effort to improve frayed relations between the two countries, The Independent has learned. The move is said to follows Donald Trump's arrival at the White House and the anticipation that his administration will forge ties with Russian President Vladimir Putin.
London's decision to engage more with the Kremlin came in early March as Boris Johnson prepared to be the first British foreign secretary to visit Russia in five years, according to senior diplomats. The range of issues due to be under discussion include the ongoing crisis in Syria, Ukraine and Libya as well as Islamist terrorism.
In the event, Mr Johnson's trip was cancelled because of the rescheduling of a Nato foreign ministers meeting which followed the decision by the US Secretary of State, Rex Tillerson, to remain in America for the state visit of the Chinese President, Xi Jinping. But it is expected to go ahead in a few weeks' time.
Members of the new administration in Washington, including Defence Secretary Gen James Mattis and Mr Tillerson, have taken a tough public stance on Russia. But the belief in diplomatic circles is that this was to be expected with the Trump election team facing investigations for links to the Kremlin, and that there will be a drive to build bridges in the future reflecting Mr Trump's expressions of admiration for Mr Putin.
A number of Western European governments had been concerned about what they viewed as Britain's confrontational stance towards Russia which, they claimed, was damaging the chances of dialogue with Moscow on issues of mutual concern. Officials of some of these allies have been privately told of the new British initiative.
One senior Western European diplomat based in London said: "The UK had to look at its relation again with Russia in the light of what is likely to be the Trump administration's attitude towards Russia in the future. We characterise the British position now as pragmatism taking over from dogmatism.
"This is essential considering Russia's growing presence in the Middle East and North Africa. We are not backing away from our condemnation of things like Russia's annexation of Crimea [from Ukraine]. But at the same time it is obvious that we need to talk to Moscow."
The British Government's line, when Mr Johnson's visit was first announced, was that he would be "robust" with Moscow. Another Western diplomat commented: "We expected them to say that and criticism should be made if it's warranted. But the UK also know that they have to improve relations with Russia, if only because that's what the Americans are going to do. This will be especially important to them after Brexit; we have seen the UK echo the Trump administration on a number of matters.
"There is a need for dialogue. We have seen in the terrible events in London and St Petersburg what a common threat terrorism is. And you cannot really discuss terrorism and measures to control it without discussing and trying to resolve what is going on in places like Syria and Libya."
The government's legislative programme for 2016-17

Show all 20
One issue over which Britain may have to change its stance is the crisis in Libya, of particular concern to countries in southern Europe that have become the destination for hundreds of thousands of refugees using the lawless North African state as a staging post to cross the Mediterranean.
Britain and France, under David Cameron and Nicolas Sarkozy, were instrumental in Nato embarking on the military campaign that deposed Muammar Gaddafi from power, a key factor that pushed Libya into its current state of semi-anarchy and the southern European states hold that London and Paris should be playing a greater role in attempts to find a settlement in the country.
Russia is taking a rapidly expanding role in Libya, backing General Khalifa Haftar, a former commander who is heading a force opposed to the UN-backed government in Tripoli. In the latest move, Moscow is said to have sent special forces to a base in Egypt near the Libyan border.
Sir Michael Fallon, the Defence Secretary, recently warned Russia against interfering in Libya, declaring: "We don't need the bear sticking his paws in ... Putin is testing the West, he's testing the alliance. At any point where he sees weakness, he pushes home." The Russian defence minister, Sergey Shoygu, kept to the anthropomorphistic theme in his response: "What is on Britain's coat of arms – a lion, isn't it? We do not think there is an animal in their zoo that can tell a bear what to do."
Members of Sir Michael's own party appear to be taking a different view from him over Libya. A group of British Conservative MPs met Gen Haftar in Benghazi, in a meeting organised by a right-wing think tank, in early March. This was followed by a meeting between the general and Peter Millett, the British ambassador to Libya who is based in Tunis, also in Benghazi. A Foreign Office spokesman in London said: "This was a positive meeting and part of the UK's wider diplomatic outreach to promote stability in Libya through peaceful dialogue and to encourage all Libyans to work together to alleviate the suffering of the Libyan people."
Russia is not the only foreign backer of Gen Haftar: he has long enjoyed the support of Egypt and the UAE whose warplanes have bombed his enemies. General Abdel Fattah al-Sisi, now on an official visit to the US, was the first foreign leader to congratulate Mr Trump after his victory and the Egyptian President had been pressing Washington to back Gen Haftar. Some of Mr Trump's advisors are said to look upon the proposal favourably.
General Mattis: Russia has been 'mucking around inside other people's elections'
Barack Obama had refused to deal with General Haftar but the Libyan commander and his backers, the parliament in Benghazi, one of the country's three governments, say they are also now optimistic that they will eventually get the support of the new administration.
The European Union would like to see deal between the UN sponsored government of Fayez al-Sarraj, which it supports, and Gen Haftar, which the commander has so far refused to accept. Western officials believe that Moscow, with resources devoted in Syria and Ukraine, would not want to overstretch its resources with a Libyan commitment and may persuade Gen Haftar to accept an accommodation. This, however, means constructive dialogue with Moscow rather than the belligerent tone used by some British ministers, they hold.
On Syria, the US will continue and extend the liaison already taking place, the diplomats believe. Mr Johnson is expected to raise concern with Moscow about civilian casualties caused by air strikes by the Assad regime and the Russians, with the chemical attack in Idlib the latest horrific example. Britain and the European Union held the regime culpable, while Damascus and Russia maintain that it was the resulted from air strikes on a rebel factory storing "toxic substances". But, on a wider basis, the UK has in effect dropped its demand that President Assad must go before any peace deal can take place, something that had been a fundamental point of contention with the Russians.
Britain has been one of the strongest supporters of Ukraine in its confrontation with the Kremlin, a key voice for continuing sanctions against Russia over the annexation of Crimea and interference in the separatist east of the country. London is also providing military training and advice on anti-corruption measures.
But the Trump administration is said to have been angered by what it saw as the government of President Petro Poroshenko siding with Hillary Clinton, who had taken a strong anti-Russian stance over Ukraine, during the US election, and relations between Washington and Kiev are frayed at present. It remains to be seen just how much the UK's dealings with Ukraine will depend on what approach Mr Trump decides to take towards Ukraine and Russia in the longer term.
A Foreign Office spokesman said: "As we made clear when announcing the visit, this is not a return to business as usual and significant differences between the UK and Russia remain. The UK will continue to engage with Russia where it is in our national interest to do so but the Foreign Secretary will be robust on those issues where we disagree."
Join our new commenting forum
Join thought-provoking conversations, follow other Independent readers and see their replies