Ukraine could impose martial law if rebels do not lay down their arms as peace talks continue
Harsh measures could be imposed on the whole country, President said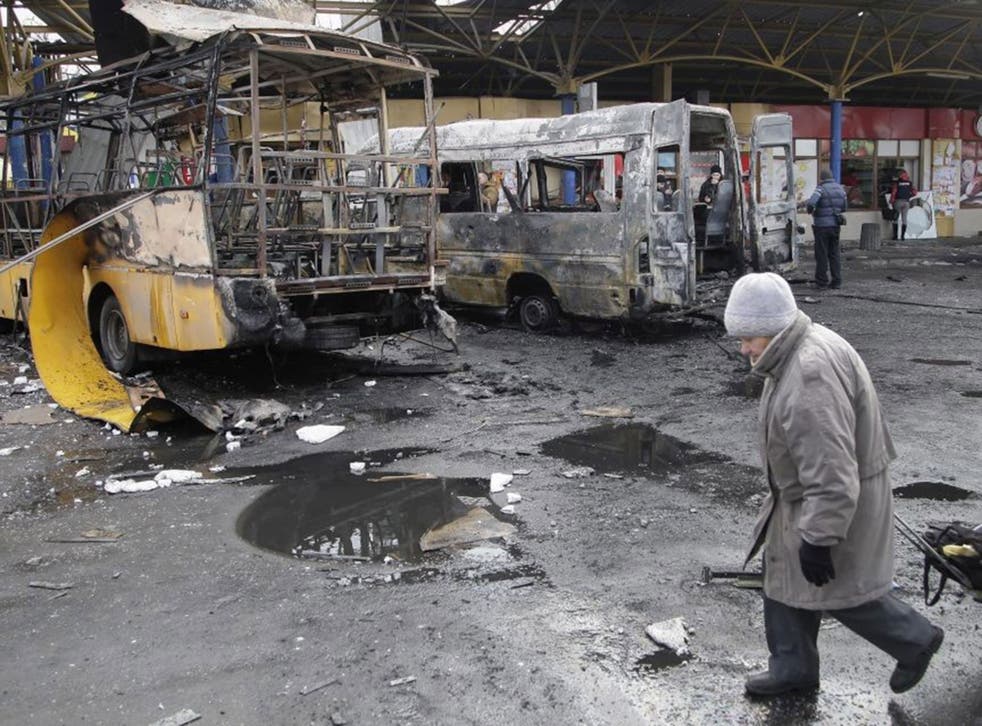 Martial law could be imposed by the Ukrainian government if fighting continues to rage with separatists in the country's east.
President Petro Poroshenko threatened the measure, usually used during conflicts or coups to increase military power, on Wednesday according to the Interfax news agency.
Speaking ahead of a peace summit between the leaders of France, Germany, Russia and Ukraine, Mr Poroshenko said Kiev was primarily aiming to secure an unconditional ceasefire but would use military force if it is deemed necessary.
"I, the government and the parliament are ready to take the decision to introduce martial law in all the territories of Ukraine," he was quoted as saying at a government meeting.
"We are for peace ... (but) our country needs to be defended and we will do that to the end."
Martial law is usually accompanied by curfews and the curbing or suspension of civil law and human rights including the freedom of expression, assembly and movement.
The President's announcement came on another day of violence in eastern Ukraine that killed at least five civilians.
Ukraine crisis: A timeline of the conflict

Show all 23
They died when a shell hit a bus station in the rebel stronghold of Donetsk on Wednesday, injuring nine others according to separatist officials. Three more people were killed in shelling overnight, the city administration said.
Rebels and Ukrainian forces have continually denied responsibility for dozens of civilian deaths in the area, blaming each other for mistakenly or deliberately hitting residential areas with artillery fire.
Officials in Kiev also said today that 19 government troops had been killed and 78 wounded in Debaltseve, a strategic transport hub that has become the focus of vicious fighting in the region.
The rebels attacked a government garrison, while the Ukrainian army said it had launched an offensive against pro-Russian separatists near the south-eastern port city of Mariupol.
President Poroshenko posted a statement on his website saying that he had made an impromptu visit to the war-torn region this morning, stopping in the city of Kramatorsk, around 30 miles from the nearest front line, where 16 people were killed and 48 wounded in a rocket strike on Tuesday.
"We demand an unconditional peace," he said. "We demand a cease-fire, a withdrawal of all foreign troops, and closing of the border...we will find a compromise within the country."
At a news conference in Moscow, the Russian Foreign Minister, Sergey Lavrov, said there was "notable progress" in the peace process, without giving details.
Mr Lavrov said that the most important goal of the talks would be to implement a ceasefire but claimed it would be impossible for Ukraine to re-establish its control over the border with Russia because Kiev had already "suffocated (eastern Ukraine) economically and socially, in parallel with an attempted military crackdown".
"In these conditions, to give away the Russian part of the border also would be to cut them (the rebels) off even from humanitarian help and allow them to be surrounded," he added.
French Foreign Minister Laurent Fabius admitted on Wednesday morning that "quite a number of problems remain" in negotiations aimed at ending the fighting.
He said difficulties remain on the future of embattled eastern Ukraine, guarantees about the Ukraine-Russia border near the area, and the prospects of a possible cease-fire, weapons pullback and prisoner exchange.
Leaders from Russia, Ukraine, France and Germany are due in the Belarussian capital of Minsk today to continue efforts to secure a peace deal in eastern Ukraine, where fighting between pro-Russian rebels and Ukrainian troops has killed more than 5,300 people.
European leaders have warned in recent days that there is no guarantee a deal will be reached with Russia, which the West accuses of fuelling the separatist uprising in eastern Ukraine with troops and arms.
Additional reporting by agencies
Register for free to continue reading
Registration is a free and easy way to support our truly independent journalism
By registering, you will also enjoy limited access to Premium articles, exclusive newsletters, commenting, and virtual events with our leading journalists
Already have an account? sign in
Register for free to continue reading
Registration is a free and easy way to support our truly independent journalism
By registering, you will also enjoy limited access to Premium articles, exclusive newsletters, commenting, and virtual events with our leading journalists
Already have an account? sign in
Join our new commenting forum
Join thought-provoking conversations, follow other Independent readers and see their replies