Ukraine crisis: Annexation of Crimea by Russia 'sends chilling message across the continent of Europe' as Russian troops commit 'war crime' firing on Ukrainian base and killing soldier
Signing treaty to absorb peninsula into Russian federation, Putin said Crimea 'had always been an inseparable part of Russia'
Adam Withnall
Tuesday 18 March 2014 13:00 Comments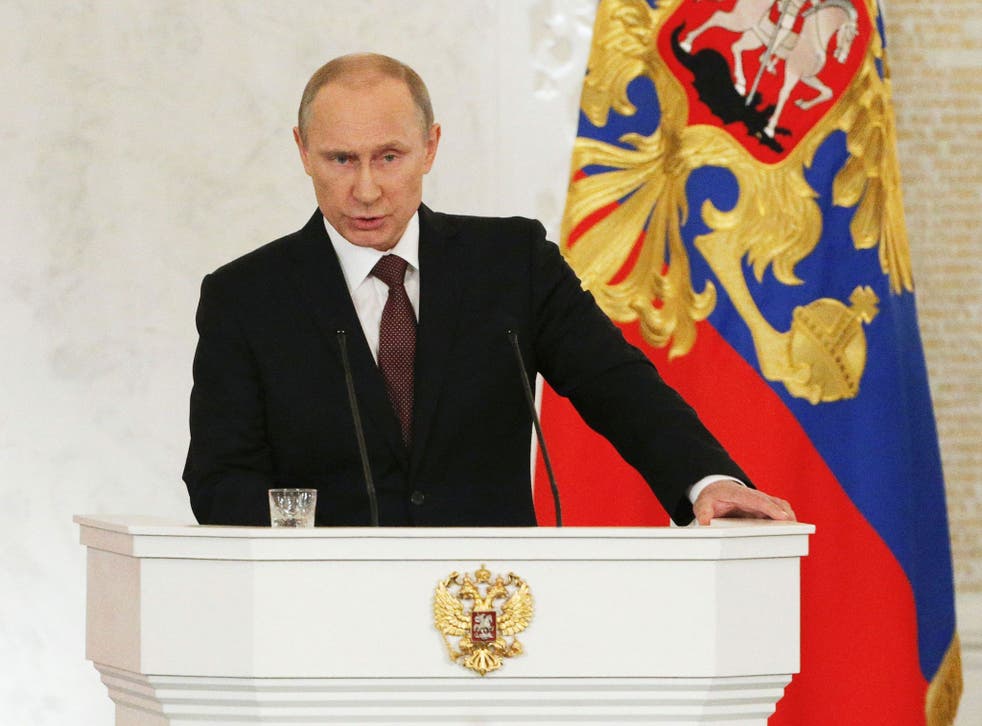 The annexation of Crimea by Vladimir Putin's Russia has "sent a chilling message across the continent of Europe", David Cameron has warned.
As the Ukrainian prime minister Arseniy Yatsenyuk said the situation was moving "from a political to a military" conflict, the US dismissed Russia's actions as "nothing more than a land grab".
The White House announced that President Barack Obama was inviting the leaders of the G-7 group of nations to a meeting in Europe next week to discuss further action, and Vice President Joe Biden said the crisis would be "a challenge… not for a month or a year [but] for many years to come".
The escalating divisions between West and East turned into out-and-out violence this afternoon, when apparently Russian-led troops stormed a Ukrainian military base in Simferopol, opening fire to kill one serviceman and wound an officer.
Mr Yatsenyuk told his defence ministry: "Today, Russian soldiers began shooting at Ukrainian servicemen and this is a war crime without any expiry under a statute of limitations."
Today Mr Putin very publicly met with newly-appointed Crimean leaders to sign a treaty absorbing the peninsula into the Russian federation.
Crimea referendum and independence

Show all 14
In doing so, he declared that the peninsula "has always been an inseparable part of Russia".
The UK Prime Minister condemned his actions as being "in flagrant breach of international law and send a chilling message across the continent of Europe".
Mr Cameron said: "It is completely unacceptable for Russia to use force to change borders, on the basis of a sham referendum held at the barrel of a Russian gun. President Putin should be in no doubt that Russia will face more serious consequences and I will push European leaders to agree further EU measures when we meet on Thursday.
The choice remains for President Putin: take the path of de-escalation or face increasing isolation and tighter sanctions."
Earlier, Mr Putin said in a televised address to both houses of parliament that Sunday's referendum in Crimea was held "in full accordance with international law".
He said Russia would have been "betraying" the people of Crimea if it had not gone in to help in the wake of the deposition of Ukrainian President Viktor Yanukovych, but added that Russia had never exceeded the agreed number of troops it was allowed to have in the peninsula under international law.
Officials said the annexation treaty would still require the approval of the Russian parliament, though this is considered a formality.
On concerns of future violations of Ukrainian territory, Mr Putin said that no attempts would be made to divide the country further once Crimea was part of Russia.
"Don't believe those who try to frighten you with Russia and who scream that other regions will follow after Crimea," he said. "We do not want a partition of Ukraine, we do not need this."
Addressing the West, Mr Putin said it had tried to cheat Russia by turning Sevastopol into a Nato base "on Russia's border".
And speaking to the people of the US, he asked what made the Crimean referendum so different from the American Declaration of Independence.
Yesterday the Russian leader paved the way for Crimea's annexation by formally recognising it as an independent state.
This flurry of formal steps, which now seem certain to culminate with the peninsula's annexation, came after a referendum on Sunday which officials claim saw 97 per cent of Crimean voters backing the split from Ukraine. Crimea referendum and independence
That process has been condemned as illegal by the EU and US, which say voters were subjected to pressures under a military occupation and presented with an inherently unbalanced ballot.
Mr Putin claimed today that the referendum received a turnout of more than 82 per cent - and that this showed that even the majority of the Crimean Tatar population favoured a move to Russia.
This was despite comments reported over the past weeks from representatives of the ethnic group who said they feared repression under Russian rule. Mr Putin said today that such treatment was in the country's past.
Western countries have now imposed sanctions but, amounting to financial restrictions for some 22 individuals, they have been condemned as "pathetic" by senior politicians.
The Tory MP Malcolm Rifkind, who chairs the Intelligence and Security Committee, told the BBC: "All that the international community has done so far is implement visa sanctions and asset freezes on 22 or 23 individuals - that is a pathetic response."
Read more: Foreign leaders condemn 'Russia's destabilising actions'
Even the time changes on Crimea's first day under Russian rule
Russia could 'turn the US to radioactive dust' - TV presenter
Crimea had been part of Russia since the 18th century until Soviet leader Nikita Khrushchev transferred it to Ukraine in 1954. Both Russians and Crimea's majority ethnic Russian population see annexation as correcting a historic insult.
Ukraine's turmoil, which began in November with a wave of protests against President Viktor Yanukovych and accelerated after he fled to Russia in late February, has become Europe's most severe security crisis in years.
Register for free to continue reading
Registration is a free and easy way to support our truly independent journalism
By registering, you will also enjoy limited access to Premium articles, exclusive newsletters, commenting, and virtual events with our leading journalists
Already have an account? sign in
Join our new commenting forum
Join thought-provoking conversations, follow other Independent readers and see their replies