Ukraine crisis: Armed men hoist Russian flag after seizing Crimea Parliament
Sixty people occupying the buildings have not yet made demands but have reportedly put up signs saying 'Crimea is Russia'
Heather Saul
Thursday 27 February 2014 08:36 Comments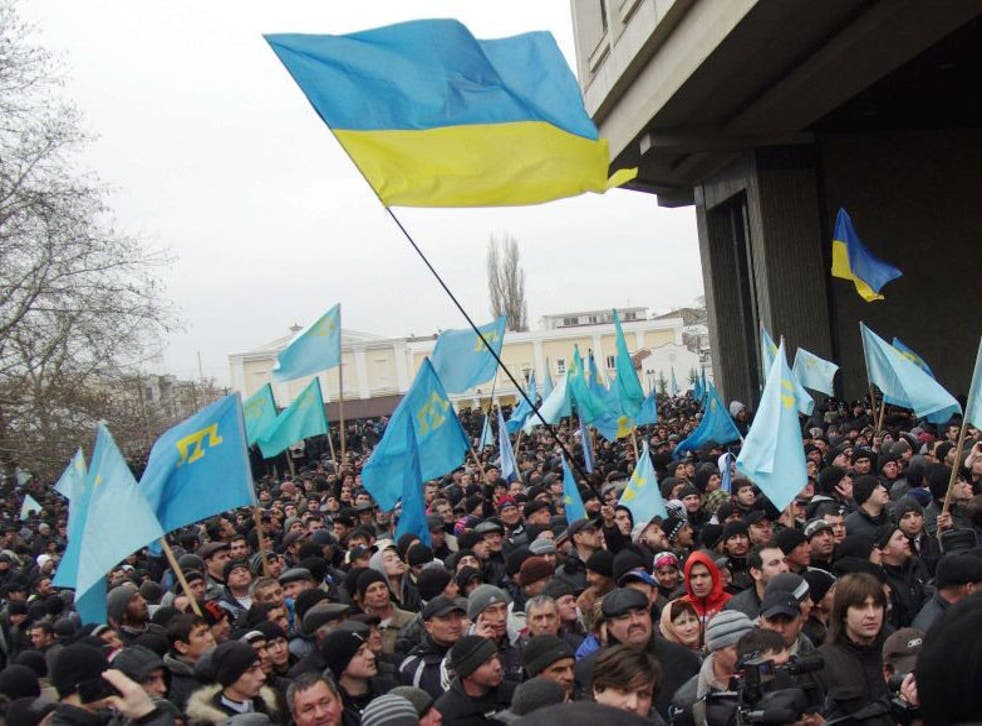 Armed men have seized the regional government headquarters and parliament on Ukraine's Crimea peninsula this morning, blockading the door to parliament and preventing anyone from entering.
The Russian flag has been raised over the two buildings in the capital, Simferopol. Ukraine security forces are now on alert after the building was overtaken during the early hours of this morning.
Interim president Oleksandr Turchynov condemned the take-over as a "crime against the government of Ukraine."
"Unidentified people with automatic weapons, explosives and grenades have taken over the governmental buildings and the Parliament building in the autonomous region of Crimea," he said.
"I have given orders to the military to use all methods necessary to protect the citizens, punish the criminals, and to free the buildings."
Ukraine's Foreign Ministry has now summoned Russia's acting envoy in Kiev and called for immediate consultations with Moscow. It said in a written statement that the envoy, Andrei Vorobyov, had been handed a note requesting that Russian military based in the Crimean port of Sevastopol stay on base.
Interfax news agency quoted a witness as saying there were about 60 people inside and that they had many weapons. It said no-one has been hurt.
No demands have been made from those inside the building, although a sign saying "Crimea is Russia" has now been put up.
In a statement on his Facebook, Interior Minister Arsen Avakov said the area in Simferopol had been cordoned off by police to prevent the situation from "escalating into an armed confrontation" and described those occupying the buildings as "provocateurs".
In pictures: Crisis in Ukraine

Show all 11
One man told the Reuters news agency he had heard gunfire during the night and saw "lots of people" entering the building. "Some then left. I'm not sure how many are still in there," he said.
Another witness said: "We were building barricades in the night to protect parliament. Then this young Russian guy came up with a pistol ... we all lay down, some more ran up, there was some shooting and around 50 went in through the window.
"They're still there ... Then the police came, they seemed scared. I asked them (the armed men) what they wanted and they said: 'to make our own decisions, not to have Kiev telling us what to do.'"
Crimea is the only region with an ethnic Russian majority in Ukraine and maintains close ties with Russia after being transferred to Ukraine in 1954 in the Soviet-era by then Soviet leader Nikita Khrushchev.
The Russian Foreign Ministry promised to defend the rights of its compatriots in a "strong and uncompromising" manner on its Twitter page after the building was seized.
"Russia's Foreign Ministry will continue to defend in the international arena the rights of its compatriots, it will strongly and uncompromisingly react when they are violated," the ministry said
Earlier this week, Ukraine's interim president Oleksandr Turchynov voiced his concerns over separatism in regions such as Crimea following the ousting of Viktor Yanukovych.
Mr Yanukovych was ousted on Saturday after three months of unrest led by protesters in Kiev. He has since fled the area and is wanted by authorities over the violence that led to the deaths of over 80 people during three days of bloody clashes.
Crimea was the site of protests against the new government yesterday, when ethnic Tatars who support Ukraine's new leaders and pro-Russia separatists had confronted each other outside the regional parliament.
A local Tatar leader, Refat Chubarov, said on Facebook: "I have been told that the buildings of parliament and the council of ministers have been occupied by armed men in uniforms that do not bear any recognisable insignia."
"They have not yet made any demands," he said.
Register for free to continue reading
Registration is a free and easy way to support our truly independent journalism
By registering, you will also enjoy limited access to Premium articles, exclusive newsletters, commenting, and virtual events with our leading journalists
Already have an account? sign in
Join our new commenting forum
Join thought-provoking conversations, follow other Independent readers and see their replies