Ukraine crisis: Discontent in Separatist ranks as pro-Russian rebels feel betrayed by new political masters
The ceasefire between the government of Ukrainian President Petro Poroshenko and the rebels is generally holding with frequent but small scale infringements
Kim Sengupta
Donetsk
Friday 02 October 2015 18:18 Comments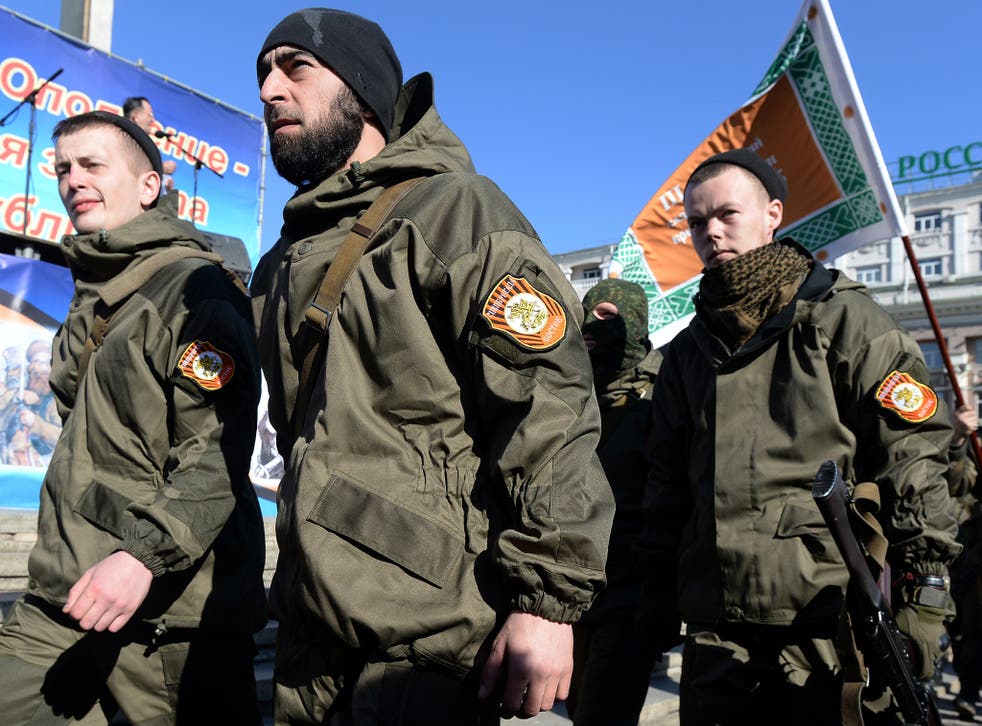 Ruslan Madagov was on a dangerous mission, searching for newly laid mines. With enemy fire drawing closer he had to hurry, and accidentally set off a tripwire, triggering a blast that sprayed shrapnel into his body. It seemed unlikely he would live beyond that day.
But, after four months of hospital treatment, Captain Madagov is back on the front line. He has 27 pieces of metal buried in his body; but he does not have the compensation payment promised to wounded servicemen by the separatist administration in Donetsk.
The soldier, an ethnic Chechen, is one of dozens of casualties who complain that the sacrifices they have made to establish the People's Republic are being ignored; and that those supposed to administer compensation are proving elusive, or are fobbing off the wounded with excuses.
He has a wider complaint. "We'd taken part in the hardest of the fighting to keep Donbass free," said the 57-year-old captain, who serves in a reconnaissance unit. "Without people like us, the Ukrainians would be back here now. We risked everything for this struggle."
Not only do soldiers like him feel let down by the failings of the rebel authorities over compensation, they also feel shunned in other ways. "They really should not ignore us – this war is not over. It will continue, if not this year, then next year," he said.
Speaking near his barracks on the outskirts of Donetsk, Captain Madagov said the fighting forces of the Donetsk People's Republic, as the rebel enclave has styled itself, felt "misunderstood, not appreciated" – especially during recent weeks as violence has gradually ebbed.
"Many people joining now think that just because the fighting has died down a bit, they can parade around and make some easy money," he said. His son Arthur, 34, also a soldier, added: "When this ceasefire is over, they will need experienced soldiers again: that is their great value."
The ceasefire between the government of Ukrainian President Petro Poroshenko and the rebels is generally holding for now. Infringements are frequent but small scale, and the number of fatalities has fallen. Russia's president, Vladimir Putin, goes the theory, has decided on a frozen conflict in eastern Ukraine as part of his broader global strategy. Enlarging Russia's role in Syria is now the focus of his attention.
But for those at the sharp end, there are reminders that peace is far from complete. At Spartak district, near Donetsk's destroyed airport, where fighting had continued long after the second Minsk agreement was signed in February, a rebel position had just come under fire for 13 consecutive hours. "It doesn't feel like a ceasefire when we're hiding in the cellar," said the local commander, who gave only his nickname, "White".
"This was a particularly long one, but they attack every day. All our heavy calibre weapons were pulled back recently, so we have nothing left to fire back with properly, even if were ordered to." He pointed at the remnants of incoming rounds that had been collected and piled up on a table – anti-tank and mortar shells, rocket-propelled grenades and machine-gun bullet casings. "If they come over the wall, we will just have to throw those back at them."
The firing was from a Ukrainian base, 1,200 metres away, where the flag of the right-wing nationalist group, Pravy Sektor, was being flown, according to the separatist fighters. A blur of red, black and white, the colours of the group's emblem, could be seen through binoculars. The presence of the extremist group would, theoretically, be a breach of the Minsk protocol under which volunteer militias should be withdrawn.
"They're here all right," declared White. "The Ukrainian soldiers are not so bad, it's those volunteer battalions who are the problem." But the rebels would cede no ground, he said. "Ukraine is already forgotten here, we can never go back to that."
At the base of the rebels' Vostock Battalion, a Tsarist Russian flag was flying. Fighters listened to Chechen rap and showed off their pig-pen – which they called The Maidan, after the square where Ukraine's pro-Western protests first began – with two animals named Merkel and Obama (a black pig) among the livestock rooting around. Poroshenko has already been eaten. "He tasted delicious, rich," said one rebel rubbing his stomach.
They had suffered a casualty the previous day when a fighter drove over a mine. "They've changed tactics," said the commander, Alexei Novikov. "It's more diversionary now. The Ukrainian army does not even want to be here, and they don't fire at us. But Pravy Sektor is here – and these Nazi battalions are excitable."
Commander Novikov is dismissive of some in the separatist hierarchy. One senior officer, he alleged, was "only interested in money". The soldiers were tired of sitting and waiting, he added. "It's boring." As he talked one of his companions played around with a live grenade. The relative inactivity would not last for ever, he predicted – only "until Russia is provoked enough to end it".
Near the airport, where flats have been heavily damaged by artillery fire, only a few residents remain. Ekatarina, 80, partially blind with diabetes, lives alone without heating or water. Her daughter was killed during shelling last autumn. "I had an apartment in Donetsk, but I sold it to move here for the fresh air," she said.
"When the bombing starts my knees hurt too much to go to the basement. I just lie on the floor in the bathroom. I have no medicine for my diabetes, I am very afraid. Everyone is guilty for what's happening. But why are the Ukrainians targeting their own people? The shooting only ever comes from their side now."
In nearby Oktoberski District, Aleksei Bunyev and his neighbours were revisiting their abandoned homes. He dared not stay too long, last time he did so, the flats came under fire and next morning "there was a dead woman lying outside my front door."
For Captain Madagov, the failure to prevent this is was another sign of the failure of the rebel republic's leaders. "Why should these people suffer? The Ukrainians have lost all moral right to claim this is still part of their country when they fire on innocent people. But we soldiers are always prepared to risk our lives to protect the people. That is what politicians here have forgotten."
Protests as Ukraine approves Russia navy base extension

Show all 5
Register for free to continue reading
Registration is a free and easy way to support our truly independent journalism
By registering, you will also enjoy limited access to Premium articles, exclusive newsletters, commenting, and virtual events with our leading journalists
Already have an account? sign in
Join our new commenting forum
Join thought-provoking conversations, follow other Independent readers and see their replies