Ukraine crisis: EU leaders race in vain to find a diplomatic solution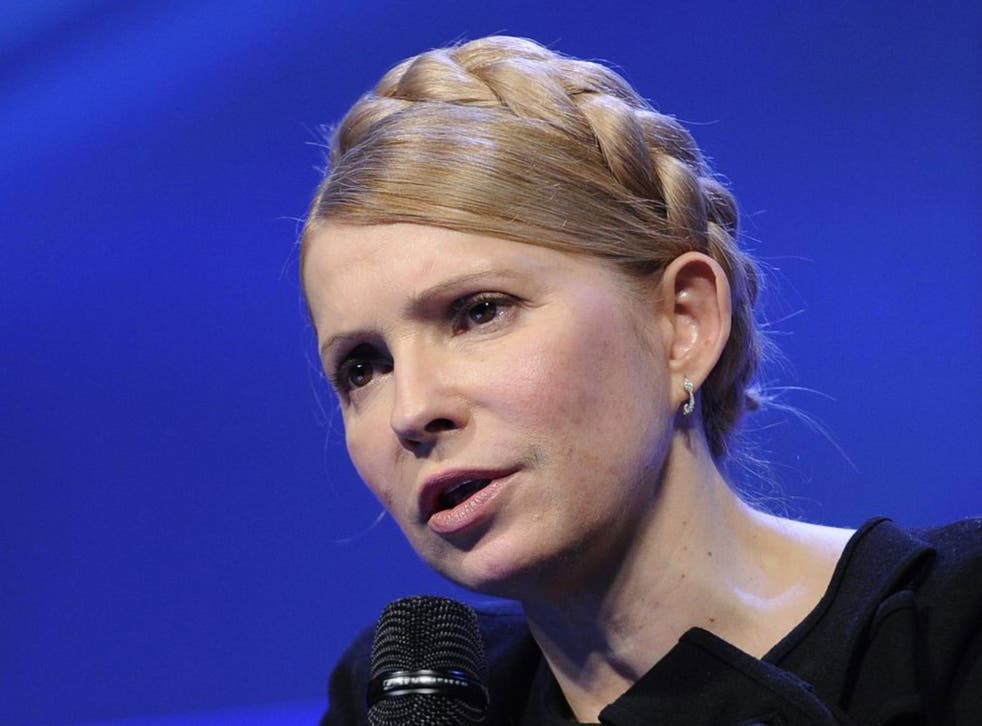 Under pressure from events and a passionate appeal from the Ukrainian prime minister, EU leaders have warned of "far-reaching" consequences if Russia fails to ease the crisis in Crimea.
An emergency summit of EU leaders agreed a tougher than expected, three-phase package of punitive measures – some immediate and some threatened – to persuade Moscow to enter talks with the new government in Ukraine. The EU move against Russian interests was accompanied by similar moves from the US.
Yulia Tymoshenko, Ukraine's former Prime Minister, warned European politicians that "stopping Russian aggression" was key to securing "freedom for the entire region", adding: "We are talking about war or peace in Europe."
Under the terms of the agreement reached in Brussels, negotiations with Moscow on new visa and trade deals with the EU are to be broken off immediately. A travel ban and asset freeze on senior Russian figures will be imposed unless Moscow agrees "contact talks" with Kiev "within a few days".
Finally, the EU warned that – despite grave reservations expressed by some leaders – there would be "severe and far-reaching" sanctions "in a broad range of economic areas" if Russian troops invaded others parts of eastern Ukraine.
Amid the tension, it emerged that US is to send 12 F-16 warplanes to Ukraine's neighbour Poland and six F-15s to Lithuania, while Russia's Western Military District said it had begun its "largest-ever" air defence exercise.
In pictures: Russian troops in Crimea as Ukraine crisis continues

Show all 10
The diplomatic package disappointed some of the more hawkish EU states in Eastern Europe but Prime Minister David Cameron said that it went "much further" than many observers had expected. "Illegal actions committed by Russia cannot pass without a response. It cannot be business as usual with Russia," Mr Cameron said.
The French President, François Hollande, said that Russia could expect "extremely serious consequences" if it failed to enter talks or took any further action to destabilise Ukraine. And German Chancellor Angela Merkel said: "We have experienced very much disappointment in recent days and now we are ready to act." Talk of the need for a softly, softly approach had cloaked the fact that there was little stomach amongst large EU countries for an economic cold war with Moscow which could damage recovering European economies. Berlin, in particular, feared that Russia could sever its gas exports, which amount to 40 per cent of the gas used in Germany.
Mr Hollande said, the mood of the summit had "shifted" during the day towards cautious confrontation.
Hopes that Russia might be backing off had been dashed by the vote of the Crimean regional parliament, strongly under Moscow's influence, to become part of Russia and to hold an "annexation" referendum on 16 March.
The move towards a referendum prompted a strong reaction from the US. Speaking tonight, President Barack Obama said any decisions on Crimea, a pro-Russian area of Ukraine, must include the country's new government. "The proposed referendum on the future of Crimea would violate the constitution and violate international law," Mr Obama said.
Rapid moves by Washington had threatened to leave EU leaders looking indecisive. The US government approved a tough package of measures – visa restrictions and possible asset seizures. Summit sources said that the atmosphere was also radically changed by a passionate speech by the interim Ukrainian Prime Minister, Arseny Yatsenyuk. Ms Merkel, had arrived intending to scale down EU threats of sanctions (under pressure from German business leaders). Officials said that, after a private meeting with Mr Yatseniuk, she appeared to change sides.
In a press conference, Mr Yatseniuk pleaded with Russia not to build a new Iron Curtain in Europe. "Mr Putin, tear down this wall," Mr Yatseniuk said, echoing remarks made by Ronald Reagan in 1987.
Moscow could not hope, he said, to rebuild "a wall of intimidation and a wall of military aggression" in the 21st century. The referendum scheduled on Russian "annexation" of Crimea on 16 March was "illegitimate", he said.
"We are ready for co-operation but not for surrender or to be subordinate to Russia," he said. Asked if Ukraine was ready to defend itself militarily, he replied: "We still believe that we can solve it in a peaceful manner but in case of further escalation and military intervention into the Ukrainian territory… we are ready to protect our country. We have less arms, no nuclear bombs but we have the spirit… of freedom and liberty."
A visibly emotional Ms Tymoshenko warned a meeting of the European People's Party, the largest bloc in the European parliament, that allowing Russia to hold "a referendum at gunpoint on the annexation of Crimea" would threaten the stability of the world. "If there is no timely support of Ukraine, real support, then it is difficult to forecast the consequences of inaction.
Register for free to continue reading
Registration is a free and easy way to support our truly independent journalism
By registering, you will also enjoy limited access to Premium articles, exclusive newsletters, commenting, and virtual events with our leading journalists
Already have an account? sign in
Register for free to continue reading
Registration is a free and easy way to support our truly independent journalism
By registering, you will also enjoy limited access to Premium articles, exclusive newsletters, commenting, and virtual events with our leading journalists
Already have an account? sign in
Join our new commenting forum
Join thought-provoking conversations, follow other Independent readers and see their replies