Ukraine crisis: Far from the fractious east, unwilling Odessa plunged into violence after deadly blaze
Arseniy Yatsenyuk claimed the Kremlin was behind the violence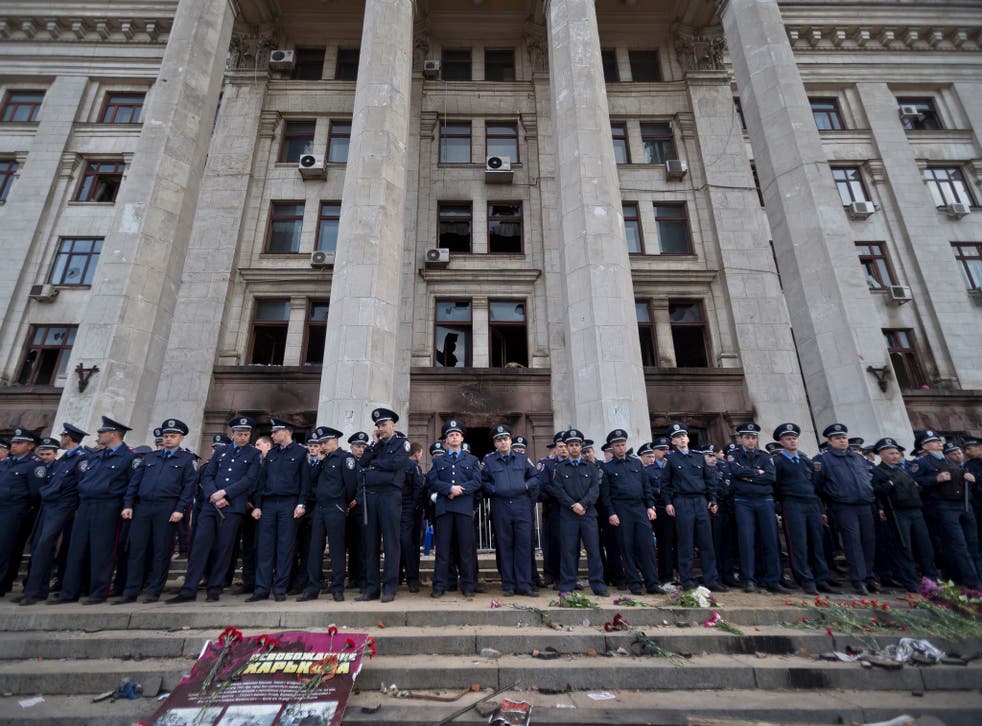 A mob has attacked a police station in the Ukrainian port city of Odessa, forcing the release of dozens of pro-Russian activists arrested after more than 40 died in violent clashes that have pushed the country closer to civil war.
Chanting "Odessa is a Russian City" and "Russians won't abandon their own", a crowd estimated by one eyewitness at 2,000 broke through a gate into an inner court yard of the police station and smashed windows. The Interior Ministry said a total of 67 prisoners were released.
They were among about 170 people detained on Friday after running street battles broke out between pro-Kiev football fans and supporters of Moscow. More than 40 people were killed – most in a building fire – in what has been described as the "Odessa Massacre".
While there has been unrest in eastern parts of the country since Russia annexed the Crimean peninsula, Odessa is near the country's western border with Moldova.
Clashes in eastern Ukraine

Show all 126
Speaking in the city, interim Prime Minister Arseniy Yatsenyuk claimed the Kremlin was behind the violence. "Russia's aim was to repeat in Odessa what is happening in the east of the country. What happened… is a part of the plan of the Russian Federation to destroy Ukraine," he said.
Russia has accused Kiev and "its Western sponsors" of "provoking the bloodshed".
Outside the once palatial House of Trade Unions, the scene of the fire, hundreds of mourners gathered to remember the dead. Some lit candles and the gardens of the building were filled with flowers.
The fire that claimed more than 30 lives was the climax of violence which broke out after fans of Odessa's Chornomorets FC joined with rival supporters of the Kharkiv side Metalist for a pro-Kiev march. They claimed they were attacked by pro-Moscow supporters.
"Everything that happened was like in a horror movie," said Nadiya Yashan, a Chornomorets supporter.
"We never expected an ambush on such a scale."
Riot police tried to separate the two sides, but a local journalist, Oleg Konstantinov, who was among the injured, reportedly said he saw "at least three, maybe four, policemen fall in front of my eyes" as gunshots rang out.
Kiev supporters rushed to the scene and the fighting soon turned against the outnumbered pro-Moscow faction. Their protest tent camp in the city was burned and one group fled into the five-story trade union building. Petrol bombs were thrown in both directions and fire was soon raging in the building.
An eyewitness said: "Those who hadn't been overcome by smoke just started jumping out of windows. It's a tall building so you can imagine what happened."
Register for free to continue reading
Registration is a free and easy way to support our truly independent journalism
By registering, you will also enjoy limited access to Premium articles, exclusive newsletters, commenting, and virtual events with our leading journalists
Already have an account? sign in
Register for free to continue reading
Registration is a free and easy way to support our truly independent journalism
By registering, you will also enjoy limited access to Premium articles, exclusive newsletters, commenting, and virtual events with our leading journalists
Already have an account? sign in
Join our new commenting forum
Join thought-provoking conversations, follow other Independent readers and see their replies