Ukraine crisis: Government and pro-Russian rebels sign ceasefire agreement
The ceasefire in eastern Ukraine is hoped to start on Friday afternoon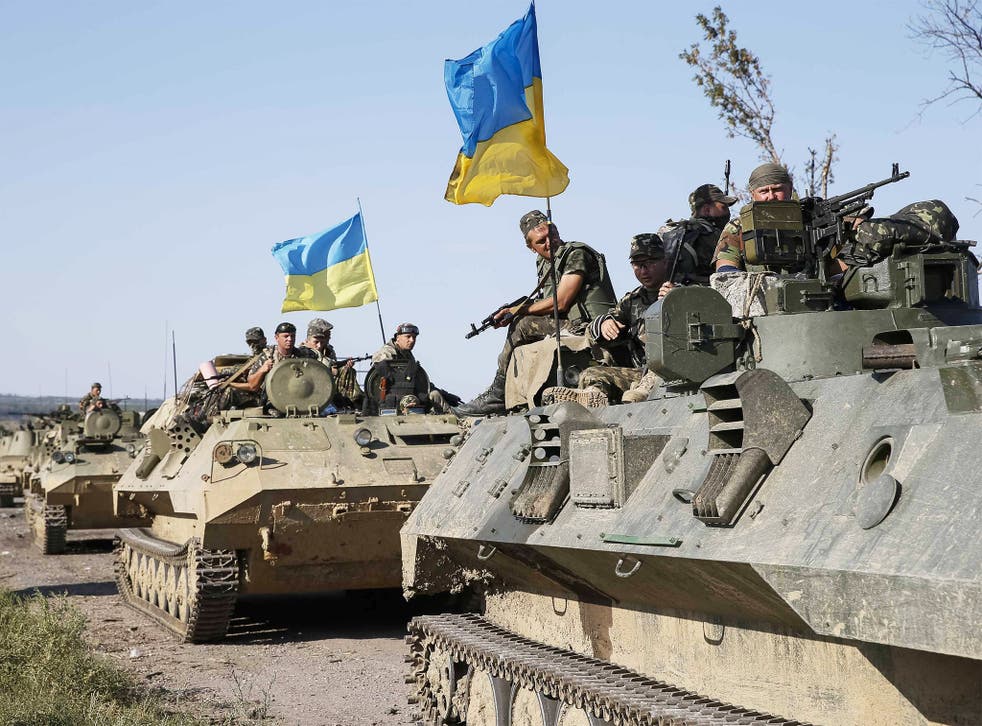 The Ukrainian Government and pro-Russian rebels have signed a ceasefire agreement hoped to signal the end of the conflict that has killed more than 2,600 people.
All hostilities are due to stop at 6pm local time (3pm GMT) on Friday and a 12-point plan for lasting peace has been confirmed by both sides of the conflict.
Petro Poroshenko, Ukraine's President, called for international controls to maintain the peace in eastern Ukraine.
"The entire world strives for peace, the entire Ukraine strives for peace, including millions of Donbass residents," he added.
"The highest value is human life. We must do everything possible and impossible to terminate bloodshed and put an end to people's suffering."
He called peace a "very important challenge not just for Ukraine, not just for the region but for the world" and said decentralisation of power in eastern Ukraine would be considered, while urging an end to discrimination favouring either Russian or Ukrainian speakers in the country.
A rebel leader from Luhansk, Igor Plotnitsky, said the peace deal "doesn't mean [separatists'] course for secession is over", hinting at deep divisions that could derail efforts for a permanent truce.
But Alexander Zakharchenko, the rebel leader from the Donetsk region, said: "The ceasefire will allow us to save not only civilians lives, but also the lives of the people who took up arms in order to defend their land and ideals."
Talks continued in Minsk, Belarus, including representatives from Ukraine, the separatists, Russia and the OSCE security watchdog.
Speaking at Friday's Nato summit in Wales, the Secretary General Anders Fogh Rasmussen said he "warmly welcomed" the agreement.
He added: "One thing of course is to declare a ceasefire, the next and crucial step is to implement it in good faith and it remains to be seen - but so far, so good.
"I hope that this step could be the start of a constructive political process."
A soldier who gave his name as Mykola said the President would be "betraying the country" if he backed a truce now.
"If he goes for a peace plan, then all these dead and wounded and exiled and all the homes burned and jobs lost and money lost, it was all for nothing," he added.
There was scepticism in Donetsk, where many civilians have died in weeks of bombardments and fierce fighting.
A resident, 22-year-old Denis Tikhinov, said even if a ceasefire is ordered for the Ukrainian army, the "Kolomoisky battalions" funded by a wealthy businessman and regional governor to fight the pro-Russian separatists would continue.
News of the potential truce came as fighting raged east of the strategic port of Mariupol, where Ukrainian forces are trying to repel separatists attempting to take the city of 500,000.
Ukraine crisis: A timeline of the conflict

Show all 23
A spokesman for the rebels' self-proclaimed Donetsk People's Republic claimed they had entered Mariupol on Friday but Government spokespeople insisted they had been kept out.
Artillery fire was also heard in Donetsk, where people were seen queuing on Friday morning to get water, sign up for humanitarian aid and to withdraw money from the cash machine of one of the few banks still working.
A mosque, shops and schools were among buildings damaged by renewed shelling.
Russia has continued to deny sending troops and weapons into Ukraine, despite evidence to the contrary presented by Nato, and a spokesperson for the Ukrainian military claimed around 2,000 Russian servicemen had died in the conflict so far.
Vladimir Putin had put forward his own seven-point peace plan, including stopping "active offensive operations" by the Ukrainian military and rebels, international ceasefire monitoring, unconditional prisoner exchanges and humanitarian aid corridors, but Mr Poroshenko said the agreed ceasefire was based on his own plan.
The Minsk peace talks coincided with Nato's summit in Wales, where leaders agreed on a 4,000-strong "spearhead" military force, able to deploy in a matter of days.
The European Union was set to agree on new economic sanctions against Russia on Friday but could suspend them if Moscow withdraws its troops from Ukraine and observes the new ceasefire.
Angela Merkel, the German Chancellor said, said the peace would have to be verified along with the withdrawal of Russian troops and an effective buffer zone.
Additional reporting by Reuters
Register for free to continue reading
Registration is a free and easy way to support our truly independent journalism
By registering, you will also enjoy limited access to Premium articles, exclusive newsletters, commenting, and virtual events with our leading journalists
Already have an account? sign in
Register for free to continue reading
Registration is a free and easy way to support our truly independent journalism
By registering, you will also enjoy limited access to Premium articles, exclusive newsletters, commenting, and virtual events with our leading journalists
Already have an account? sign in
Join our new commenting forum
Join thought-provoking conversations, follow other Independent readers and see their replies