Ukraine crisis: Moldova on high alert as fighting intensifies
Ukrainian government says 30 pro-Russian rebels killed in Slovyansk
Lizzie Dearden
Tuesday 06 May 2014 17:24 Comments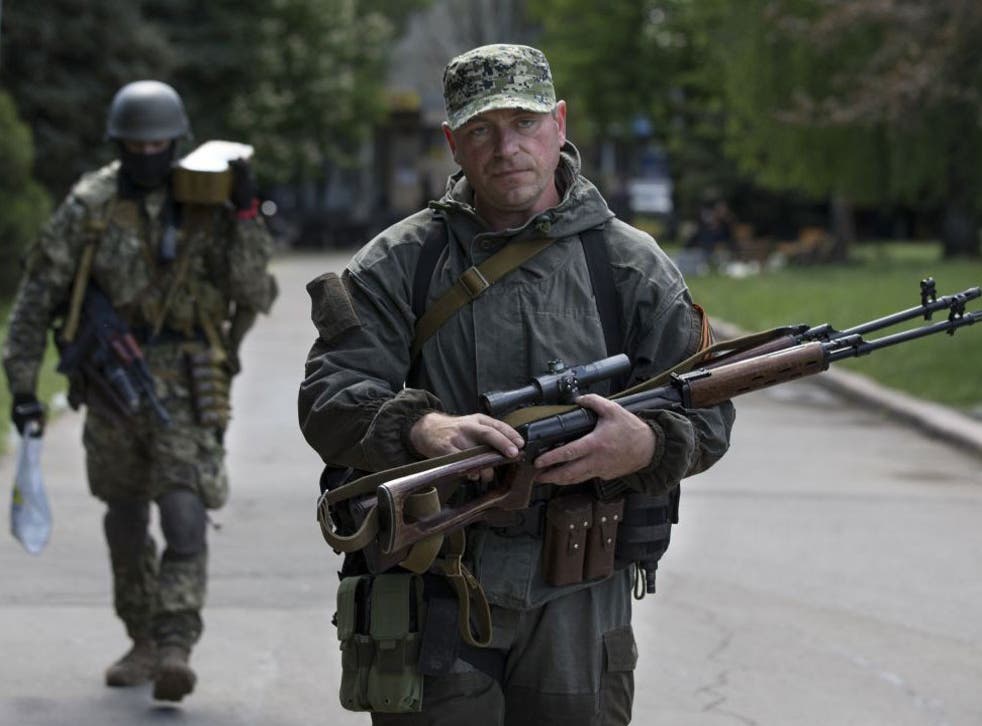 Moldova's government has put its borders on alert as violence intensifies in Ukraine with the death of 30 pro-Russian militants in battles with the army.
The Ukrainian government claimed the rebels were killed by troops near Slovyansk in what it called an "anti-terror" operation against militias occupying parts of the eastern city.
Four government troops also died and another 20 were injured during gun battles, the Interior Minister, Arsen Avakov, said.
Troops created a security cordon around the city on Sunday and moved in on Monday in an apparent attempt to trap pro-Russian forces.
The intervention came days after rebels shot down two Ukrainian helicopters in the outskirts of Slovyansk and another was brought down on Monday.
It is one of several Ukrainian cities where pro-Russian separatists have seized official buildings and many fear violence will escalate as the government continues its military crackdown.
Clashes in eastern Ukraine

Show all 126
Conflict has been spreading from the country's east, erupting in the south-western Black Sea port of Odessa, where dozens of people were killed in riots last week.
It is less than 45 miles from Odessa, on the south coast, to the Moldovan border.
The country's government put its borders on high alert on Monday, citing concerns about the escalating violence and deteriorating security situation in Ukraine.
President Nicolae Timofti, Prime Minister Iurie Leanca and Parliament speaker Igor Coreman said in a joint statement that security forces had been ordered "to take all necessary actions to ensure public order inside the country."
Moldova, a former part of the Soviet Union, is sandwiched between Ukraine and Romania.
Much of its 750-mile border with Ukraine is controlled by pro-Russian groups and there are 1,500 Russian troops stationed in a separatist republic of Trans-Dniester, which recently asked to be united with Russia.
The Russian government has said it respects Moldova's territorial integrity in the past but leaders are concerned about unrest in Trans-Dniester.
William Hague, the Foreign Minister, held talks with Moldovan authorities on Monday, and said the country should move forward with talks on closer ties to the European Union without being seen as a threat to Russia.
He said Britain is "strongly opposed to any external pressure or any violations of sovereignty and territorial integrity".
After the annexation of the Crimean peninsula by Russia, fears of the loss of more territories have grown.
Kiev authorities announced they were firing the acting governor in Odessa and replacing him with member of parliament, Ihor Palytsya. Odessa's police chief was also removed over the weekend.
The move in the predominantly Russian-speaking region came after 46 people died on Friday, many in a building fire, after a pro-Ukraine march descended into violent riots.
There are concerns that Odessa could be the next region to fall to pro-Russia forces - particularly after 67 people detained in Friday's rioting were released by police on Sunday under pressure from an angry crowd.
The central government attempted to boost confidence by sending in an elite national guard unit, which could be seen patrolling the streets.
In eastern Ukraine, Donetsk airport, south of Slovyansk, was closed on Tuesday but reopened later in the day.
In the afternoon, about 30 pro-Russia militants armed with automatic rifles and grenade launchers surrounded an Interior Ministry base in the region, demanding that the troops inside not join any government operations against pro-Russia forces.
While it was unclear whether they would attack, besieging a government forces base marked a new offensive by the militants, who had previously focused on seizing police stations and government buildings.
Russia has blamed the interim Ukrainian government for the unrest.
During a meeting in Vienna with the Council of Europe on Tuesday, the Foreign Minister, Sergey Lavrov demanded that the Ukrainian government end its armed assaults on rebel strongholds.
He said he was open to another round of international talks to ease the crisis, but only if pro-Russia rebels were included.
"Those who protest ... want their voices heard," he told reporters. "They want to have an equal voice when it comes to deciding the fate of their own country."
His Ukrainian counterpart rejected the proposal, saying the Kiev government already represents all the people of Ukraine.
Additional reporting by PA and AP
Register for free to continue reading
Registration is a free and easy way to support our truly independent journalism
By registering, you will also enjoy limited access to Premium articles, exclusive newsletters, commenting, and virtual events with our leading journalists
Already have an account? sign in
Join our new commenting forum
Join thought-provoking conversations, follow other Independent readers and see their replies