Ukraine crisis: Hollow posturing as Kiev's troops make bitter retreat from besieged Debaltseve
Following the Minsk ceasefire agreement, Ukrainian soldiers have withdrawn – reluctantly – from the strategic city - leaving only the pro-Russian rebels who have been besieging it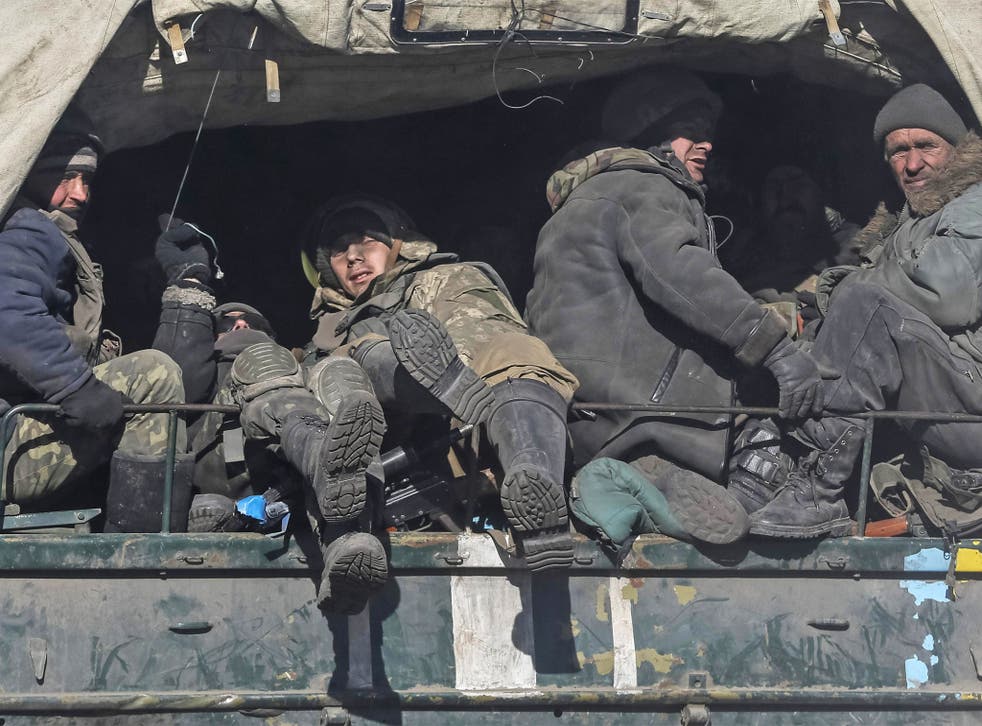 Some of the soldiers were agitated, others euphoric. Shouts of "Glory to Ukraine" went up, and victory salutes were brandished. Yet their posturing seemed hollow, given the operation they were engaged in: Ukraine's withdrawal from Debaltseve, after days of fighting against Russian-backed rebels in the strategic town.
The vehicles came thick and fast. Tanks, armoured cars, trucks, school buses, ambulances — a lot of ambulances; the evacuation used whatever transport the military could get its hands on. Some of the soldiers made the last few miles on foot.
"Tell Putin he's a dick, and Poroshenko that he's his used condom," shouted another soldier. Few had positive words for their political or military leaders.

Last week's Minsk agreements promised a ceasefire, but offered no resolution to the standoff at Debaltseve, a transport hub in the east of Ukraine where government forces were partly surrounded. From almost the moment the deal was signed, Russian President Vladimir Putin insisted "rebel forces" had undertaken a "defensive encirclement operation" of the town. Until today, Ukrainian President Petro Poroshenko insisted it remained under Ukrainian control. That Putin's assessment was closer to the truth – but both sides were ready for the fight – raises questions as to how realistic a ceasefire was ever likely to be.
Soldiers retreating from Debaltseve told The Independent that the railway town had been effectively encircled for 10 days, ever since rebel forces took the village of Lohvinove, four miles north of the town.
From this point the main highway out of Debaltseve became impassable. It was not impossible to break through enemy lines along alternative country roads, the soldiers said, but such an operation was perilous. On Monday, only one vehicle from six made it through to the other side. Not long after the battle, rebel forces encircled the main military headquarters to the south side of the town.
Ukraine crisis: A timeline of the conflict

Show all 23
A Ukrainian communications officer with the nom-de-guerre of "Iron", told The Independent his group of perhaps 50 soldiers had been surrounded. "We still had munitions, but we were relieved when the order came through to withdraw," he said. Fighting had been relentless throughout the period of the supposed ceasefire, he said.
After destroying 90 per cent of the military equipment at the base, the soldiers began leaving Debaltseve just after midnight on Tuesday evening. Iron's group eventually reached Artemivsk, the next town north, at 9am the next day, having survived two ambushes. They broke through with "minimal casualties."
Other units do not seem to have been as lucky. Speaking anonymously, an officer of the Krivbas battalion said that he estimated 10 per cent of the 400-strong battalion had been killed in the retreat, with a further 10 per cent taken captive. Their convoy came under mortar shelling, he said. Part of it was destroyed, and many of the soldiers made their way by running and crawling through mine fields.
"You forget about the mines when you're being shot at," said Klim Kaznachey, a soldier. Having survived a similar encirclement in Ilovaisk last August, he had critical words for military commanders, complaining that a lack of planning that left soldiers surrounded and vulnerable. "Both situations were idiotic, if we carry on like this we will lose Ukraine," he said.
Medics at a holding hospital in Artemvisk were guarded about the numbers of wounded and killed, claiming such information was classified. One suggested between 80 and 100 wounded soldiers arrived on Wednesday.
The Independent saw nine wooden coffins and four body bags lying outside the local morgue. Between two to five thousand civilians remain in Debaltseve, unable or unwilling to leave. The town itself is lifeless: livestock roam the central streets and people rarely leave underground bomb shelters, some of them apparently running out of water. Humanitarian workers have been unable to access the town for over a week. Volunteer workers Diana Makarova and Natalya Voronkova, who had until recently organised much of the evacuation of Debaltseve, said they had received hundreds of desperate requests from the town and surrounding villages.
The volunteers said military activity had prevented them from helping for the last 10 days. "One day we received a text from a woman asking us to save her mother and grandmother; two days later came another message, asking for help to bury her mother, and save her grandmother", said Ms Voronkova. "Shelling doesn't scare me, but this impotence is the most frightening feeling in the world."
Join our new commenting forum
Join thought-provoking conversations, follow other Independent readers and see their replies