Ukraine crisis: John Kerry claims Russia is 'brazenly' violating ceasefire
The US Secretary of State warns Vladimir Putin to expect further sanctions as clashes in eastern Ukraine continue
Oliver Wright
,
Nick Willoughby
Sunday 22 February 2015 01:00 Comments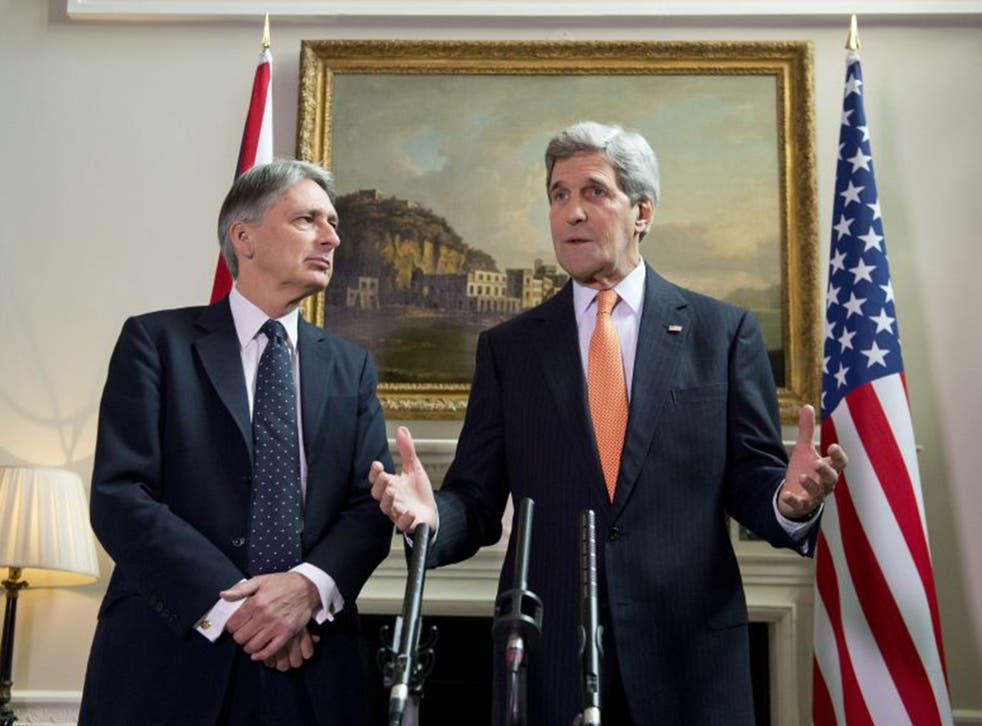 The US Secretary of State, John Kerry, accused Russia yesterday of brazenly and cynically violating a European-brokered truce in eastern Ukraine, and warned that the US was preparing further sanctions against the Putin regime.
Speaking ahead of talks in London with the Foreign Secretary, Philip Hammond, Mr Kerry said Moscow was engaging in "extraordinarily craven behaviour at the expense of the sovereignty and integrity of a nation", with the ceasefire between Ukrainian forces and pro-Russian separatists seemingly close to collapse.
Clashes continued yesterday, with Ukraine stating it was braced for a fresh rebel offensive on the south-eastern port city of Mariupol, and saying there had been a number of mortar attacks by separatists on the village of Shyrokyne on the edge of Mariupol.
The rebels said there had been shelling by government forces upon Donetsk. On Friday, Kiev accused Russia of sending tanks and troops into eastern Ukraine despite a ceasefire that came into force last Sunday. The ceasefire was part of a peace deal brokered by France and Germany in Minsk in an attempt to end a conflict that has killed more than 5,600.
Last night, a prisoner exchange aimed at making progress towards peace did go ahead in an area of "no-man's land" close to the rebel-held city of Luhansk. It was reported that 159 Ukrainian troops and 59 separatists were involved in the swap. Rebels said the majority of the soldiers had been held during a battle for the town of Debaltseve.
Russia has always denied that its forces have been involved in the months-long conflict, although such statements are not regarded as credible in the West. In London, Mr Kerry said the US "knows to a certainty" of Russia's involvement in the conflict and of the support it has been giving to the separatists.
"Russia has engaged in an absolutely brazen and cynical process over these last days," he said. "We are talking about additional sanctions, about additional efforts."
Mr Hammond condemned the "unacceptable" way in which the ceasefire agreement had been "systematically breached". He added: "We are going to talk about how we can maintain European unity and US-European alignment in response to those breaches."
In response to the remarks, the Kremlin spokesman Dmitry Peskov told Russia's Ekho Moskvy radio station that the "obsession" in Washington to make somebody "pay a price" does not help to end the conflict.
Colonel Andriy Lysenko, a Ukrainian security spokesman, said yesterday that rebels continued to move equipment toward Mariupol. Concerns persist that they aim to seize the city, as such a move would open up a fresh battlefront and almost certainly end the truce, already damaged by the rebel capture of Debaltseve.
Liam Fox, the former defence secretary, said Western powers should start supplying sophisticated weaponry to the Ukrainian government. Dr Fox warned that the credibility of Nato was at stake.
Register for free to continue reading
Registration is a free and easy way to support our truly independent journalism
By registering, you will also enjoy limited access to Premium articles, exclusive newsletters, commenting, and virtual events with our leading journalists
Already have an account? sign in
Join our new commenting forum
Join thought-provoking conversations, follow other Independent readers and see their replies