Ukraine crisis: Kiev confronts pro-Russia forces in bloody attempt to retain eastern half of country
West accuses Moscow of orchestrating upheaval that threatens security consensus that ended the Cold War
Kim Sengupta
Monday 14 April 2014 12:28 Comments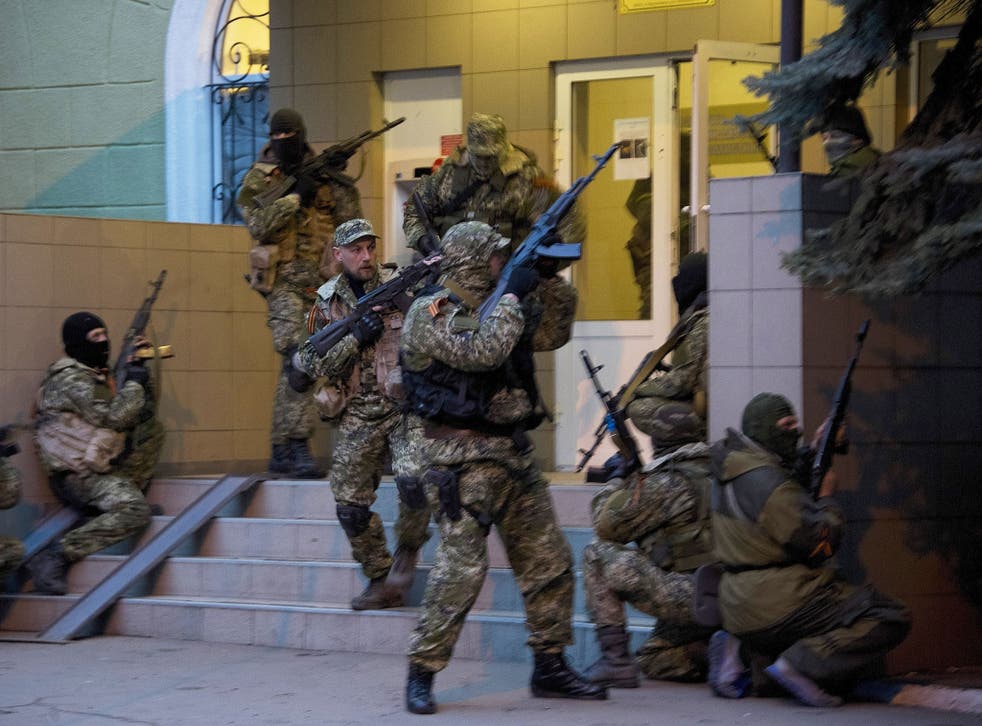 The body of a special forces officer, kneeling in a pool of blood beside a shot-up car, serves as a forewarning of Ukraine's future as cities and towns across an entire region slip out of the control of the government and into the hands of masked gunmen.
The killing outside the eastern town of Slovyansk and injuries to half a dozen others came in the first armed clash between troops and separatists as the administration in Kiev desperately tried to cling on to the eastern half of the country, after the bitter blow of losing Crimea to the Kremlin.
In response, Ukraine's acting President Olexander Turchinov gave rebels occupying state buildings until 7am today, UK time, to lay down their weapons. "The National Security and Defence Council has decided to launch a full-scale anti-terrorist operation involving the armed forces of Ukraine," Mr Turchinov said in an address to the nation. "We will not allow Russia to repeat the Crimean scenario in the eastern regions of Ukraine."
Yesterday's violence in the eastern region of Donbas, which has a large ethnic Russian population, ratcheted up the tension in one of the worst crises in recent times, with the West accusing Moscow of orchestrating an upheaval which threatens to tear apart the security consensus established following the end of the Cold War.
John Kerry telephoned Sergei Lavrov, Russia's Foreign Minister, to express the "gravest concern" and warn of further sanctions. The US Secretary of State charged that the attacks "were orchestrated and synchronised, similar to attacks in Crimea". The Nato chief, Anders Fogh Rasmussen, said the armed groups "had reappeared with specialised Russian weapons and identical uniforms without insignia, as previously worn by Russian troops in the illegal seizure of Crimea". William Hague, the Foreign Secretary, stressed that "Moscow should be clear that the UK will consider any armed Russian presence in eastern Ukraine a further and deliberate escalation".
Mr Lavrov strongly denied the allegations, maintaining instead that it was the result of the Kiev government's failure "to take into account the legitimate needs and interests of the Russian and Russian-speaking population". He also warned that Moscow may pull out of this week's summit on the crisis if the Ukrainian military was used in the trouble spots.
Events on the ground were following a steady and inexorable pattern with government buildings being taken over by men with Kalashnikovs and balaclavas, barricades rapidly slung up around them, and civilian supporters arriving to form a protective shield.
By nightfall, the protesters had overrun key installations in Donetsk, Kramatorsk and Druzhkova, as well as Mariupol and Yenakievo, the home town of Viktor Yanukovych, the President overthrown by the uprising in Kiev.
In some areas, such as Slovyansk, there were seemingly complete takeovers, with vigilantes blocking off the roads with concrete, tyres, dead trees and bonfires.
Clashes in eastern Ukraine

Show all 126
There was no sign of Ukrainians protesting at these places. They took to the streets in Kharkiv, the one place where security forces had managed to recapture a state office, on Saturday evening and yesterday. The marchers included a group from the ultra-nationalist Right Sector, regarded by their opponents as fascists: clashes took place late in the afternoon, fuelled by reports of events elsewhere, resulting in seven wounded.
Despite Mr Rasmussen's strictures about "specialised weapons", yesterday's killing was a simple and brutal affair. At around 7am, a taxi, a dark blue Renault, was hijacked, the driver clubbed and dragged out.
It was driven to newly arrived security forces which had taken up positions in a wooded area; men clambered out and opened fire with semi-automatic rifles. Soldiers shot back, hitting one of the attackers, but sustained injuries themselves; an officer, in the dark combat kit of the special forces, lay dead.
Vladimir Kolodchenko, a council member from nearby Nicolayevka, who saw the attack, reported: "The soldiers were standing by their vehicles. Four men came out of the car and started shooting, then there was more firing. People were getting hurt - it was pretty bad, very worrying."
In Slovyansk, local people refused to accept that separatists had carried out the attacks, blaming agents provocateurs of the Right Sector.
A coach, supposedly of their members, had been driven back on Saturday after approaching a checkpoint of protesters. I saw the passengers in the early evening, young men huddled together on the roadside.
"We know it was the fascists; local people would not do something like that. A lot of people knew the driver; they would not beat him up," said Vitaly, a taxi driver. "A lot of the soldiers, and the police, don't want to fight the local people; the aim was to provoke them; it was also to make us look bad to the outside world."
The troops had arrived at dawn in seven armoured personnel carriers. After the gunfight, the convoy approached Slovyansk along two routes, turning back each time when faced by barricades. Later in the afternoon, it headed towards Kharkiv; three helicopters circled overhead, before they, too, disappeared.
The protesters occupying the police station believed an attack was bound to take place. "They are bringing in reinforcements from other parts, from the west of the country, because, frankly, local soldiers and police would not want to fire on their brothers and sisters. We have our informants and we know some of the things that are going on," stated Aleksandr, a former soldier who described himself as one of the heads of security.
"They are putting in people all around, at a distance. But you see how we are placed; we'll see them long before they get here."
Were there any Russians among the protesters? "You'd expect me to say no of course, but that is the truth - you may choose not to believe it," Andrei replied. "I don't think there is any need; a lot of weapons have been taken from armouries, a lot of men have experience in the armed forces."
It remains difficult to ascertain what action the government will take. Ukraine's forces are small in numbers and there is evidence, judging by interaction at checkpoints, that many police officers sympathise with protesters. Arsen Avakov, the Interior Minister, declared that those taking over buildings were "terrorists" and would be treated as such.
But Mr Avakov, who has built up the image of being a hardliner, had made threats before, such as a 48-hour ultimatum for those occupying the administrative headquarters in Donetsk to disarm and surrender; that passed three days ago. A prolific Facebook user, he also provides a daily stream of information, not always accurate. Today he claimed, for example, that the special forces officer had died while approaching the occupied police station.
The separatist militiamen look upon Mr Avakov with a mixture of distaste and derision. "He wants to write a name for himself in the blood of civilians, women and children. Luckily we know the military ignore his orders," claimed Vadim.
However, Andrei cautioned: "One needs to be careful: weak men often do rash things to prove themselves."
Ukraine's acting Prime Minister, Arseniy Yatsenyuk, on a trip to Donetsk on Friday with a team of ministers to meet local leaders, had declared that he wanted a negotiated settlement while insisting that the Kiev government has not lost control of the situation. The visit, however, had to be kept secret due to fear of an attack taking place on the official party.
"We do not recognise the legitimacy of Yatsenyuk", 59-year-old Olga Arbutkova, who had come to offer support to the protest, stated.
"Yanukovych did not lose an election, he was not impeached, but they chased him out. There was some stability under Yanukovych; he was a religious man. But we all want a peaceful solution.
"All we are asking for is a referendum in which people can decide whether they want a federal system in which we can have autonomy. They don't listen - instead they threaten people, these imposters in Kiev," she said.
Mrs Arbutkova, whose elegant appearance was incongruous at a checkpoint in the rain, insisted on showing me her Ukrainian passport to disprove "lies" about Russians driving the demonstrations.
As she rummaged around her large designer handbag to do so, something fell clanking to the pavement; it was a police baton.
Register for free to continue reading
Registration is a free and easy way to support our truly independent journalism
By registering, you will also enjoy limited access to Premium articles, exclusive newsletters, commenting, and virtual events with our leading journalists
Already have an account? sign in
Join our new commenting forum
Join thought-provoking conversations, follow other Independent readers and see their replies