Ukraine crisis: Masked men of the Crimea overshadow the country's new dawn
Exiled former President resurfaces in Moscow in show of defiance
Kim Sengupta
Thursday 27 February 2014 21:34 Comments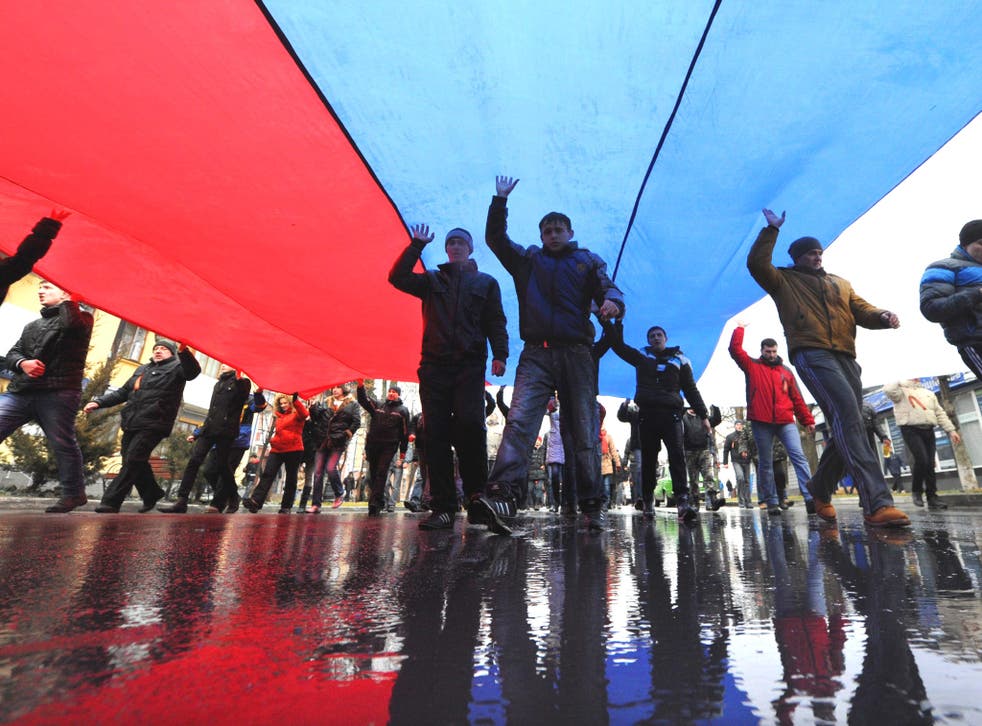 "We are Russia," declared one of the men in balaclavas and flak-jackets carrying Kalashnikovs and rocket-propelled grenades as they stormed Crimea's parliament in the early hours of today, deepening the crisis in Ukraine.
To the new government in Kiev the attack on the administrative heart of the semi-autonomous region - mainly populated by ethnic Russians - was seen as part of a plot, to justify possible military intervention by Russian President Vladimir Putin.
As the Russian flag flew over the building in Simferopol, armoured personnel carriers from Moscow's Black Sea Fleet in the Crimean port city of Sevastopol were on the road. There were reports that a brigade of Russian special forces were on notice of deployment to protect bases in the region; warplanes were in the skies over the frontier as 150,000 troops carried out manoeuvres on the ground.
Meanwhile, the deposed former Ukrainian president Viktor Yanukovych, who is wanted on charges of mass murder relating to the more than 100 people killed in protests against his government, surfaced in Moscow. Mr Yanukovych, who requested the Kremlin's help, is due to hold a press conference in Rostov in southern Russia on Saturday in which he is expected to present his plans to return.
"It is becoming clear that the people in south-eastern Ukraine and Crimea don't accept the power vacuum... in our country," he said in a statement. "On the streets there is an orgy of extremism. I have to ask the Russian authorities to provide me with personal safety from the extremists."
Arseniy Yatsenyuk, named as the country's new prime minister this week, asked the Russians to hand Mr Yanukovych back to Ukraine. Not only was he guilty of human rights abuses, Mr Yatsenyuk said, but he is accused of looting $70bn from the country's treasury over three years.
US Defence Secretary Chuck Hagel stated that he was "closely watching the military exercises along the Ukrainian border", and warned Russia against "taking steps which could be misinterpreted". The US Secretary of State John Kerry, who had argued that the crisis should not become a modern extension of the Cold War, had a telephone conversation with Russian foreign minister Sergei Lavrov urging caution.
The Nato Secretary General, Anders Fogh Rasmussen, cautioned Russia "not to take any action that can escalate tension or create misunderstanding."
Ukraine's acting President, Olexander Turchynov said any "military movement" by Russia's Black Sea Fleet beyond its base "will be seen by us as an act of military aggression". He had, he said, "given orders to the military to cordon off the area".
But, in reality it is not clear how much command the new government now has over the semi-autonomous authorities in Crimea, with its Russian-speaking majority demanding secession from Ukraine and rule from Moscow. The provincial administration announced that a referendum would be held over greater autonomy for Crimea on the same day as the post-revolution national elections.
In pictures: Crisis in Ukraine

Show all 11
Earlier, hundreds of chanting Russian speakers had passed through security cordons, unchecked, to gather outside the parliament building in Simferopol.
Four traffic policemen had been manning one of the barriers. "We don't know what happened, the Russians somehow got through and are now over there," said one, with a shrug.
What about armed officers? "The Berkut have been sacked," he was keen to point out. The Berkut, Ukraine's elite riot police force, blamed for the killing of protesters, was disbanded in one of the first acts of the new Kiev administration.
There were rumours that Ukrainian forces, as well as the "self-defence volunteers" of the protest movement, could be on their way down south. That, if it took place, would inevitably lead to armed confrontation.
Russian MP Leonid Slutsky, the head of the Duma's committee for relations with former Soviet states, had stated on a tour of Crimea earlier this week that action will be taken "if the life and health of our compatriots are under threat".
On Wednesday, more than 20,000 ethnic Tatars, who are vehemently opposed to secession, and a smaller number of ethnic Ukrainians clashed for hours with pro-Russians outside the parliament building, leaving two dead and around 25 injured. The animosity of Ukraine's largest Muslim community towards Moscow goes back to their deportation by Stalin; they only returned to their ancestral lands in the 1990s.
On Wednesday evening it was unusually busy on the road between Sevastapol and Simferopol. At just before five in the morning, a handful of pro-Moscow demonstrators found themselves surrounded by around 60 men. Leonid Kazanov, one of those keeping watch, said: "I asked one of the guys who they were. He just said: 'We are Russia'." Another activist, Maxim, said: "This was clearly a well-organised operation: they initially put everyone on the ground, then they said 'Don't be afraid, we're with you'."
Members of the armed group were briefly seen outside, putting up a sign saying "Crimea is Russia". In answer to a journalist's question about their aims, one of the men threw a flash grenade. The Crimean prime minister, Anatoly Mogilev, said he had telephoned the men to negotiate their withdrawal, but "they said they had no authority to do so". Later, a number of deputies were allowed entry into the building; soon afterwards came the announcement of the referendum.
Vladimir Panenko, one of those gathered outside, said: "The West has forgotten the part we played in saving them from the Germans; they have spent years trying to weaken Russia; they are doing the same with their puppets in Ukraine. But this time we are striking back."
The Tatars had kept well away from the parliament buildings for the day. One of those who was there for Wednesday's rally, Amazat Bodrov, said: "We didn't want to make any provocations. But we have a foreign flag, one which has been an occupying power, flying over Simferopol today; how long can Ukraine allow that and keep its self-respect?"
There were rumours of crowds waving Russian flags blocking roads. "It will be an interesting time in Crimea, the next few days," he said.
Register for free to continue reading
Registration is a free and easy way to support our truly independent journalism
By registering, you will also enjoy limited access to Premium articles, exclusive newsletters, commenting, and virtual events with our leading journalists
Already have an account? sign in
Join our new commenting forum
Join thought-provoking conversations, follow other Independent readers and see their replies