Ukraine crisis: Meet the foreign nationals fighting for the Donetsk People's Republic
'The Tourist' comes from Scotland, 'Tex' from the US and Ravi Singh from Punjab. All are fighting the forces of the Ukrainian government and face possible arrest if they return home. Kim Sengupta met them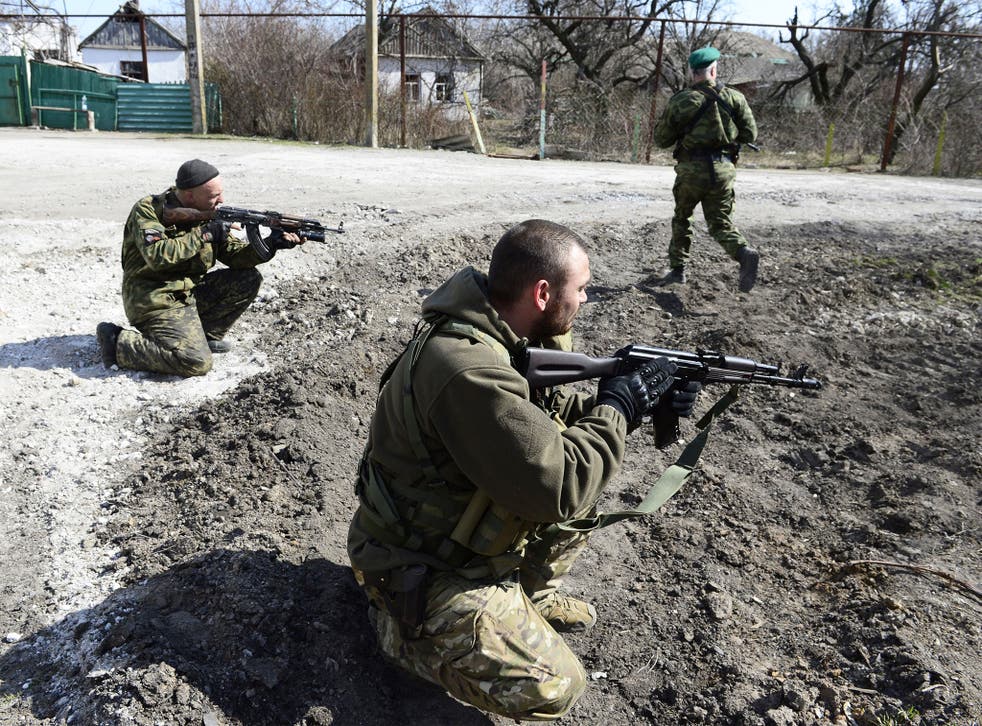 He wanted to join the British Army when he was younger, but was rejected because of a childhood injury. Now "the Tourist" has at last fulfilled his ambition to be a soldier, with the army of the Donetsk People's Republic, fighting the forces of the Ukrainian government.
The Tourist, as his comrades have nicknamed him, is from central Scotland, one of several hundred foreigners on both sides of this conflict. There has been publicity about those fighting for the Kiev government, many of them in private armies funded by oligarchs, and the presence of Russian "volunteers" in the separatists' ranks has also been documented. Now The Independent can reveal for the first time more about those fighting alongside them, from the West and beyond.
These men face an uncertain future. In many cases, the Russian visas which allowed them to reach the border and cross into the rebel-held Donbass region of Ukraine have expired, and the authorities in Moscow are reluctant to renew them – perhaps a sign that President Vladimir Putin wants to defuse the situation and discourage more foreigners from flocking to the fight.
If they ever do get home again, the Western volunteers face possible terrorism charges from authorities in their home countries that back the Ukrainian government and regard the separatist enclaves of Donetsk and Luhansk as illegal entities.
Eight Spaniards were arrested earlier this year after returning from Donbass, having posted social media photographs of themselves posing with assault rifles and explosives. For this reason, the Tourist does not want his identity made public. "I know those returning from Syria to Britain have been arrested by the police," he said.
"This is something one worries about, I just have to be careful and hopefully it will be OK. My parents think I am travelling around the world; some very close friends know I was thinking of coming here, but they don't know any details.
"I didn't come here for the money, I gave up my job, said goodbye to my lassie, because I wanted to be a soldier. I don't speak Russian yet but things have been OK at the front with sign language so far. I do miss home, things like food, a bit of haggis. You have to eat everything here with a spoon."
The Tourist, in his mid-30s, has been here for four months. He became interested in the Ukraine conflict through media reports and became sympathetic towards the separatists. But, despite being brought up near Bannockburn, he is no separatist when it comes to the United Kingdom. "I voted to stay in the Union in the referendum," he said. "All the guys here try to persuade me that I was wrong."
He compares Donbass to Northern Ireland, with Russia as Britain and Ukraine as the Irish Republic, "which wants to take over Northern Ireland if you see what I mean," and insists: "I am British and I will be going back home."
One foreign fighter in Donbass not planning on a quick return to his homeland is Russell Bonner Bentley III, born in Texas, who said: "If I ever go back… I will do so driving a tank, man. America is now a fascist country, and what's happening here is part of that. Washington is paying the Nazis in Kiev to keep this war going. They are paying those bastards to murder innocent people."
Ukraine crisis: A timeline of the conflict

Show all 23
Mr Bentley said he decided to join the rebel forces after seeing footage of a bombing by Ukrainian forces in Luhansk. "I said to myself, 'I'm going to kill some of those mother-fuckers who did that,' and that's what I did."
Tex, as he is known, declared: "My life has been like a movie and this is the best part." He was in the US Army for three years and had been involved in marijuana smuggling which led to shootouts in Mexico and a five-year prison sentence in America. Mr Bentley stood for Senate on a ticket to legalise marijuana in Minnesota and his involvement in drug trafficking was, he maintained, partly a political act.
He reached Ukraine in December, served with the rebels' Spartak Battalion and now runs his own show on Radio Free Donbass. "When I was fighting, I could fire an RPG [rocket propelled grenade] 900 metres. With my radio show, I can reach all the way to the politicians in Washington with the truth."
Javier Benitez, from Badajoz in Spain, is a doctor on the front line. He has never fired a shot, he insists, and wears a combat uniform because, he claimed, Ukrainian snipers had been targeting medics. "I am here for humanitarian reasons. The world hears about people dying from shelling and shooting but the Ukrainians are blockading this place, and that means people are dying from lack of medicine."
Dr Benitez, who lives in an abandoned flat without water, has been ill himself with lung problems and suffered hypothermia after collapsing in a field at night. He also had a lucky escape when a howitzer round landed near him.
The 24-year-old doctor knew about his compatriots being arrested after returning to Spain. His Russian visa has run out and the local Spanish consul in Donetsk is unsympathetic. "He said I should live with the consequences of my action and go back to Spain through Ukraine. Of course I would get arrested if I went to Ukraine," he said.
Ravi Singh, from Chandigarh in the Punjab, is sometimes mistaken for a Brazilian volunteer. He had gone to university in New Zealand and he was working as a restaurant manager in Christchurch when he decided to travel to Donbass.
Mr Singh, 24, was a supporter of one of India's many communist parties. "I thought Russia had become a fascist state after the fall of communism. Now I know that is not the case. I started following what was going on in Ukraine, terrible things like the fire in Odessa [when 46 pro-Russian demonstrators were burnt to death] and thought I must do something," he said.
At 6ft 5in, Mr Singh was snapped up by the People's Republic army for its elite Khan Battalion. "I haven't found it physically difficult. I am quite fit, I played cricket."
Although he supports separatism in Ukraine, he does not do so in India. "I followed the movement for Khalistan [an independent Sikh state] once, but then I realised it was being organised by the CIA," he said. "This is different, the Ukrainians are cowards, they fire over our heads at civilians. I will stay here until we get victory. Then I want to go to Syria, if that war is still going on, and fight for the Kurds."
The Tourist, from Scotland, also want to join the Kurdish militias in Syria, even though they only want people with military experience. "By the time I get there I'll be an experienced soldier," he said.
Register for free to continue reading
Registration is a free and easy way to support our truly independent journalism
By registering, you will also enjoy limited access to Premium articles, exclusive newsletters, commenting, and virtual events with our leading journalists
Already have an account? sign in
Register for free to continue reading
Registration is a free and easy way to support our truly independent journalism
By registering, you will also enjoy limited access to Premium articles, exclusive newsletters, commenting, and virtual events with our leading journalists
Already have an account? sign in
Join our new commenting forum
Join thought-provoking conversations, follow other Independent readers and see their replies