Ukraine crisis: Peace talks stall in Minsk as the people of Debaltseve flee rebel bombs
Kiev government accuses separatists of undermining negotiations that last just hours
Oliver Poole
Sunday 01 February 2015 01:00 Comments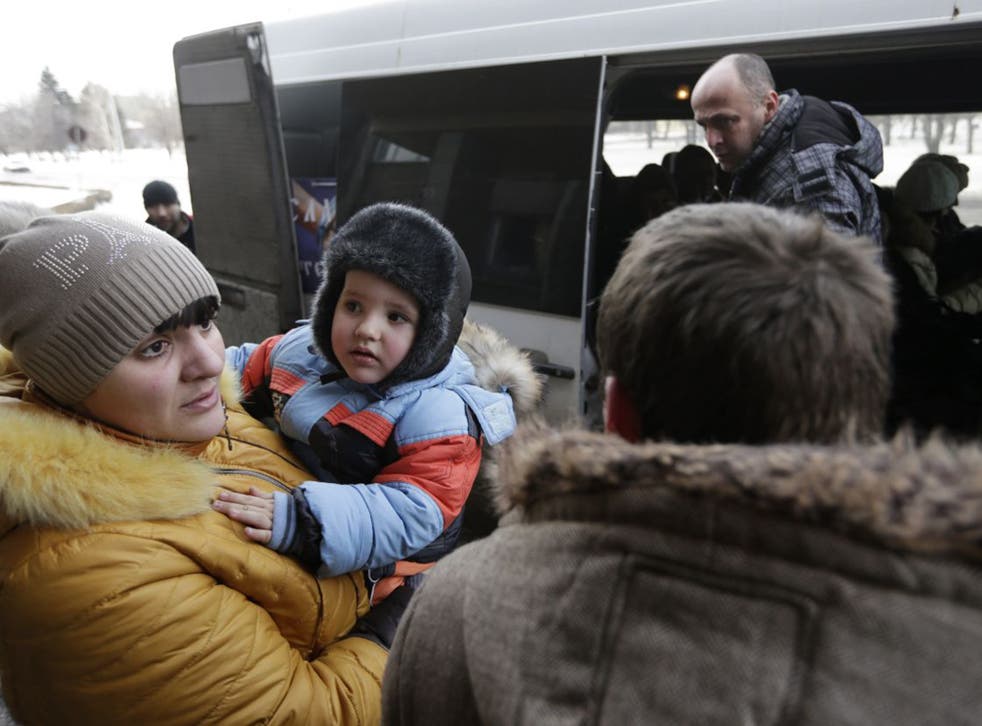 As Ukraine's government finally sat down with pro-Russian separatists for peace talks in Minsk yesterday, the people of Debaltseve were gathering in their town hall for evacuation as fire from heavy-calibre weapons boomed around them.
Parts of the east-Ukrainian town have been without power, water or gas for days, and it is now besieged on three sides by rebel forces, whose recent offensive destroyed hopes that September's peace accord would mark an end to the worst of the fighting. Any potential for progress yesterday appeared stymied as the meeting in Minsk broke up after four hours, with the Ukrainian representative quoted as accusing the separatists of undermining the talks.
In Debaltseve, Vyacheslav Abroskin, regional head of police, said the decision to evacuate came amid "ceaseless artillery strikes", and "volunteers and police are travelling under fire to evacuate entire families". Twelve civilians have been killed by shelling, he said, and almost 1,000 are understood to have left the town.
Ukraine's defence minister, Stepan Poltorak, also announced yesterday the loss of a further 15 soldiers in clashes across the east of the country.
Debaltseve is on the highway linking Donetsk with the other main rebel stronghold of Luhansk and is a vital railway link for goods from Russia, which Kiev accuses of arming the separatists. Separatists also continue to focus forces on Mariupol, in the south-east of the country.
Ukraine crisis: A timeline of the conflict

Show all 23
The continued violence underlined the urgency of the talks in the Belarussian capital between the Ukrainian envoy, separatist officials, and a representative from Moscow. The negotiations are arranged by the Organisation for Security and Cooperation in Europe and formally backed by Moscow. However, the Ukrainian envoy, former president Leonid Kuchma, was quoted by Interfax as saying that the two separatist officials present had delivered ultimatums and refused "to discuss a plan of measures for a quick ceasefire and a pull-back of heavy weapons".
Mr Kuchma had told reporters that: "Our main goal is to ensure the [September] agreement is implemented." Separatists, however, insist any new border outlining rebel-held areas should run along the current front line, giving them an area 200 square miles larger than agreed last year.
In a phone conference between Russia's Vladimir Putin, the German Chancellor, Angela Merkel, and the French President, François Hollande, yesterday, the joint hope was expressed that ending the violence would be the central issue of the conference, the Kremlin said.
Talks initially scheduled to be held on Friday were called off following disagreements over who should represent the rebel camp.
More than 5,100 people have been killed in Ukraine and 900,000 displaced since the conflict erupted last April after the ousting of Moscow-backed president Viktor Yanukovych, and Russia's annexation of Crimea. A month's relative calm following September's deal was shattered by a separatist offensive in early January.
Meanwhile, in Debaltseve, the old and infirm were being lifted into packed evacuation buses. Charity worker Andrei Vasilyev told the Associated Press: "This is not their war, after all."
Register for free to continue reading
Registration is a free and easy way to support our truly independent journalism
By registering, you will also enjoy limited access to Premium articles, exclusive newsletters, commenting, and virtual events with our leading journalists
Already have an account? sign in
Join our new commenting forum
Join thought-provoking conversations, follow other Independent readers and see their replies