Ukraine crisis: Pro-Russia protests spread in east as crowds of demonstrators storm government buildings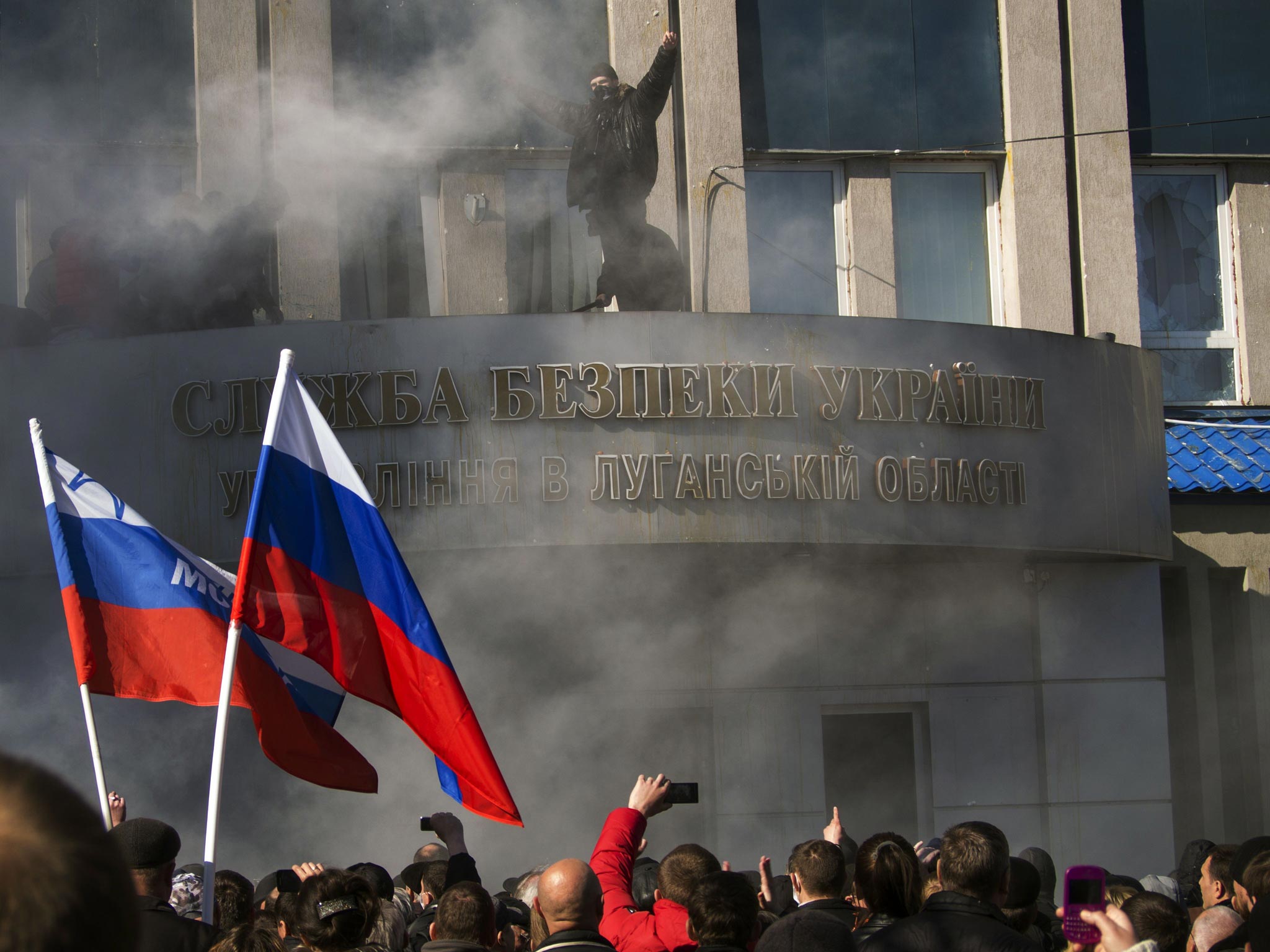 In Donetsk, 50 miles west of the Russian border, a large group of people, including many in masks carrying sticks and stones, surged into the provincial government building and smashed windows.
The protesters stormed regional government buildings in the industrial hub of Donetsk and security service offices in nearby Luhansk, waving Russian flags and demanding a Crimea-style referendum on joining Russia.
Protesters later seized the regional administrative building in Kharkiv, Ukraine's second-largest city, the Interfax news agency reported. All three cities lie close to Ukraine's border with Russia.
The Interior Minister, Arsen Avakov, vowed to restore order in eastern Ukraine without using violence and accused Ukraine's ousted President Viktor Yanukovych, whose political base was in Donetsk, of conspiring with Mr Putin to fuel tensions.
Clashes in eastern Ukraine
Show all 126
"Putin and Yanukovych ordered and paid for the latest wave of separatist disorder in the east of the country. The people who have gathered are not many but they are very aggressive," Mr Avakov said.
"The situation will come back under control without bloodshed. That is the order to law enforcement officers. But no one will peacefully tolerate the lawlessness of provocateurs."
Acting President Oleksander Turchynov called an emergency meeting of security chiefs in Kiev, the parliamentary press service said.
Mainly Russian-speaking eastern Ukraine has seen a sharp rise in tensions since Mr Yanukovych was overthrown in February and the advent of an interim government in Kiev that backs closer ties with the European Union. Russia has branded the new government illegitimate and has annexed Ukraine's Crimea region, citing threats to its Russian-speaking majority.
Around 1,500 people protested in Donetsk yesterday before breaking into the regional administration building, where they hung a Russian flag from a balcony, a Reuters witness said. Protesters outside cheered and chanted: "Russia! Russia!"
In the Luhansk protest, three people were reportedly injured. "We don't want to join the EU, we don't want to join Nato. We want our children to live in peace," an unnamed woman told Ukraine's Channel Five.
Talking to the crowd over a loudspeaker, protest leaders in Donetsk said they wanted regional politicians to convene an emergency meeting to discuss a vote on joining Russia like the one in the Crimea region.
"Deputies of the regional council should convene and take the decision to carry out a referendum," one of the protest leaders said, without identifying himself.
Join our commenting forum
Join thought-provoking conversations, follow other Independent readers and see their replies