Ukraine crisis: Several dead in fighting in Slovyansk
Clashes have been reported between pro-Russian militias and Ukrainian troops
Lizzie Dearden Comments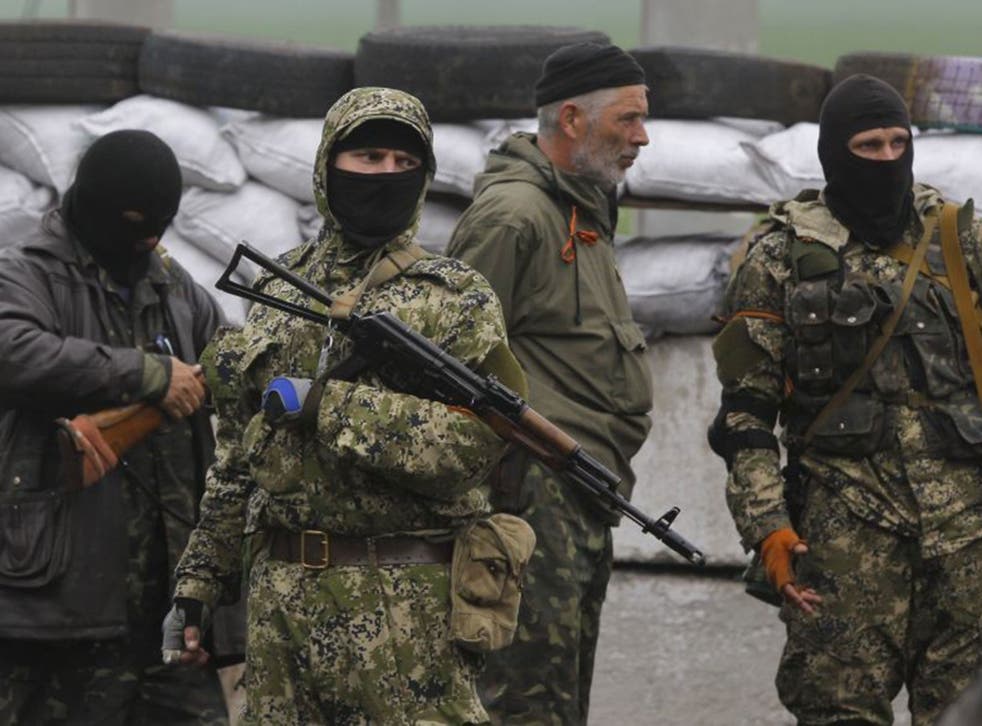 Several people have reportedly been killed in fighting between pro-Russian rebels and Ukrainian troops in Slovyansk.
The interior ministry said four Ukrainian soldiers were dead and and 30 wounded in gun battles but did not give any information about injured rebels or civilians.
The Interior Minister, Arsen Avakov, said on his agency's website that pro-Russian forces were deploying powerful weapons and mortars in the region and there were injured people on both sides.
Government troops were facing about 800 insurgents, he said.
A spokesman for a pro-Russian group in Slovyansk said an unspecified number of people had been killed and wounded in the clashes, including a 20-year-old woman killed by a stray bullet.
Heavy gunfire could be heard almost continuously on Monday and seemed closer to the centre, according to correspondents, and ambulances were seen in the area.
Earlier reports said some pro-Russian rebels were retreating from the violence.
At least two armoured vehicles used by separatists were seen fleeing the eastern outskirts of the city, which has become a rebel stronghold.
Ukrainian forces were expected to launch an offensive against the pro-Russian militants, who had taken control of several checkpoints and buildings including a television tower.
On Sunday the army cut off the main road into the city. The government in Kiev have called the manoeuvres an "anti-terror" operation.
The intervention came days after rebels shot down two Ukrainian helicopters in the outskirts of Slovyansk and another was brought down on Monday.
Clashes in eastern Ukraine

Show all 126
It is one of several Ukrainian cities where pro-Russian separatists have seized official buildings and many fear violence will escalate as the government continues its military crackdown.
The Ukrainian Defence Ministry has accused Russian special forces of backing the separatists in an effort to take control of the east of the country following the annexation of Crimea.
Meanwhile, rebels are claiming that mercenaries and spies from Britain and the US are fighting on the government's side in Andrievka, near Slovyansk.
In Odessa, which has seen days of bloody clashes between nationalist and pro-Russian rebels, a victim of the violence has been buried.
Regional parliament member Vyacheslav Markin died from burns sustained when the city's Soviet-era trade union building was set on fire.
More than 30 people were killed in the blaze and clashes outside, where shooting, grenades and molotov cocktails were reported.
It had been occupied by pro-Russian protesters, who are now vowing to take control of buildings in the Black Sea port.
As Mr Making, who was known for speaking out against the government in Kiev, was buried, 300 supporters shouted "Hero, hero!".
Many of those at the funeral wore the Saint George black and orange ribbon that has become a symbol of the pro-Russian movement in Ukraine and said they were planning to storm the regional government building in Odessa later that afternoon.
Additional reporting by Reuters and AP
Register for free to continue reading
Registration is a free and easy way to support our truly independent journalism
By registering, you will also enjoy limited access to Premium articles, exclusive newsletters, commenting, and virtual events with our leading journalists
Already have an account? sign in
Join our new commenting forum
Join thought-provoking conversations, follow other Independent readers and see their replies