Ukraine crisis: Putin warns Ukraine faces 'serious consequences' after signing EU deal
Ukraine has signed a historic trade and economic pact with the EU along with two other former Soviet republics, Moldova and Georgia
Heather Saul
Friday 27 June 2014 19:44 Comments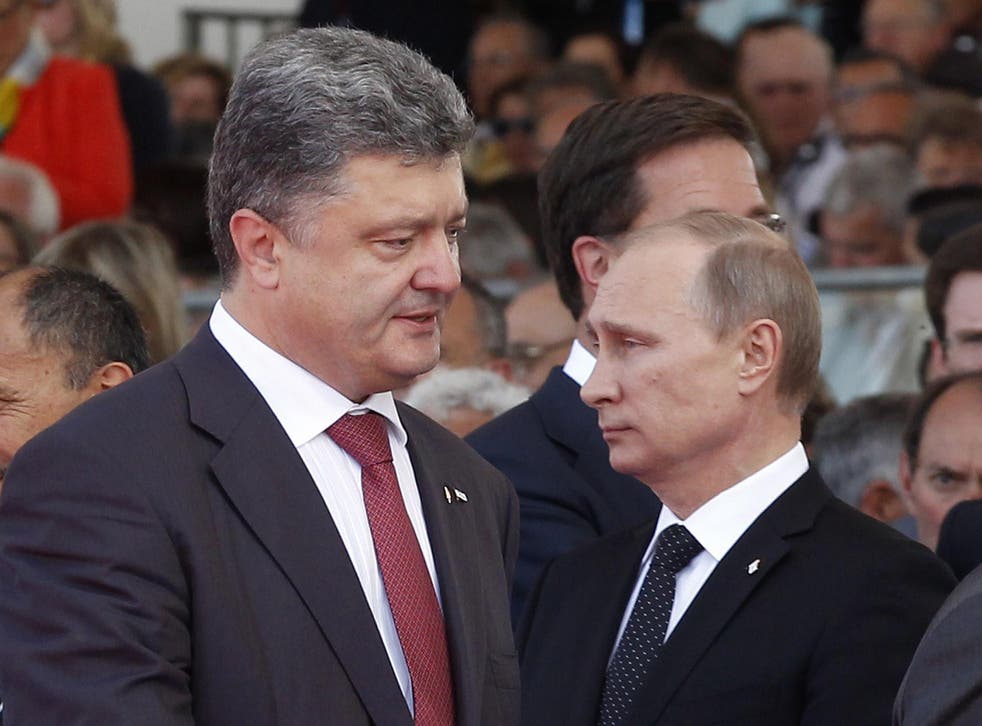 Russia has warned there could be 'serious consequences' for Ukraine after its President Petro Poroshenko signed up to a trade and economic pact with the European Union, in a deal that has been central to the crisis in the country.
The signing of the partnership agreements, hailed by Mr Poroshenko as the "most important day" for Ukraine since it gained independence from the Soviet Union in 1991, comes as a shaky cease-fire between government troops and pro-Russian rebels is due to expire.
Dmitry Peskov, a spokesman for Mr Putin, told Russian news agencies that the Kremlin would respond to the EU-Ukraine accord "as soon as negative consequences arise for the economy".
The Russian Deputy Foreign Minister Grigory Karasin also warned that while signing the document is "a sovereign right of each state, the consequences of the signing by Ukraine and Moldova no doubt, will be serious", the BBC reports.
Russia's comments threaten to reignite the conflict in eastern Ukraine, which has killed more than 400 people since mid-April by the United Nations' estimate.
The European Union signed similar association agreements with two other former Soviet republics, Moldova and Georgia.
Ukraine crisis aftermath: Slavyansk residents show the scale of damage caused by weeks of unrest

Show all 10
Businesses in the three countries whose goods and practices meet EU standards will be able to trade freely in any EU country without tariffs or restrictions. Likewise, EU goods and services will be able to sell more easily and cheaply to businesses and customers in Ukraine, Georgia and Moldova.
"It's absolutely a new perspective for my country," Mr Poroshenko said.
Earlier, one of Mr Putin's senior advisors branded Mr Poroshenko a "Nazi" and warned: "After the signing of the agreement with EU, [the] European public will be... surprised when this Nazi Frankenstein, which was born by the Euro bureaucrats and some politicians, will knock on the European countries' doors."
But Mr Peskov stressed in Russian media that Sergei Glazyev's comments did not reflect the official Kremlin position.
Video: John Kerry says Russia must take steps to end Ukraine crisis
The EU deal followed the decision of Mr Poroshenko's predecessor, Viktor Yanukovych, to back out of the EU association agreement in November that touched off massive protests in Ukraine, and that eventually led to Yanukovych's flight to Russia and Russia's occupation and annexation of Ukraine's Crimean Peninsula.
Russia claims it has registered the arrival of 90,000 Ukrainians since the ensuing crisis began, although it is unclear how many would actually settle there.
Additional reporting by Associated Press
Register for free to continue reading
Registration is a free and easy way to support our truly independent journalism
By registering, you will also enjoy limited access to Premium articles, exclusive newsletters, commenting, and virtual events with our leading journalists
Already have an account? sign in
Join our new commenting forum
Join thought-provoking conversations, follow other Independent readers and see their replies