Comedian Zelensky faces down Petro Poroshenko in fiery Ukrainian presidential debate: "I'm not your opponent, I'm your sentence"
Debate resembled a boxing match in presentation, but incumbent Petro Poroshenko failed to land a fatal blow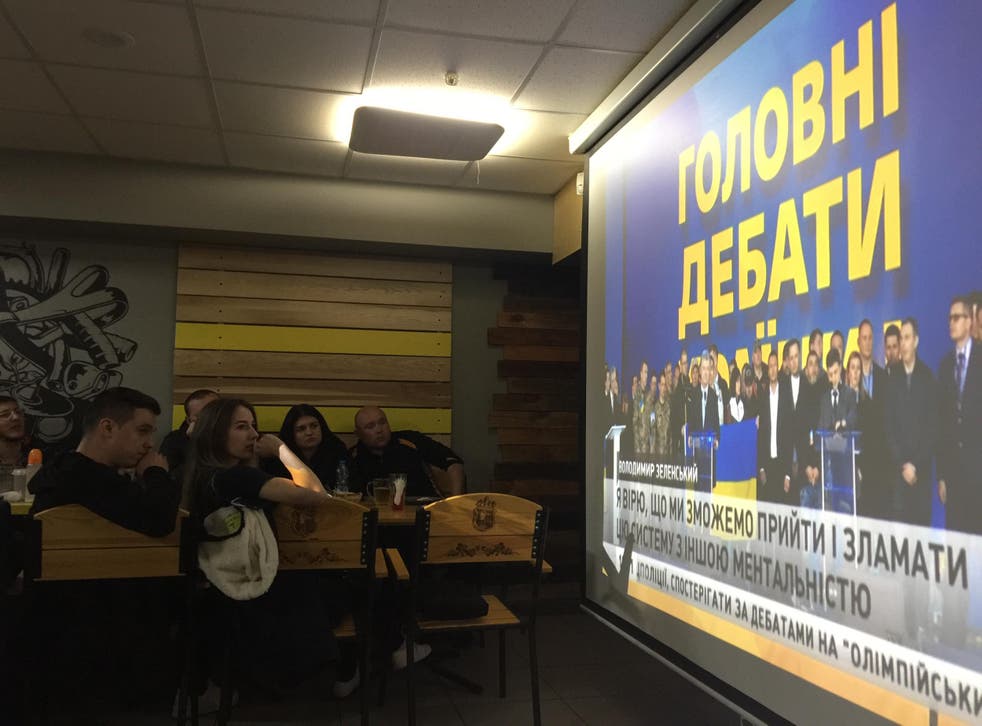 One of the least presidential campaigns in history came to close with aplomb on Friday night, when most of Ukraine paused for 60 minutes to watch a fierce head-to-head between incumbent Petro Poroshenko and the overwhelming favourite for Sunday's elections, Volodymr Zelensky.
A second television debate was planned for later in the evening, but Mr Zelensky failed to turn up, having declared he "had been enough debates for one day."
Over four months of campaigning, Ukraine's political strategists can be criticised for many things. But a lack of effort is not one of them. Together, have offered the world a masterclass in the wildest election technologies: a candidate looking for a wife; fake candidates designed to confuse voters; a virtual candidate who plays a real president in a post-modern comedy drama; the a spectacle of realtime presidential drug-testing; and now, today, a stadium debate resembling a boxing match, punches almost included.
The bout had everything. An audience of 22,000, with tens of millions watching from their sofas. Opposing stages, set against each other in gladiatorial style. Dramatic, stage managed entrances onto the stage. Opposing fans and fan zones. Rousing speeches and harsh rhetoric. The clear hint of physical aggression. A staring match.
Ukraine Elections 2019 in pictures

Show all 26
A slimline, stressed-down Mr Poroshenko was certainly forceful enough in this, his very last throw of the dice. He knew he had a huge gap in polling numbers to bridge in order to save his political skin. All the latest polls have Mr Zelensky down for a landslide of at least 70 per cent.
The incumbent accused his challenger of incompetence and weakness, and hiding from the media. In 2014, said Mr Poroshenko, a president saved Ukraine from Russian aggression, while a young actor was making fun of it. President Zelensky was a "big risk" a country at war could not afford.
"You hid from the draft," Mr Poroshenko said. "You won't be able to defend yourself from Putin's strikes."
But while Mr Poroshenko had the edge in oratory, he failed to land an obvious knock-out blow. On the contrary, Mr Zelensky's performance will be remembered for a number of well-judged lines.
"I'm not your opponent, I'm your sentence," was the one that most sticks in the mind. "I'm the result of your mistakes and promises," went another.
In Kryvy Rih, the industrial home town of Ukraine's probable next president, people were watching with particular attention.
In the central suburbs — the city, literally a rust-belt, is built as one thin 145km line along iron ore deposits — a bar had even put on a special debate party. Like elsewhere in town, the vast majority of the 40 or so punters who turned up had already made their minds to vote for their compatriot. But few were entirely sure that Volodymyr Zelensky was the answer to their pains.
At least, not in the same way that beer was.
Handing out forms for a blind trial of the latest pale ales, owner Pavlo Kuznetsov, 38, assured patrons he was only interested in their opinions on the booze. Today, he said, the eight samples had come from Lviv in the West, Kyiv, and, of course, Krivyy Rih.
"I'm really not interested in how people vote on Sunday, and I don't want them telling me how to vote either," he says. "To be honest, I'm fed up of the bitching online. I don't like it when people refuse to listen to one another."
If truth be told, we are supposed to be watching the debates here with one of Mr Zelensky's university classmates. But like much else connected with the presidential frontrunner, the former classmate had disappeared into the virtual ether.
She wasn't the only one of Mr Zelensky's friends to cancel a meeting; three other tentative agreements on Thursday evening had turned into firm cancellations by Friday morning. Some said they would be happy to speak after the vote. A family member who had fallen out with Zelensky refused to speak whatever the day.
An attempt to get some clarity at Mr Zelensky's local campaign headquarters on Metallurgov street was also unsuccessful. The office was already shuttered up by lunchtime, in this, the final week of an election campaign.
It certainly seemed as though Team Zelensky had decided there wasn't anything left to play for, and issued instructions accordingly.
Given that only 15 percent are reportedly yet to make up their minds, they were probably right.
"They understand the only had to do is make no mistakes," says Vadim Dzyunzya, 35, a musician, who says he has dropped by try the Lviv brew. "Though I'm far from the only one here who is bothered that we don't have any idea of Zelensky's programme. Five years is an awful lot of time for an experiment."
Suddenly, the bar crowd breaks out into a roar and applause — in the debates in Kiev, Mr Zelensky has dramatically fallen to his knees, and it's played especially well here in Krivyy Rih.
Standing, and leading the applause is Nastya Pryadka, 26, a mother on maternity leave.
"You can tell he's one of us," she says. "Poroshenko is saying its a big risk to take on Zelensky, but do you know what? I'm ready to take that risk. Zelensky brings hope. Whatever that is, it's better than things being reliably awful."
Support free-thinking journalism and attend Independent events
Her friend Alex Zhupan, 30, says he's relieved that the debates didn't break down into the free-for-all that some had feared. This was already progress.
"The world was watching us. It looked vibrant and democratic. It wasn't so bad," he said. "The beer was good too."
When the results finally come in, there is a surprise: Krivyy Rih's ale has come second.
It's unlikely to be an omen.
Register for free to continue reading
Registration is a free and easy way to support our truly independent journalism
By registering, you will also enjoy limited access to Premium articles, exclusive newsletters, commenting, and virtual events with our leading journalists
Already have an account? sign in
Register for free to continue reading
Registration is a free and easy way to support our truly independent journalism
By registering, you will also enjoy limited access to Premium articles, exclusive newsletters, commenting, and virtual events with our leading journalists
Already have an account? sign in
Join our new commenting forum
Join thought-provoking conversations, follow other Independent readers and see their replies