Ukraine election: Volodymyr Zelensky's party triumphs as exit polls predict parliamentary majority for former comedian
Vote completes remarkable year for Ukrainian politics, with complete reset of both executive and legislative branches.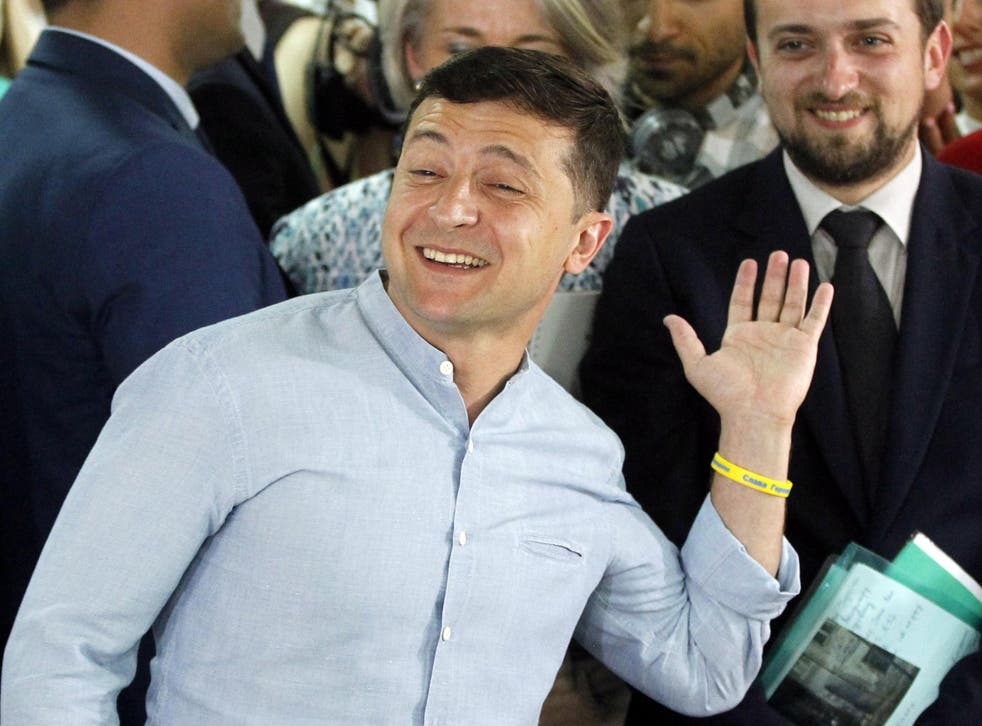 Ukraine's most unexpected president Volodymyr Zelensky appears to pulled off another extraordinary act, with voters granting his untested party a commanding victory in Sunday's general elections.
Exit polls indicated that Mr Zelensky would likely fall short of the 226 seats required to form a single-party majority in the Supreme Rada. But the strong projected showing of preferred coalition partner Holos, a new party fronted by the musician Svyatoslav Vakarchuk, means the president will be able form a workable coalition of likeminded forces.
The polling data, released at 8pm local time, suggested that Mr Zelensky's Servant of the People party would win 44.4 per cent of the vote. The pro-Russia Opposition Platform For Life comes next with 12.5 per cent. European Solidarity, the vehicle of former president Petro Poroshenko, is projected third with 8.5 per cent. Fatherland, the vehicle of former prime minister Yulia Tymoshenko is on 7.7 per cent. Holos is the last to pass the 5 per cent parliamentary barrier on 6 per cent.
Ukraine's complicated, mixed first-past-the-post and party list voting system means that it will be some while before an exact picture is formed, and the exit polls are likely to have a high margin of error.
Ukraine Elections 2019 in pictures

Show all 26
Earlier on Sunday, Mr Zelensky described today's vote as possibly more important than the presidential election, a nod to the wide-ranging powers enjoyed by Ukrainian legislators. He had asked for a strong mandate to implement reforms ranging from removing immunity for deputies, a tax amnesty and extending lustration, the process of barring previous officials from power. Today's result appears to have granted him those powers.
Svyatoslav Vakarchuk, Ukraine's other showbiz politician, was the other main winner from the election. The "Ukrainian Bono" was long touted as a possible president before he withdrew earlier this year. For many, he was a more natural fit for politics than Mr Zelensky, having already served as a parliamentarian over 2007-08. But in the subsequent months, it was the comedian's star that rose at the expense of the more famous musician. Some doubted he was ready for popular politics following a high-brow but lacklustre campaign. Now, he could be set for a junior role in coalition.
The presence of Holos in parliament has removed a major headache for Mr Zelensky: the prospect of negotiations with Yulia Tymoshenko's Fatherland fraction. Ms Tymoshenko, a crafty and vastly more experienced former PM, had been angling for a return to her previous role.
For the members of the previous governing powers, the results represented a humiliating rejection. Former president Petro Poroshenko, who just two months ago held all the shots, now looks forward to life in the second tier of Ukrainian politics. The nationalist-populist vote was also decimated, with former coalition party People's Front out before the race even began, and populist Oleh Lyashko's Radical party swept aside in the Zelensky revolution.
The election saw a final run out for Ukraine's unusual mixed system that sees deputies elected via party lists (225) and first-past-the-post constituencies (199). While election observers said the vote was largely free and fair — it was in the latter category that the dirtiest battles took place.
District 94, which covers a strip of sleepy suburbia to the south of Kiev, was perhaps the most scandalous. Here, the choice essentially boiled down to two political beasts: Igor Kononenko, the grey cardinal of Petro Poroshenko's administration regularly named in corruption investigations, and Alexander Dubinsky, a journalist of dubious ethical repute running on Mr Zelensky's ticket.
Those were the only two candidates with the chance of winning, but the ballot paper offered voters a bewildering choice of another 40 names. The list included three Kononenkos, three Dubinskys, one Dubynsky and even a Holoborodko, the name assumed by Mr Zelensky in his long-running comedy series. The clones appeared designed to con voters into voting for the wrong candidate.
Volodymyr Zelensky sworn in as Ukraine president
The use of such clones had increased since the last elections in 2014, Vika Dumanska, coordinator of Chesno, a NGO monitoring organisation, told The Independent. But it was only one hit in an album of tested electoral bribes ranging from free food to children's parties, she added.
The counting in district 94 as well as other first past the post constituencies is likely to stretch many days. But Dmytro Razumkov, leader of Mr Zelensky's fraction, told journalists on Sunday evening that the party was polling unexpectedly well in such constituencies. He predicted the presidential ticket would take all of Kiev's 17 districts.
That, says the independent political expert Vladimir Fesenko, opened up the possibility of Mr Zelensky forming a government on his own, or with the help of just a few independent MPs.
"Zelensky is set for about 120 deputies from the proportional vote, and would need another 80-90 deputies from first past the post." he said. "It would be unprecedented, but we've come to learn with Zelensky that you can't rule anything out."
Register for free to continue reading
Registration is a free and easy way to support our truly independent journalism
By registering, you will also enjoy limited access to Premium articles, exclusive newsletters, commenting, and virtual events with our leading journalists
Already have an account? sign in
Register for free to continue reading
Registration is a free and easy way to support our truly independent journalism
By registering, you will also enjoy limited access to Premium articles, exclusive newsletters, commenting, and virtual events with our leading journalists
Already have an account? sign in
Join our new commenting forum
Join thought-provoking conversations, follow other Independent readers and see their replies