Ukraine crisis: Macron says Putin has promised no further escalation in crisis
Ukraine's Volodymyr Zelenskyy says he doesn't trust words 'in general'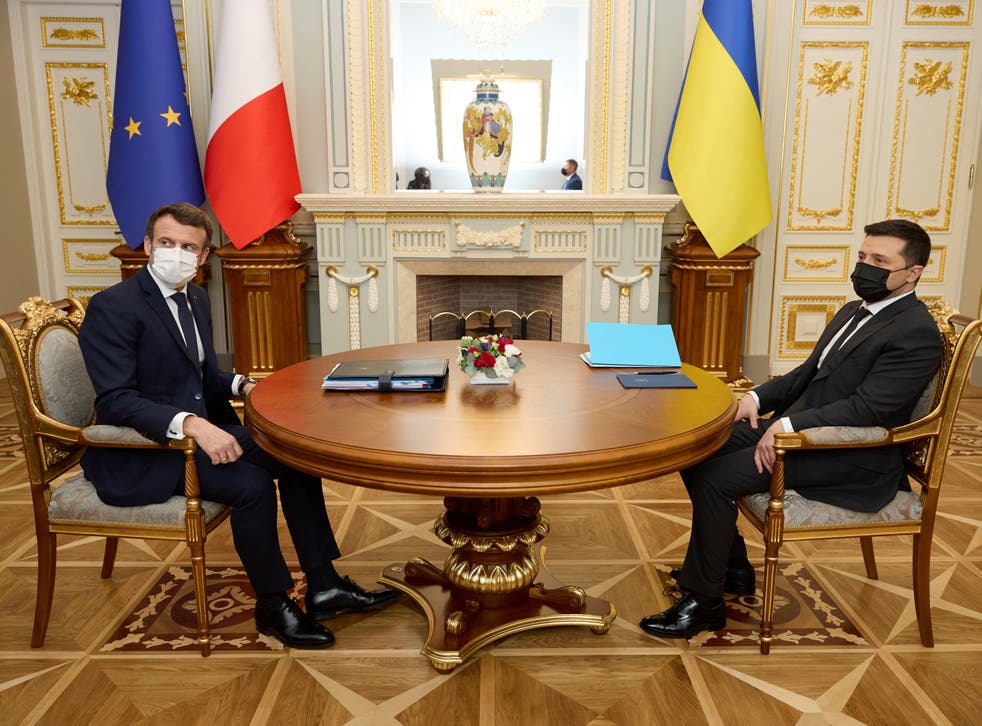 French president Emmanuel Macron was in Kiev on Tuesday in the latest round of diplomatic talks aimed at avoiding war in Ukraine and said Russia's president Vladimir Putin had told him 24 hours earlier that Moscow would not further escalate the Ukraine crisis.
Mr Macron's remarks came as the Kremlin denied reports that he and Mr Putin had struck a deal on de-escalating the crisis. Kremlin spokesperson Dmitry Peskov said that "in the current situation, Moscow and Paris can't be reaching any deals".
Russia has massed over 100,000 troops near Ukraine's borders, but insists it has no plans to attack.
The French leader met Ukrainian president Volodymyr Zelenskyy – around a much smaller table than greeted Mr Macron in Moscow – and at a news conference, Mr Macron said the Russian leader told him on Monday that "he won't be initiating an escalation".
According to the French president, Mr Putin also said there won't be any Russian "permanent [military] base" or "deployment" in Belarus, where Russia had sent a large number of troops.
Mr Peskov said withdrawing Russian troops from Belarus after the exercises was the plan all along.
Mr Zelenskyy said he would welcome concrete steps from Mr Putin for de-escalation, adding he didn't "trust words in general". He called his talks with Mr Macron "very fruitful".
"We have a common view with President Macron on threats and challenges to the security of Ukraine, of the whole of Europe, of the world in general," Mr Zelenskyy said. He said France was giving €1.2bn in financial aid to Ukraine and helping restore infrastructure in the war-ravaged east of the country.
Western leaders in recent weeks have engaged in multiple rounds of diplomacy to try to de-escalate the crisis, and more are planned.
High-level talks have taken place against the backdrop of military drills in Russia and Belarus.
On Tuesday, Russia's Defence Ministry said six large warships were moving from the Mediterranean to the Black Sea for exercises. Mr Macron said he had not expected Putin to make any "gestures" during their talks Monday, saying his objective was to "prevent an escalation and open new perspectives ... that objective is met."
The Kremlin has demanded guarantees from the west that Nato will not accept Ukraine as members, halt weapon deployments there and roll back its forces from eastern Europe – demands the US and Nato reject as nonstarters.
Progress on Ukraine's desire to join Nato remains in deadlock as Mr Putin remained staunchly against the idea, insisting that the US and the alliance have ignored Moscow's demands.
The Russian leader said after his meeting with Mr Macron that the US and Nato had ignored Moscow's demands, but signalled his readiness to continue talks.
He also reiterated a warning that Ukraine membership in Nato could trigger a war between Russia and the alliance should Kiev move to retake the Crimean Peninsula, which Moscow annexed in 2014.
Mr Putin also warned that Ukraine's accession to Nato could trigger a war between Russia and European countries. "If Ukraine becomes a Nato member and moves to reclaim Crimea, European countries will automatically be drawn into a military conflict with Russia," he Putin said, noting that "there will be no winners".
"Do you want France to go to war with Russia?" Mr Putin added.
US president Joe Biden has said that any prospect of Ukraine entering Nato "in the near term is not very likely", but he and other Nato member nations refuse to rule out Ukraine's entry into the alliance at a future date.
On Monday, Mr Biden met German chancellor Olaf Scholz, who also will travel to Kiev and Moscow next week. They threatened Russia with grave consequences if it invaded, and Biden vowed that the Nord Stream 2 Russia-to-Germany gas pipeline, which has been completed but is not yet operating, will be blocked.
Such a move would hurt Russia economically but also cause energy supply problems for Germany. British prime minister Boris Johnson urged allies to finalise heavy economic sanctions that would take effect if Russia crosses into Ukraine.
He said the UK was ready to bolster Nato forces in Latvia and Estonia as he met the Lithuanian prime minister in London to show support for the Baltic nations.
Mr Johnson said he was considering dispatching RAF Typhoon fighters and royal navy warships to southeastern Europe. Britain has announced it will send 350 troops to Poland to bolster Nato's eastern flank. It already has sent anti-tank weapons to Ukraine. More than 100 US military personnel arrived in Romania ahead of a deployment of about 1,000 Nato troops expected in the country in the coming days, Romania's defence minister Vasile Dincu said.
Russia and Ukraine have been locked in a bitter conflict since 2014, when Ukraine's Kremlin-friendly president was ousted, Moscow annexed Crimea and then backed a separatist insurgency in the east of the country. The fighting between Russia-backed rebels and Ukrainian forces has killed more than 14,000 people.
Register for free to continue reading
Registration is a free and easy way to support our truly independent journalism
By registering, you will also enjoy limited access to Premium articles, exclusive newsletters, commenting, and virtual events with our leading journalists
Already have an account? sign in
Register for free to continue reading
Registration is a free and easy way to support our truly independent journalism
By registering, you will also enjoy limited access to Premium articles, exclusive newsletters, commenting, and virtual events with our leading journalists
Already have an account? sign in
Join our new commenting forum
Join thought-provoking conversations, follow other Independent readers and see their replies