Ukraine: Naval officer shot dead by Russian solider in Crimea
The death comes as Ukraine's Prime Minister accused Russia of orchestrating unrest in pro-Russian eastern regions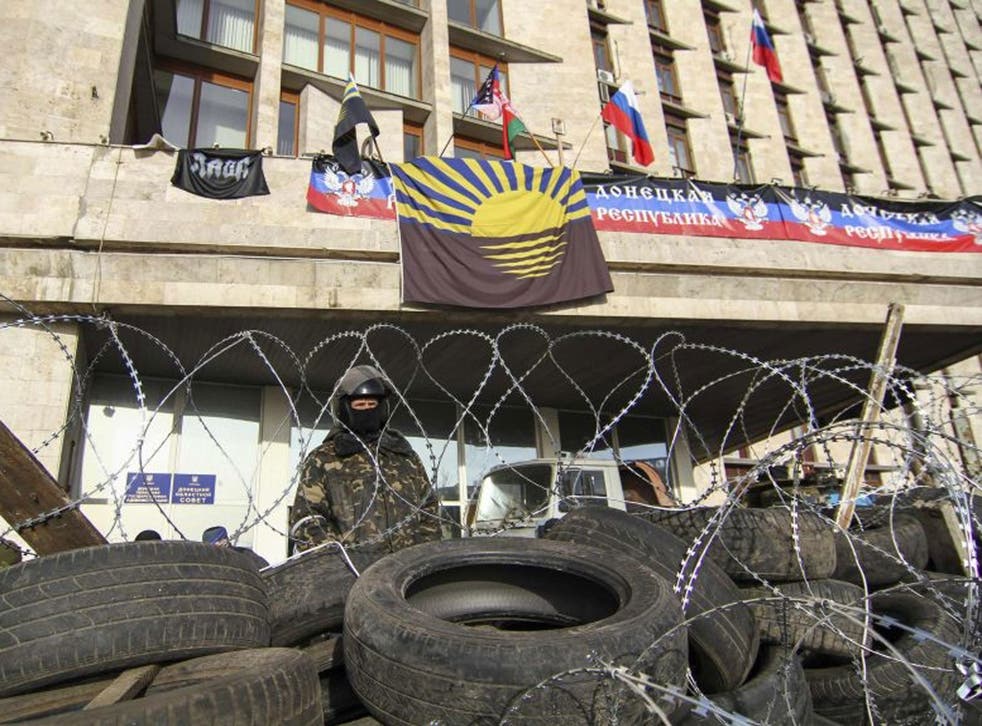 A Russian solider shot and killed a Ukrainian naval officer in eastern Crimea over the weekend, Ukrainian officials confirmed on Monday, following a cabinet meeting in which interim Prime Minister Arseniy Yatsenyuk accused Moscow of attempting to "destabilise" eastern Ukraine as a pretext for sending troops across the border.
The officer shot with an AK-47 on the fifth floor of the dormitory where he lived has been identified as Stanislav Karachevsky. He was married and had two children, according to Ukrainian navy spokesman Vladislav Seleznyov.
"The Russian marine killed the unarmed officer. He killed the major with two shots," said Mr Seleznyov.
The spokesman added that the soldier had been preparing his belongings to leave on Wednesday for the Ukrainian region of Mykolaev, when an argument broke out with Russian servicemen.
Clashes in eastern Ukraine

Show all 126
Russian news agencies allege that the shooting took place during an argument between a group of drunk Ukrainian soldiers and Russian troops guarding an entry to the military base in the village of Novofedorovskoye, where the former previously worked.
Prosecutors have since opened a criminal investigation into the death of the soldier, according to a Russian news agency.
The shooting late on Sunday is the second fatality reported in Russia's largely bloodless annexation of the Black Sea peninsula last month, according to details released by Ukraine's Defence Ministry.
Monday's announcement came as Mr Arseniy Yatsenyuk accused Russia of being behind a spike in pro-Russian secessionist sentiment that has sparked protests in which several government buildings were seized in eastern Ukraine.
"The plan is to destabilise the situation, the plan is for foreign troops to cross the border and seize the country's territory, which we will not allow," he said, but offered no evidence that Russia is involved except that Russian troops remain stationed within 19 miles (30km) of the border.
Since Crimea held a secession referendum and then was annexed by Russia in March, calls for similar votes in Ukraine's east have emerged.
Earlier on Monday, the Ukrainian Interior Ministry reported that nine people had been injured when Pro-Russian armed gunmen occupied a security services building in Luhansk, a city 16 miles (25km) west of Russia.
The situation quickly escalated, as demonstrators pelted eggs and stones at the building, before throwing a smoke grenade and finally a firebomb, according to local media reports. The flames were reportedly quickly extinguished.
The city's police officers have been put on alert and have blocked all entrances to the city, where protests have become a frequent occurrence since Moscow ally and former Ukrainian President Viktor Yanukovych was ousted in February.
On Sunday, crowds assaulted provincial government buildings in the eastern cities of Donetsk and Kharkiv.

Interior Minister Arsen Avakov said on Monday that the Kharkiv building had been retaken by the authorities.
In Donetsk, local media reported that groups occupying the provincial government building have barricaded the entrance with car tyres and barbed wire.
About half of the region's residents are ethnic Russians, many of whom believe Ukraine's acting authorities are Ukrainian nationalists who will oppress Russians.
Register for free to continue reading
Registration is a free and easy way to support our truly independent journalism
By registering, you will also enjoy limited access to Premium articles, exclusive newsletters, commenting, and virtual events with our leading journalists
Already have an account? sign in
Register for free to continue reading
Registration is a free and easy way to support our truly independent journalism
By registering, you will also enjoy limited access to Premium articles, exclusive newsletters, commenting, and virtual events with our leading journalists
Already have an account? sign in
Join our new commenting forum
Join thought-provoking conversations, follow other Independent readers and see their replies