Ukraine protests: Violent police crackdown to break up pro-Europe demo
President Viktor Yanukovich declined to sign a pact with European Union leaders at a summit in Lithuania
James Legge
Saturday 30 November 2013 11:15 Comments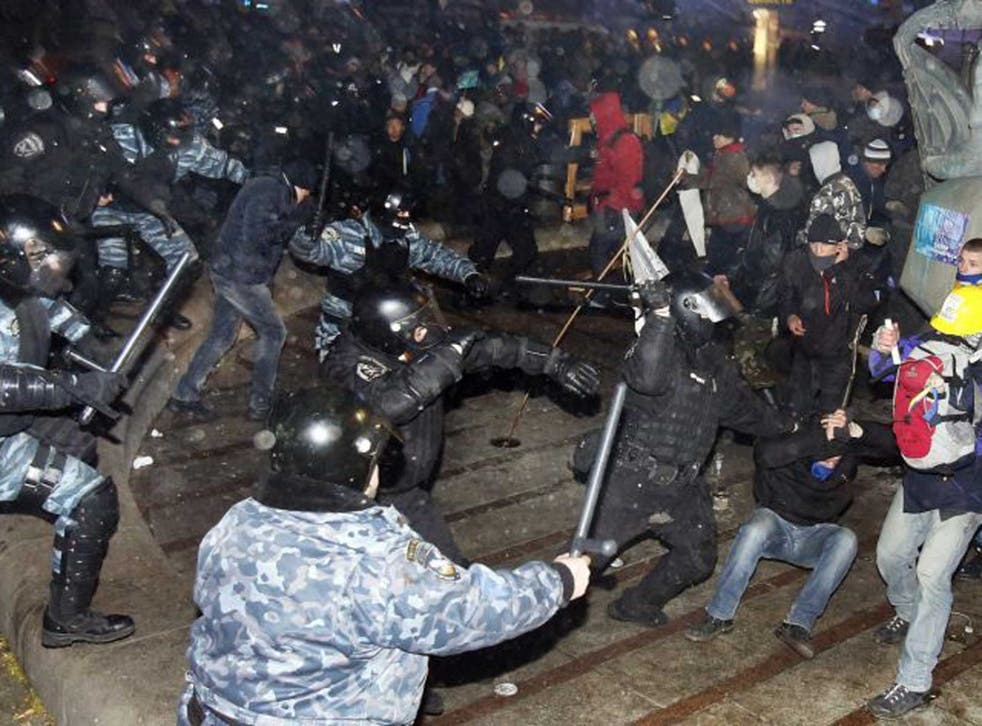 Heavily armoured police wielding batons and stun grenades broke up a pro-Europe protest in Kiev during Saturday's early hours after President Viktor Yanukovich's decision not to sign a landmark pact with Europe.
More than 30 people were detained for resisting police, the interior ministry said, from the group of around 400 camped on the capital's Independence Square. Witnesses said police first fired grenades into the square then waded in with batons.
There were no hard figures for how many people were hurt. The opposition said there could be as many as a hundred.
On Friday Yanukovich pulled out of the EU pact at a summit in Vilnius, Lithuania. This meant reneging on a pledge to work toward integrating his ex-Soviet republic into the European mainstream. That night around 10,000 filled the square to vent anger at the decision.
Yanukovich said the cost of upgrading the economy to meet EU standards was too great and that economic dialogue with Russia, Ukraine's former Soviet master, would be revived.
Russia had tried to block the deal by banning some of Ukraine's imports and threatening more trade sanctions, reviving memories of the 2009 dispute on gas prices, during which Russia cut off of gas to Ukraine for three weeks.
After the police action, about 200 demonstrators shifted the scene of their protest to St. Michael's cathedral - formerly a 12th century monastery which was destroyed by Soviet authorities in 1937 and rebuilt after independence in 1991.
Opposition leaders have already vowed to press ahead with protests on Sunday.
Andriy Shevchenko, an opposition deputy, was quoted by Interfax news agency as saying: "It was absolute savagery. By my count, we are talking of tens of cruelly beaten people, perhaps hundreds.
"There were no grounds for it. There was no provocation by the crowd. People were singing, warming themselves by camp fires."
And Arseny Yatsenyuk, a former economy minister turned opposition leader, said: "Ukraine has woken up in a different state after Yanukovich refused to sign in Vilnius. It is no longer Ukraine. It's closer to Belarus." Neighbouring Belarus has been under one-man rule since 1996.
"Yanukovich has already started training for the (presidential) elections in 2015," he went on: "He will carry out the elections with the 'Berkut' (riot police), special units, shields, helmets and batons."
Heavyweight boxing champion Vitaly Klitschko, leader of the opposition UDAR (Punch) party, said: "After the savagery we have seen on Independence Square we must send Yanukovich packing.
"They undermined the agreement (with the EU) so as to untie their hands for outrageous behaviour which would be unthinkable by European standards."
Speaking to crowds on Friday night, Klitschko said: "Today they stole our dream, our dream of living in a normal country. The failure to sign the agreement of association is treason."
A US Embassy statement said: "The United States condemns the violence against protesters" and "We urge the government of Ukraine to respect the rights of civil society and the principles of freedom and speech and freedom of assembly."
And Carl Bildt, Sweden's foreign minister, tweeted: "I fear that Yanukovich has decided on a policy of repression. But still hope that other voices will speak up. Extreme danger for Ukraine.."
By Saturday morning, the square had been entirely cleared and cleaned up.
Register for free to continue reading
Registration is a free and easy way to support our truly independent journalism
By registering, you will also enjoy limited access to Premium articles, exclusive newsletters, commenting, and virtual events with our leading journalists
Already have an account? sign in
Join our new commenting forum
Join thought-provoking conversations, follow other Independent readers and see their replies