Ukrainian filmmaker times hunger strike in Siberian prison with Russia World Cup
In the fifth year of a disputed 20-year sentence, Oleg Sentsov says his action is for all political prisoners in Russia
Oliver Carroll
St Petersburg
Thursday 24 May 2018 18:50 Comments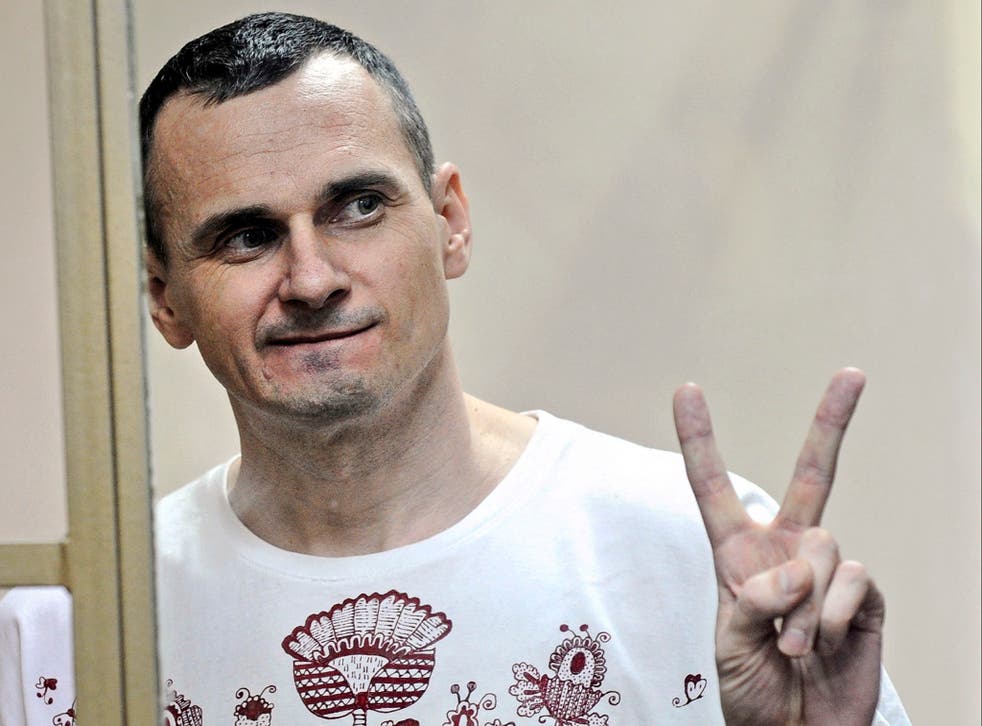 In just 20 days Russia hosts the tournament of its lifetime. But one prisoner's lonely campaign threatens to overshadow the celebrations.
Oleg Sentsov, a filmmaker detained during the Russian annexation of Crimea in 2014, is 11 days into a hunger strike. He told family and friends he is ready to go to the end. The aim, he says, is not his own personal freedom but that of 64 different Ukrainian political prisoners held in Russia.
If nothing happens by the time the World Cup opens in mid-June, Mr Sentsov will be on the edge of irreversible physical change, and possibly worse. "The timing is no coincidence," his cousin Natalya Kaplan tells The Independent. "His exact words to us were that if he dies during the World Cup he would be happy for having drawn attention to Ukrainian political prisoners."
Ms Kaplan says her cousin had been forced to take action out of a sense of desperation. Already in his fifth year of a disputed 20-year prison sentence for conspiracy to commit terror attacks – he says he was kidnapped by Russian security forces for his pro-Ukrainian activism – Mr Sentsov remains in one of Russia's most insalubrious prisons, in deep Siberian Yakutia.
Dmitry Dinze, Mr Sentsov's lawyer, says prison staff have already moved him to solitary confinement, and he has been denied communication with the outside world. "His condition is currently stable, but he is still refusing food."
In the four years of his imprisonment, Mr Sentsov's case has attracted the interest of worldwide film celebrities.
Pedro Almodóvar, Wim Wenders and Ken Loach have all signed an open appeal. In December 2016, Russian filmmaker Alexander Sokurov, once considered close to Vladimir Putin, also made a heartfelt appeal, asking the president to show clemency and "a Christian approach". Mr Putin said that Christian behaviour was impossible – not without a decision from the court.
Russia's legal system is heavily under the control of its executive branch, returning guilty verdicts more than 99 per cent of the time.
Supporters say Mr Sentsov had little chance when his case came under examination at a Russian military court in the summer of 2015. The director pleaded not guilty to all charges. The leading witness for the prosecution withdrew his evidence, which he said was obtained under duress. But that had no effect on the verdict, which Mr Sentsov greeted by singing the Ukrainian national anthem.
Mr Sentsov's family has not visited him in his Siberian exile – he fears the emotional damage it might inflict upon them all, his cousin says. But his decision to announce a hunger strike, communicated via telephone, has hit his elderly and infirm mother hard.
"She understands that Oleg might not survive this and that we can do nothing," says Ms Kaplan. "She knows her son can go to the end."
Efforts by Ukrainian negotiators to secure Mr Sentsov's release have been hampered by the fact that Russian authorities have refused to recognise him as a Ukrainian citizen. No Ukrainian official has been granted permission to speak to him, says Mariana Betsa, a press secretary at Ukraine's foreign ministry.
World news in pictures

Show all 50
But the family is also critical over what it describes as "insufficient activity" from Kiev. "The government is yet to appoint someone directly responsible for securing the freedom of political prisoners," says Ms Kaplan. "It's a known problem but nobody is close to resolving it."
Maria Tomak, coordinator of a human rights NGO in Kiev, says that Mr Sentsov's hunger strike seems to have been designed to push political leaders into action.
"Ukraine has finally stepped up, we know Angela Merkel has also raised his case, and we expect French president Macron to raise the issue on his trip to the St Petersburg Economic Forum," she says.
On the eve of the forum, Ukrainian officials made a rare statement suggesting Mr Sentsov's release might be secured by a prisoner exchange.
The discussion so far has centred on Russian state journalist Kirill Vyshinsky, controversially arrested in southern Ukraine a week ago. The head of the Ukrainian Secret Services, Vasily Gritsak, said the exchange of the two men was "vital".
In a press conference earlier this week, Russian presidential spokesman Dmitry Peskov did not dismiss the prospect out of hand; negotiations were better done "in the quiet", he said.
But lawyer Mr Dinze says that negotiations were, in fact, quieter than quiet. "There has been zero response from the Kremlin to the proposals," he said. "World Cup or no World Cup, I do fear Oleg could end up dead in a Russian prison."
Register for free to continue reading
Registration is a free and easy way to support our truly independent journalism
By registering, you will also enjoy limited access to Premium articles, exclusive newsletters, commenting, and virtual events with our leading journalists
Already have an account? sign in
Join our new commenting forum
Join thought-provoking conversations, follow other Independent readers and see their replies