Ukraine swaps prisoners with pro-Russian separatists in attempt to end war
'The conflict is much more likely to become frozen than resolved,' former colonel in Russian army warns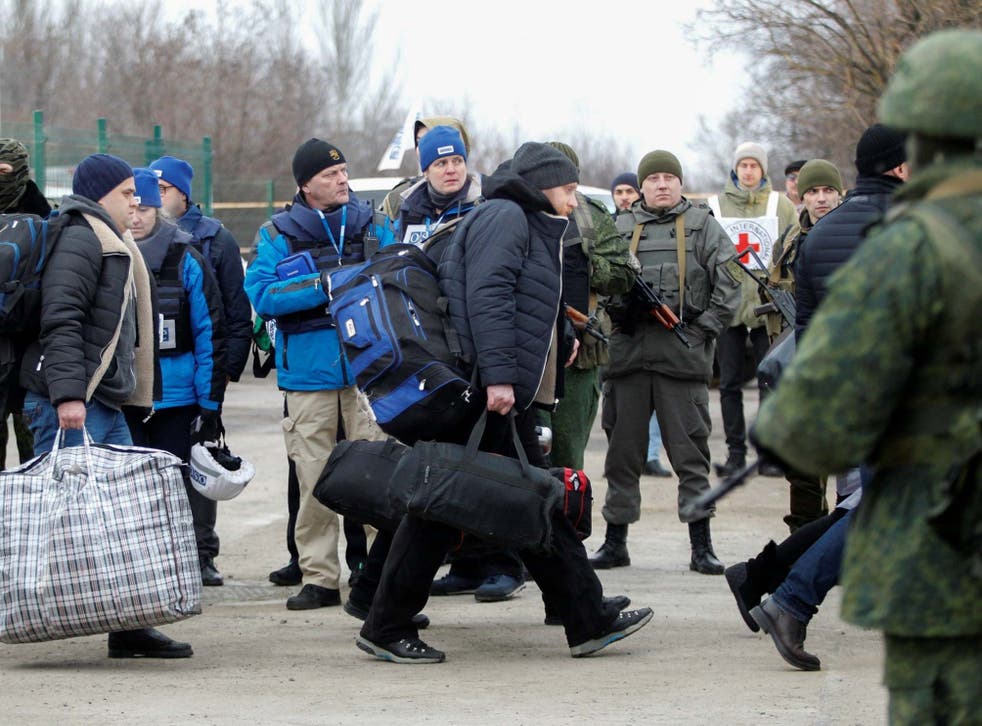 Ukrainian forces and pro-Russian separatists in eastern Ukraine have swapped scores of prisoners in an attempt to bring the five-year-long conflict to an end.
The exchange took place at a checkpoint near the industrial town of Horlivka in the Donetsk region.
Ukrainian men and women dressed in civilian clothing got off a bus after being brought to the rendezvous point by separatist forces and were herded into a nearby tent.
According to figures from officials of the Donetsk and Luhansk People's republics — the two separatist governments in the rebel area — Ukraine turned over 124 people and the separatists freed 76.
The office of Ukraine's president confirmed 76 former pro-government detainees had returned home. "[They] are safe in Ukraine-controlled territory," it said.
World news in pictures

Show all 50
Although the confidence will help build confidence between the two sides – who are negotiating how to implement a 2014 peace deal – key disagreements exist and full normalisation remains remote.
"Today's prisoner exchange in #Donbass will bring relief to the persons involved and their families, but it will not bring the [peace] settlement any closer," Dmitri Trenin, head of the Moscow Carnegie Center and a former colonel in the Russian army, wrote on social media.
"The... terms remain anathema in Kiev, and this won't change. The conflict is much more likely to become frozen than resolved."
Kiev's forces have been battling separatists in the Donbass region since 2014, in a conflict that has claimed more than 13,000 lives.
Sporadic fighting continues despite a ceasefire agreement.
Relations between Ukraine and Russia collapsed following Moscow's annexation of the Crimean peninsula in 2014, and its subsequent support for separatists in eastern Ukraine.
The last major prisoner swap between separatist rebels and Ukrainian forces took place in December 2017, with 233 rebels exchanged for 73 Ukrainians.
Hopes for an end to the fighting have increased since the election of Volodymyr Zelenskiy as president, who has been more amenable to negotiations with Russia on ending the war.
But prospects for peace remain tentative, with questions over allowing local elections to give rebel regions more autonomy and about Ukraine regaining control of its border with Russia in rebel-held areas.
Additional reporting by agencies
Register for free to continue reading
Registration is a free and easy way to support our truly independent journalism
By registering, you will also enjoy limited access to Premium articles, exclusive newsletters, commenting, and virtual events with our leading journalists
Already have an account? sign in
Register for free to continue reading
Registration is a free and easy way to support our truly independent journalism
By registering, you will also enjoy limited access to Premium articles, exclusive newsletters, commenting, and virtual events with our leading journalists
Already have an account? sign in
Join our new commenting forum
Join thought-provoking conversations, follow other Independent readers and see their replies