Ukraine recaptures another village from Putin's forces – as it keeps up attacks on Russia's ships
Ukraine has reported slow, steady progress against entrenched Russian positions, retaking a string of villages across the last three months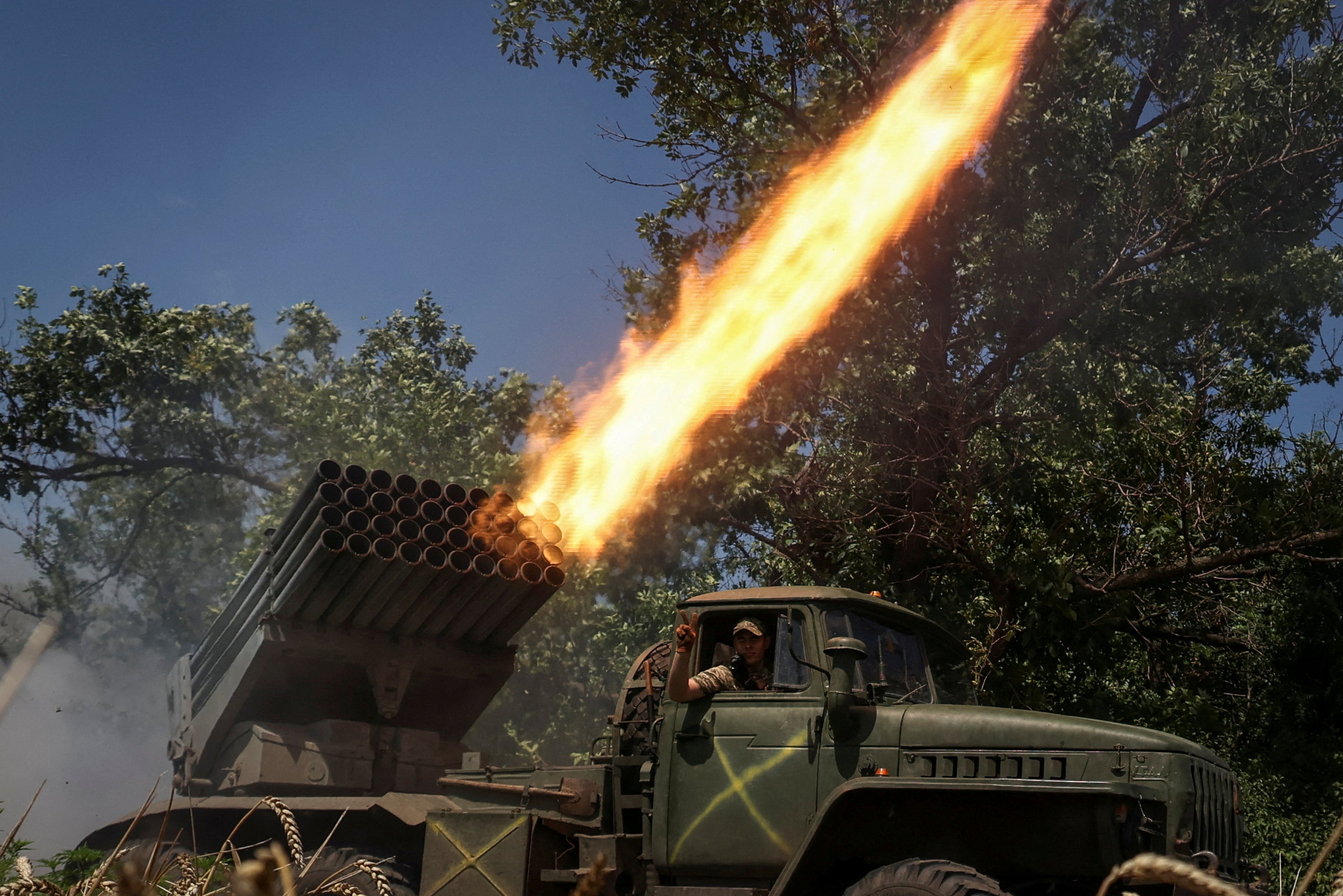 Ukraine has claimed fresh success in its counteroffensive against Vladimir Putin's forces, with the recapture of another village – a liberation that the army says is "key to success in all further directions".
Kyiv's forces are seeking to reclaim land occupied by Moscow across multiple areas of southern and eastern Ukraine. The village of Andriivka is about 6 miles (10 kilometres) south of the Russia-occupied town of Bakhmut in the eastern Donetsk region. Bakhmut is one of Ukraine's key targets, with Russia having occupied it after some of the bloodiest fighting of Moscow's 18-month invasion.
Russian forces suffered significant casualties and lost various pieces of military hardware, the General Staff of Ukraine's armed forces said. "Capturing and holding Andriivka - is our path to a breakthrough on the right flank of Bakhmut and the key to the success of the entire further offensive," said the Third Assault Brigade, which took part in the push.
"There is no Andriivka left per se,... but as a place, as a square, it is an important square," brigade spokesman Oleksandr Borodin said.
The village lies on higher ground which will allow Ukrainian artillery to operate more easily in the area, Kyiv-based military analyst Oleksandr Musiyenko told Reuters.
Ukraine has reported slow, steady progress against entrenched Russian positions, retaking a string of villages and advancing on the flanks of Bakhmut, but with few major breakthroughs. The General Staff said in its update that troops were also inflicting substantial losses on Russian forces on the southern frontline, near the village of Verbove in the Zaporizhzhia region. The recapture of Andriivka comes weeks after an important tactical victory for Ukrainian forces in the southern Zaporizhzhia region, where they punctured through Russia's first line of defense and took back the village of Robotyne.
Kyiv has ramped up strikes on Russia in the Black Sea region and the occupied territory of Crimea to back up the counteroffensive on the ground by damaging as much military hardware as possible. Its attacks this week destroyed a Russian air defence system in western Crimea, badly damaged a submarine and a landing ship and struck two patrol ships. On Friday, the UK's Ministry of Defence said that the attack on Russia's Black Sea Fleet headquarters in Sevastopol, Crimea, had likely destroyed the landing ship and meant "catastrophic" damage for the submarine.
A Ukrainian source also told Reuters that another attack with a sea drone hit the rear right part of Russia's "Samum" small missile ship on Thursday at the entrance to Crimea's Sevastopol Bay and inflicted "significant damage". Russia's defence ministry reported a Ukrainian attack on the Samum in a statement on Thursday, but said it was repelled and that the naval drone was destroyed.
Kyiv also said that a Russian drone attack overnight into Friday on a region that hosts a Ukrainian military airfield showed Moscow was searching for warplanes involved in strikes on Crimea. Ukraine's air force said Russia had fired 17 "kamikadze" drones at the central Khmelnytskyi region that is home to the Starokostiantyniv air base, which has been attacked repeatedly during the war. In a statement, it said it downed all of them.
"Khmelnytskyi region was attacked. We understand what the enemy is looking for: where the command has hidden our bombers after the events that happened recently in the sea near Crimea," Air Force Colonel Yuriy Ihnat said in televised comments.
While not commenting on that claim by Kyiv, Russia's Defence Ministry said that its forces had destroyed two Ukrainian naval drones in the southwest part of Black Sea, state news agency TASS reported. The ministry also said a Russian warship had destroyed a naval drone, apparently in a separate incident.
Reuters and Associated Press contributed to this report
Join our commenting forum
Join thought-provoking conversations, follow other Independent readers and see their replies