Ukraine's President Petro Poroshenko: We're inching towards peace with Russia
Oliver Carroll finds Ukraine's President in a mood of caution in Kiev
Oliver Carroll
Sunday 13 September 2015 22:18 Comments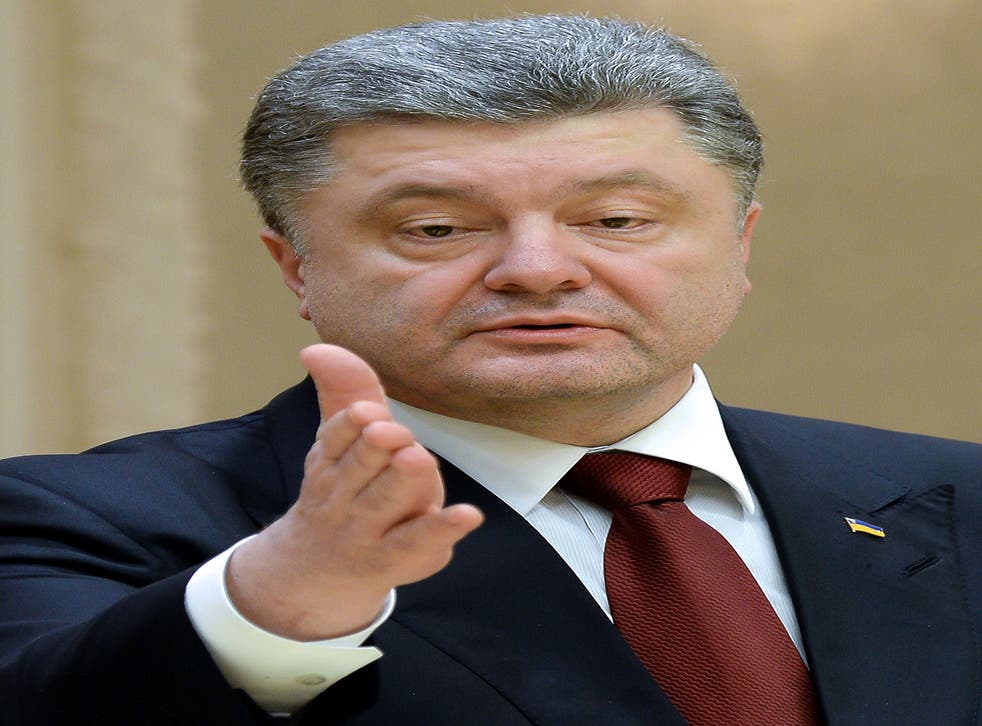 Fifteen months into Ukraine's bitter conflict, some have begun to hope that the region's first effective ceasefire just might turn into a longer peace.
Ukraine's President Petro Poroshenko, who says he has worked "every day and night" of those 15 months, is not ready to dream just yet. "This is not the end of the war, but instead a change in tactics," he told The Independent in a rare interview. "We know where the Russians and their proxies are still hiding their weapons, their tanks and their artillery – for now the order has been given to cease fire, but for how long?"
Though the ceasefire has held for two weeks, other conditions of February's Minsk agreement have not yet been met. Meanwhile, Ukraine says it has drawn up its own "red lines" in collaboration with its Western partners. Among them is full and immediate access to rebel-held areas for international monitors, Mr Poroshenko said. Failure to deliver on these conditions would put the entire peace plan at risk, "with clear consequences – and sanctions" for the Russian side. Mr Poroshenko was adamant that "fake" elections in separatist-controlled areas, currently planned for October and November, would draw such a response.
Countries with the worst relations with neighbours

Show all 8
Another "red line" for the Ukrainians is the release of 11 Ukrainian "political" prisoners currently held in Russian prisons. Only two weeks ago, the Crimean film director Oleg Sentsov was sentenced to 23 years' imprisonment for "terrorist activity" in what was a highly dubious trial. Mr Poroshenko said Mr Sentsov's only crimes were "to be Ukrainian" and "to be proud of it".
Over the weekend, The Independent learnt from the hostage negotiator Vladimir Ruban that the Russians had supposedly offered to exchange Mr Sentsov and co-defendent Alexander Kolchenko for two Russian servicemen captured by Ukraine near Luhansk in July. When asked, Mr Poroshenko denied that such an offer had been made, but added that it was wrong to equate "unarmed, innocent Ukrainian heroes" with "armed, aggressor troops" captured on Ukrainian soil. Mr Poroshenko may well be waiting for a more opportune time to exchange the soldiers.
There is no official direct diplomatic communication between Russia and Ukraine. Instead, the main negotiating channels remain four-way meetings, held in conjunction with French and German mediators. The next head of state meeting is due on 2 October.
Some reports have suggested Mr Putin has begun to take a more emollient tone in phone calls, but Mr Poroshenko was quick to dismiss any suggestion that personal relations between the two leaders might have improved significantly. "There will never be friendly relations while Ukrainian soldiers and civilians are killed by Russian weapons", he said. "Ukraine has implemented every tiny part of the Minsk agreements, and Russia is only just beginning."
In truth, Ukraine has itself yet to fulfil the most contentious provisions of Minsk, such as re-establishing financial relations with the separatist territories.
And attempts earlier this month to pass constitutional amendments to give more powers to the rebel-held east, in line with Minsk, ended explosively, when a live grenade was thrown at parliament. Three national guardsmen were killed, and a further 138 injured.
Mr Poroshenko claims pro-Russian elements operated alongside "hostile local oligarchs" to engineer the violence that day. "We know that 1,100 of the 1,500 protesting in front of parliament were bussed in," he says. The attack represented a "shift in Russian tactics", pivoting away from the eastern front towards Kiev itself. Mr Poroshenko believes Russia is trying to destabilise Ukraine "from the inside".
The second-biggest threat to Ukraine comes not from Russia, but from the country's oligarchs, Mr Poroshenko believes. While one of his election promises was to temper the power of the oligarchs, he has come under fire for failing to dispose of his own assets. He says the market "isn't right" for a sale and insists his government is undertaking a "serious attempt" to limit the control of oligarchs.
Over the weekend, his ally, the governor of Odessa region, Mikheil Saakashvili, went further to suggest a small number of oligarchs now effectively "own and operate a shadow government in Ukraine". In several attacks last week, Mr Saakashvili also created a storm by linking the Ukrainian Prime Minister Arseniy Yatsenyuk to "attempts to obstruct reform" and "acting in the interests of oligarchs". Mr Poroshenko declined to comment on the allegations, but noted Mr Saakashvili retained his support.
Mr Saakashvili's populist, anti-corruption style has proved popular and there had been speculation that Mr Poroshenko might invite the native Georgian to replace the increasingly unpopular Mr Yatsenyuk. Received wisdom is that the President is unlikely to appoint the maverick reformer this side of local elections. Nonetheless, an online petition demanding Mr Saakashvili be installed as Prime Minister has already garnered the support of some 25,000 Ukrainians.
So does Mr Poroshenko see the swashbuckling governor as a future Prime Minister? "Absolutely, he'll make a great Prime Minister," answers the President. "Of Georgia."
Register for free to continue reading
Registration is a free and easy way to support our truly independent journalism
By registering, you will also enjoy limited access to Premium articles, exclusive newsletters, commenting, and virtual events with our leading journalists
Already have an account? sign in
Join our new commenting forum
Join thought-provoking conversations, follow other Independent readers and see their replies