Ukraine crisis: Vitali Klitschko says he will run for presidency
Former heavyweight champion tells journalists: 'I will be on the ballot'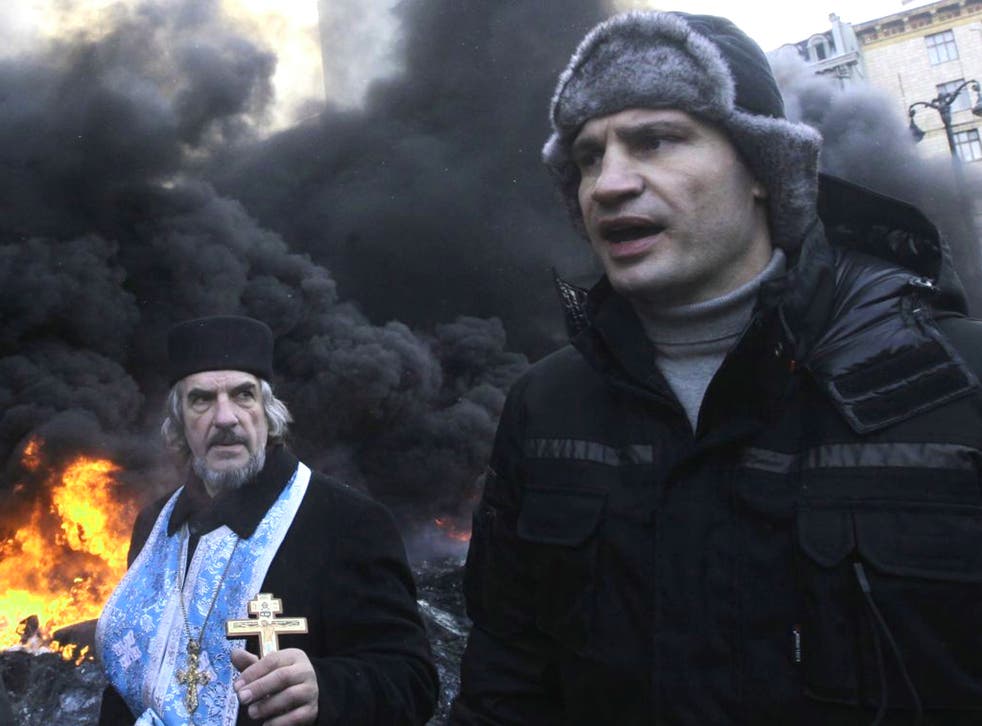 Opposition leader Vitali Klitschko has announced he will run for the presidency in the Ukraine elections.
The Ukrainian Central Election Commission posted a calendar online early today, which gives candidates until 4 April to register for the May elections.
According to AFP, the opposition leader and former heavyweight boxing champion told journalists in parliament: "I will be on the ballot."
Speaking to the BBC on Sunday, Klitschko had suggested he could well be in the running to replace Mr Yanukovych if presidential elections were arranged.
"We don't have much time," he had said, referring to the vote. "I want to make Ukraine a modern European country. If I can do that through the president's position, I will do my best."
A spokesperson for the former prime minister Yulia Tymoshenko has said she has not yet decided whether to run for presidency after her release from jail on Saturday.
In pictures: Ukraine uprising

Show all 100
Meanwhile, the interim president Oleksandr Turchynov has delayed plans to form a new government by today, extending the deadline until Thursday.
Addressing parliament, Mr Turchynov warned of the dangers of separatism after the ousting of Mr Yanukovych.
Mr Turchynov summoned the "power ministries and agencies" to discuss Crimea, the site of protests on the southern peninsula against the leaders who have taken charge in Ukraine.
Most of Crimea's population speak Russian and the region has close ties with Russia.
A Russian-speaking mayor has been appointed in Sevastopol, the Crimean port city where Russia's Black Sea fleet is based, and Russian speakers have staged rallies in the region to show hostility to the new authorities in the national capital.
"During the meeting, we discussed the question of not allowing any signs of separatism and threats to Ukraine's territorial integrity (meaning the events which have taken place in Crimea) and punishing people guilty of this," Mr Turchynov's press service said in a written statement.
Earlier today, the Russian Foreign Minister Sergei Lavrov warned Ukraine must not be forced to choose between close ties with Russia or the West.
"It is dangerous and counterproductive to try to force upon Ukraine a choice on the principle: 'You are either with us or against us'," Mr Lavrov told a joint news conference in Moscow after talks with Luxembourg Foreign Minister Jean Asselborn.
The delicate situation is raising fears of a split between those in the western cities, who see their future as part of Europe, and swathes of the east, where a Russian-speaking population still backs Mr Yanukovych, who refuses to officially relinquish power.
Mr Turchynov was named Ukraine's interim leader after Mr Yanukovych fled the capital amid violent clashes between police and protesters in Kiev.
A criminal case has been opened against him and other government officials over "mass murder of peaceful citizens" following the violent clashes in Kiev's Independence Square.
Additional reporting by agencies
Register for free to continue reading
Registration is a free and easy way to support our truly independent journalism
By registering, you will also enjoy limited access to Premium articles, exclusive newsletters, commenting, and virtual events with our leading journalists
Already have an account? sign in
Register for free to continue reading
Registration is a free and easy way to support our truly independent journalism
By registering, you will also enjoy limited access to Premium articles, exclusive newsletters, commenting, and virtual events with our leading journalists
Already have an account? sign in
Join our new commenting forum
Join thought-provoking conversations, follow other Independent readers and see their replies