Alexander Hug: 'The longer Ukraine's war goes on the more difficult it will be to unwind'
In an interview with The Independent, former principal deputy chief monitor of OSCE's Special Monitoring Mission says Ukraine's election candidates need to show more imagination to help stop conflict setting in for generations
Oliver Carroll
Kiev
Saturday 30 March 2019 18:34 Comments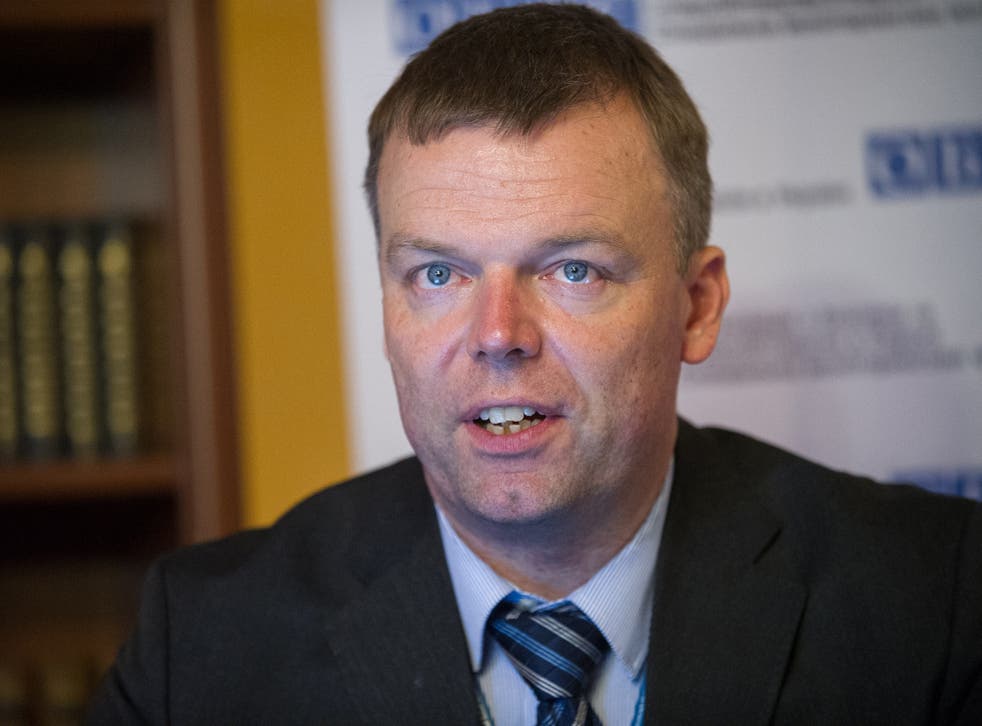 Alexander Hug says he never expected the Ukrainian conflict would develop into a prolonged war.
The former face of the Organisation for Security and Cooperation in Europe (OSCE)'s Special Monitoring Mission in Ukraine – and for a long time one of very few straightforward actors in the unscrupulous spaces of Ukraine's war zone – Mr Hug initially only signed up to the job for six months.
Had he known the stint would last for a fraught five years, he says, he would not have gone near it.
Now, he says he fears another five years of conflict would "entrench war" in the lives of the youngest generation – and is urging Ukraine's presidential hopefuls to show "much greater clarity" about what they plan to do about it.
"Unfortunately, I haven't seen anything in any of their positions that recognises the new reality that has developed in the east," he says. "Whoever wins these elections will have to deal with these issues. They have to think about what happens the day the guns go silent."
In the course of the election campaign, the three leading candidates have offered high rhetoric, but scarce detail about how to end a war that has cost upwards of 13,000 lives.
Protests break out after Russia seize Ukraine warships in 2018

Show all 32
Petro Poroshenko is officially committed to the February 2016 Minsk peace accords. It is a deal which delivers a ceasefire in name and a roadmap of reintegration, but which both Ukraine and Russian-backed forces seem resigned to ignore. The president has also campaigned strongly on tough military credentials, and presented himself as the only candidate able to push back on Russian aggression.
The other two frontrunners, Volodymyr Zelensky and Yulia Tymoshenko, seem to suggest a different, if untested approach. Both have talked in vague terms about a new deal based on the unratified 1994 Budapest referendum, where Russia, the United States and the United Kingdom were supposed to guarantee Ukraine's territorial integrity in exchange for it dropping nuclear weapons.
"It isn't clear how the alternative is supposed to work," says Hug.
The former chief monitor, who played a part in drafting the Minsk accords, says Minsk remained the "best technical basis" to end the war. But the accords were at best "an interim agreement for an emerging conflict". New work is required to make them relevant again, he contends.
"We probably need an add-on to Minsk given how much reality has moved on inside the conflict zone," he says. "Not a replacement, but a new holistic vision that doesn't just concentrate on the security aspect, but on many of the other conflicts that are stacking up."
The ongoing isolation of the conflict zone, and physical and emotional scars of war, threaten to create new divisions between people living either side of the contact lines, he says. Despite the assertions of Russian propaganda, the differences didn't exist before 2014, but the direction of travel now meant that the "worst predictions of the propaganda risk coming true".
In his time as OSCE's man on the ground in eastern Ukraine, Hug made several interventions in support of the beleaguered populations living near the contact line.
In particular, he will be remembered for his actions in the seaside town of Shyrokyne in early 2015. For weeks, local residents hadn't seen an end to fighting despite a ceasefire; it hadn't happened because both sides were worried that halting fire would see the other gain ground. Hug arrived in town and put his body quite literally on the line, appearing between the two armies to ensure they stopped fighting.
A former Swiss military officer, Hug says would often delve into lessons he learned as an officer in Bosnia in the 1990s and later as part of a monitoring mission in Israel and the Palestinian territories.
But the Donbass experience was "more intense" than the worst bouts of either of those conflicts, he said. His time in office saw one of his monitoring team killed, blown up by a mine, and at one point he was stuck for three and a half hours hours in ferocious crossfire that saw 40 mortars explode around his convoy and shrapnel destroy one of the armoured vehicles. That was the "worst moment", he says.
But, he says, aspects of this conflict make its resolution much "simpler" than others.
"There are no differences in religion and so far there are no irrevocable differences in worldview between the populations," he says.
"Of course, the longer the war goes on, the harder it will be to unwind. The danger is that the conflict will be maintained not by bullets but by an entire generation who only know war."
Ending the fighting was the "simplest part" of the jigsaw requiring political decisions "mostly in Moscow, but also Kiev", he says. Bringing people together was much harder.
Hug refuses to be drawn on how long either stage would take.
"At the beginning, I made predictions based on reasonable people making reasonable decisions given what's at stake," he says. "I thought someone would stand up and make themselves heard. But I was proven wrong."
Register for free to continue reading
Registration is a free and easy way to support our truly independent journalism
By registering, you will also enjoy limited access to Premium articles, exclusive newsletters, commenting, and virtual events with our leading journalists
Already have an account? sign in
Join our new commenting forum
Join thought-provoking conversations, follow other Independent readers and see their replies