Ze Academy: Ukraine lawmakers' first assignment is a crash course in politics
Volodymyr Zelensky's record-breaking 254 MPs have been sent to school ahead of entering parliament for the first time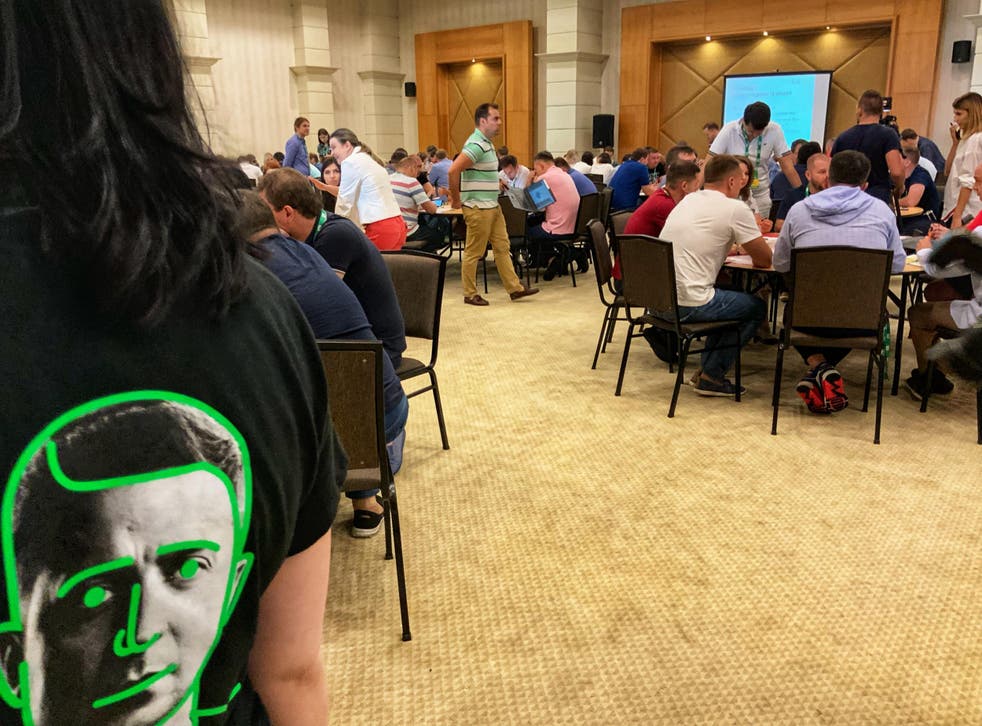 As the 12-hour overnight train from Kiev emptied its innards on to the platform at Truskavets, it was the self-help books that gave the game away.
The group – mostly men – came in all sizes. They were tall, short, sporty, rounded, suited, shirted, shorted. But it was the Yuval Noah Harari and Ayn Rand titles that served as instant markers, distinguishing Ukraine's incoming political elite from the other holidaymakers traipsing their way down the station ramp.
All 254 MPs in Volodymyr Zelensky's unprecedented parliamentary majority had arrived here, in sleepy, rustic, western Ukraine, for a crash course in lawmaking and government policy.
When the plan to run such a course broke late last week, it raised eyebrows. For some, the Ze Academy was a prospect that made Leslie Nielsen look serious. Many questioned the durability of rookie MPs plucked from the public without so much as a political ABC.
But for the organising committee of Mr Zelensky's Servant of the People party, it was the natural continuation of their vision of a new, optimistic dawn in Ukraine.
If Mr Zelensky could become president from a still start, training up a new legislative class via a dozen breakout sessions was well within reach.
Ukraine Elections 2019 in pictures

Show all 26
The Servants found their guru in Timofei Milovanov, the energetic president of Kiev's respected School of Economics and a deputy head of the National Bank of Ukraine.
On Facebook, Mr Milovanov proudly announced his plan to subject the nation's MPs to five, 13-hour "intensive, harsh, complete" sessions. They cover the full range of government business from economy to infrastructure, security and defence.
In Truskavets, every effort was made to turn the Rixos Prykarpattya, a behemoth former Soviet sanatorium, into something resembling a Ted Talk auditorium. That was certainly the format Mr Milovanov was aiming for when he kicked things off on Monday morning, bouncing around the stage with a pep lecture about "belief".
He invited Ukraine's new MPs to take part in a survey rating their own knowledge against their peers: worse, better, or average. More than half chose "average"; 20-odd per cent thought they had a head start on the others. The numbers disappointed the business guru. Parliamentarians ought to have more faith in their abilities to have a chance of succeeding, he said.
That 80-20 split, incidentally, is roughly in line with expert assessments: that only a small percentage of the new intake know what they want to do with their newfound power. The worry is that it is precisely this section that is most ruthless and will come to dominate the forthcoming parliament.
New MP Alexander Dubinsky is one who is unlikely to take many prisoners. The bruiser journalist won the most bitterly contested of all the constituencies in this month's vote, beating former president Petro Poroshenko's grey cardinal Ihor Kononenko in a district outside Kiev. Before that, Mr Dubinsky was an attack dog on controversial oligarch Ihor Kolomoisky's TV station, frequently taking his boss's battles to the former president.
Many expect Mr Dubinsky to be one of the most powerful of Mr Zelensky's Servants, and one of Mr Kolomoisky's more reliable representatives in parliament.
The former journalist told The Independent that any alignment with the views of his oligarch boss was purely coincidental.
He would be operating according to the credo of the Servants alone – "no scheming, and no f*****g stealing" – he said. Mr ​Zelensky's Servants would be a school in soft power, an example of "positive power".
"There will be no talk about tightening belts and getting ready for grim times," he said. "We are not Stalinists. We are optimistic. And it will be the most optimistic of us, rather than the richest of us, who will rise fastest."
There was certainly no shortage of positivity around the Zelensky team in Truskavets, but the most optimistic predictions – an economic breakthrough and 7 per cent growth – were reserved for strictly off-record briefings.
Back inside the hall, Mr Zelensky's motley bunch took their positions for the first guest lecture of the day. The speaker was Maxim Nefedov, a former investment banker turned government reformer with a disarmingly hipster appearance. As deputy economics minister, Mr Nefedov won plaudits for making government procurement transparent. Now he is in charge of customs, one of Ukraine's most corrupt sectors.
The exact content of Mr Nefedov's speech was for the Servants alone.
By this point, the hall was closed to journalists. Ukraine's newest legislators needed to feel at ease, Mr Zelensky's team explained, rather than attempting to look clever in front of the press.
Before entering the hall, Mr Nefedov said that he understood he couldn't make skilled legislators overnight. His aim, instead, was to deliver "a few soft skills from a 35-year old-timer" with the aim of "speeding up learning curves".
For some, the learning curve will come quicker than others. A fair number of Mr Zelensky's Servants are sharp, well educated and will likely form an expert core in important committees. Fifth in the official party pecking order, for example, is the cerebral anti-corruption campaigner Halyna Yanchenko. She claimed to be "inspired" by the quality of her fellow MPs after getting to know them over the previous 24 hours.
Alexander Bakumov, a legal academic, recruited to the Zelensky revolution via a casting website called Lift, echoed the sentiment. The popular assumption of the new president's cohort being short in skills was "nonsense" and a crash course was nothing to be ashamed of. "Everyone can and should learn. The world is moving so fast. We need to keep up."
On the other side of the hall was Nikolai Tishchenko, a man who made it on to the Zelensky ticket via a different, celebrity route. The TV chef had arrived in Truskavets with his arm in plaster – the result of an "election altercation". His political journey was about the gut, he told The Independent. Ukrainians were driven by "Cossack blood", he continued. "That requires us to be first in everything."
But Mr Tishchenko asked The Independent to put further questions in writing to his press secretary. In was unclear whether an earlier mishap, in which he was caught out on gas prices, had made him uneasy in front of journalists.
Another Zelensky celebrity is Zhan Beleniuk, a world Greco-Roman wrestling champion, and incidentally Ukraine's first black MP. Mr Beleniuk said he was drafted into the party in June. He'd known the president before then, he said, having been invited on his show. He liked what he saw, and wanted to be part of his successful team. But he admitted he was less motivated by politics than "promoting sport inside parliament".
A contingent of the new intake made their names in war.
Yuri Misyatin was a small businessman until the conflict turned him into an army volunteer. His journey into the Zelensky family began at Dnipropetrovsk airport in July 2014, he says. This was the moment he saw hundreds of injured soldiers "lying on the tarmac" after being flown in from the front line, without proper medical supplies. His efforts to supply the front line brought him into contact with Andriy Bohdan, Mr Zelensky's all-powerful chief of staff, who was working as an adviser to Ihor Kolomoisky, then the governor of Dnipropetrovsk.
Over the hottest days of the war, Mr Misyatin would travel along the front line in convoy with Mr Bohdan's Mercedes jeep. The proximity of death – the mortars and grad missile that landed near their convoy – brought the two men together, he says. It was "obvious" his next role in life would be as one of Mr Zelensky's Servants.
Mr Misyatin especially valued the "black humour" of his friend Mr Bohdan, he added, admitting not everyone found it as funny.
Another man whose political career is intertwined with war is Andriy Bohdanets, who won a constituency near Ternopil in western Ukraine. For a long time, he fought with the Sych special police battalion in and around Donetsk airport. That battalion was known for its more nationalistic views. He says he has fallen out with "nearly all" his former colleagues over his support for Mr Zelensky.
"They ask me how I could betray them," he told The Independent. "They have this warped impression about Zelensky, that he's in the game for Russia."
Halyna Yanchenko said popular opinion is still pregnant with myths about President Zelensky that were pushed by the former regime.
"People can't understand how it turned out this way," she says. "They don't understand how we won in constituencies that nobody gave us a chance with. How the economy didn't turn to junk when we took over. How Zelensky didn't immediately go and do a deal with Russia."
The idea that you can't teach MPs how to be good representatives would also turn out to be a "fake news story", she said.
"What people don't understand is that we are making Ukrainian history. Absolutely everything is possible."
Join our new commenting forum
Join thought-provoking conversations, follow other Independent readers and see their replies