Up in a puff of smoke? EU plan threatens e-cigarettes
Anti-smoking groups angry at new directive which could price devices out of market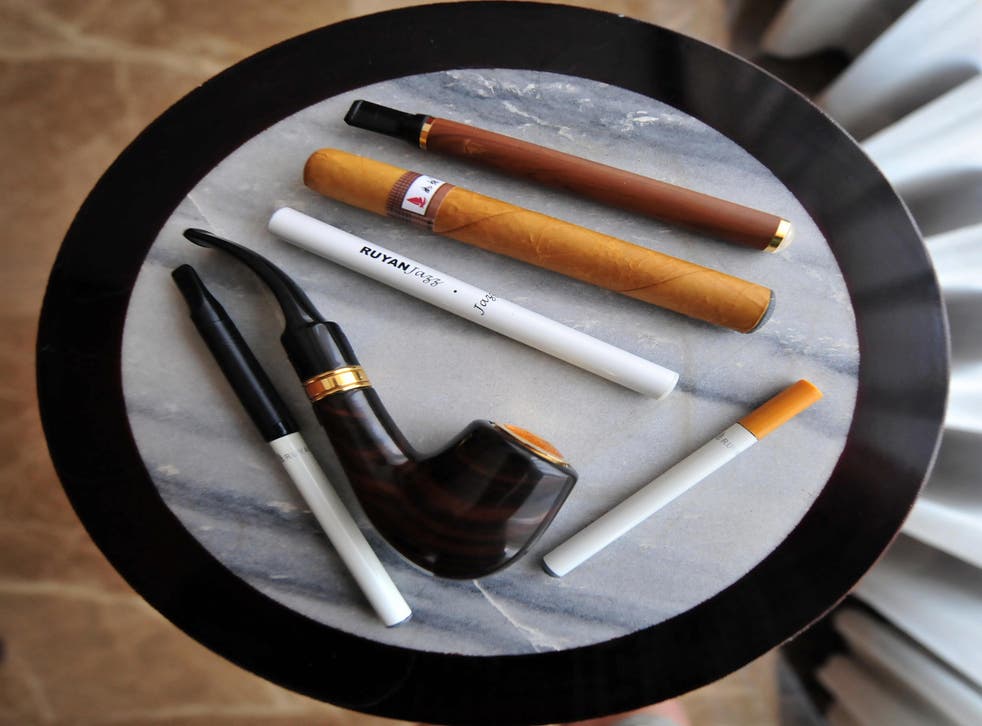 Anti-smoking campaigners have reacted with dismay at the prospect of electronic cigarettes, the devices that help smokers avoid the lethal effects of tobacco, being banned under a proposed change to European Union law.
A review of the EU Tobacco Products Directive currently under way includes a proposed new regulation which would require any device containing more than 4mgs of nicotine to be authorised as a medicinal product.
E-cigarettes look and feel like real cigarettes and are designed to mimic the experience of smoking without the harmful consequences. They heat nicotine to deliver an inhaled mist which reproduces some of the effects of smoking minus the cancer-causing chemicals produced by burning tobacco.
To gain authorisation under the new regime, e-cigarettes would have to undergo expensive clinical trials – rendering them commercially non-viable and effectively banning them.
Amanda Sandford, a spokesperson for Ash, the anti-smoking charity, said: "For the EU to treat e-cigarettes as tobacco products muddies the waters and causes confusion. It would be far better to treat them on a par with nicotine replacement products which are available over the counter through pharmacies and newsagents."
Campaigners say "light touch" controls would ensure e-cigarettes are safe and effective but allow them to be sold in newsagents and supermarkets alongside cigarettes. Ms Sandford added that they should not "have to go through umpteen clinical trials".
The EU's review of the Tobacco Products Directive is aimed at making smoking in all its forms less attractive to young people in order to discourage them from taking it up.
But the Royal College of Physicians has previously called for the devices to be made more widely available, arguing smokers should be moved on to safer substitutes such as e-cigarettes to supplement therapeutic approaches using nicotine patches and gum.
The Cabinet Office's behavioural insight team has also backed the devices. "If alternative and safe nicotine products can be developed which are attractive enough to lure people away from traditional cigarettes, they could have the potential to save tens of thousands of lives a year," it said in 2011.
But the move has also angered manufacturers, who claim they have never promoted the products' anti-smoking qualities. "We are not selling a medicinal product; we don't present e-cigarettes as having health benefits and they are not functionally a medicine. They are designed as an alternative to cigarettes," said Charles Hamshaw-Thomas, director of legal affairs at the E-Lites brand of electronic cigarettes. "Limitations on the wider availability of e-cigarettes will give cigarette companies an unfair advantage and perversely protect their existing markets."
Register for free to continue reading
Registration is a free and easy way to support our truly independent journalism
By registering, you will also enjoy limited access to Premium articles, exclusive newsletters, commenting, and virtual events with our leading journalists
Already have an account? sign in
Register for free to continue reading
Registration is a free and easy way to support our truly independent journalism
By registering, you will also enjoy limited access to Premium articles, exclusive newsletters, commenting, and virtual events with our leading journalists
Already have an account? sign in
Join our new commenting forum
Join thought-provoking conversations, follow other Independent readers and see their replies