Ursula von der Leyen: Is this the next woman to become Chancellor of Germany?
Angela Merkel's third term in office ends in 2017, and a leading contender to succeed her is the new Defence Minister Ursula von der Leyen
Tony Paterson
Sunday 15 December 2013 20:35 Comments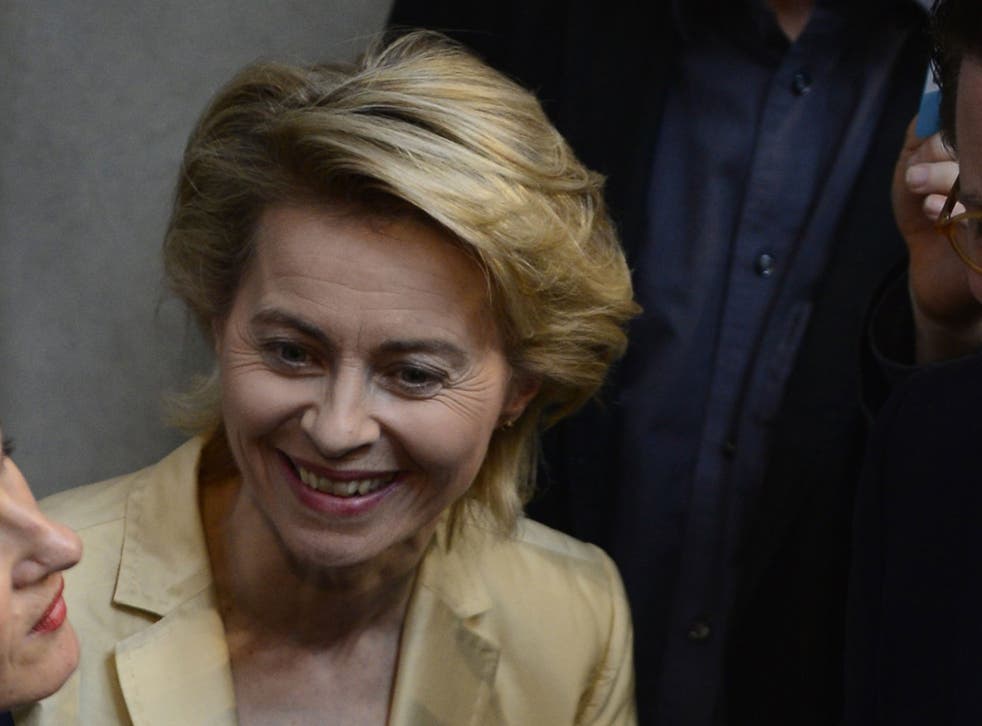 She already combines the decidedly Herculean roles of cabinet minister and mother of her seven mainly school-aged children, but as of this week, Ursula von der Leyen will begin being groomed as the most likely politician to succeed none other than Germany's first woman chancellor, Angela Merkel.
A conviction conservative, Angela Merkel's protégé and Labour Minister, will take on the job of Defence Minister in Germany's new grand coalition government which will be sworn in later this week.
The surprise appointment not only marks the first time that a woman has ever taken on a defence portfolio in Germany – it also gives Ms von der Leyen one of the most senior and high-profile cabinet posts, and by definition, a place at the front of the queue for the Chancellor's job in the Christian Democrats.
As Germany's Der Spiegel magazine put it yesterday: "Ursula von der Leyen is going to be Defence Minister. Within her own conservative party, she can at last assume the role of crown princess."
Ms Merkel has indicated that she will stand down after her current third term and if she does not change her mind, Ms von der Leyen could run for the Chancellor's job in the run-up to Germany's next scheduled general election in 2017.
More pro-Europe than Ms Merkel, Ms von der Leyen is on record as saying she would like to see a "united states of Europe – run along the lines of the federal states of Switzerland, Germany or the US".
A qualified medical doctor, she is the daughter of Ernst Albrecht, a former conservative Christian Democrat prime minister of Lower Saxony and EU official. Her family is wealthy, and her doctor husband, Heiko, spends much of his time looking after their seven children.
Ms von der Leyen says she believes more men should follow her husband's example. As Minister for Labour and Social Affairs she fought and won a long battle to introduce better paternity benefits to encourage more working women to have children. Germany has one of the world's lowest birth rates and she believes that too many women think that having a good career and children are incompatible.
Fluent in several languages and with a reputation as a problem solver, Ms von der Leyen is certain to attract wide media attention if confirmed as the country's first female Defence Minister. Yet she will have to tread carefully as the job has a reputation for swiftly ending political careers.
Ms Merkel's decision to appoint her to the post is seen as a tactical move aimed at resolving the dilemma faced by her current Defence Minister and ally, Thomas de Maizière. He is alleged to have wasted millions on commissioning the inoperable "Euro-Hawk" military drone. Mr de Maizière is to be given back his old job as Interior Minister and may yet also emerge as a potential Merkel successor.
The landslide victory won by the ruling Christian Democrats in Germany's 22 September election left Ms Merkel just short of an absolute majority. That gave her little option but to form a grand coalition with the Social Democrats, or call fresh elections. After months of bitter wrangling the Social Democrats agreed to the idea the weekend following a membership ballot.
In Ms Merkel's new grand coalition, her second since 2005, most of the top jobs reflect her party's political dominance. The veteran conservative Finance Minister, Wolfgang Schaüble, will also keep his job. Ms Merkel's main concession is to give Sigma Gabriel, the Social Democrat leader, a job as "Super Minister" for Economics and Energy, which will oversee Germany's programme to abandon nuclear power.
Register for free to continue reading
Registration is a free and easy way to support our truly independent journalism
By registering, you will also enjoy limited access to Premium articles, exclusive newsletters, commenting, and virtual events with our leading journalists
Already have an account? sign in
Join our new commenting forum
Join thought-provoking conversations, follow other Independent readers and see their replies