US hits Russia with new sanctions over Ukraine conflict as Dubai talks falter
War continues at the heart of Europe, with Washington and Moscow yet to agree terms for a ceasefire. US negotiators accuse Russia of inflexibility, while Russian insiders say the situation is hopeless: 'It is impossible to have a negotiation with someone who is always looking to worsen your position'
Oliver Carroll
Moscow
Friday 26 January 2018 18:00 Comments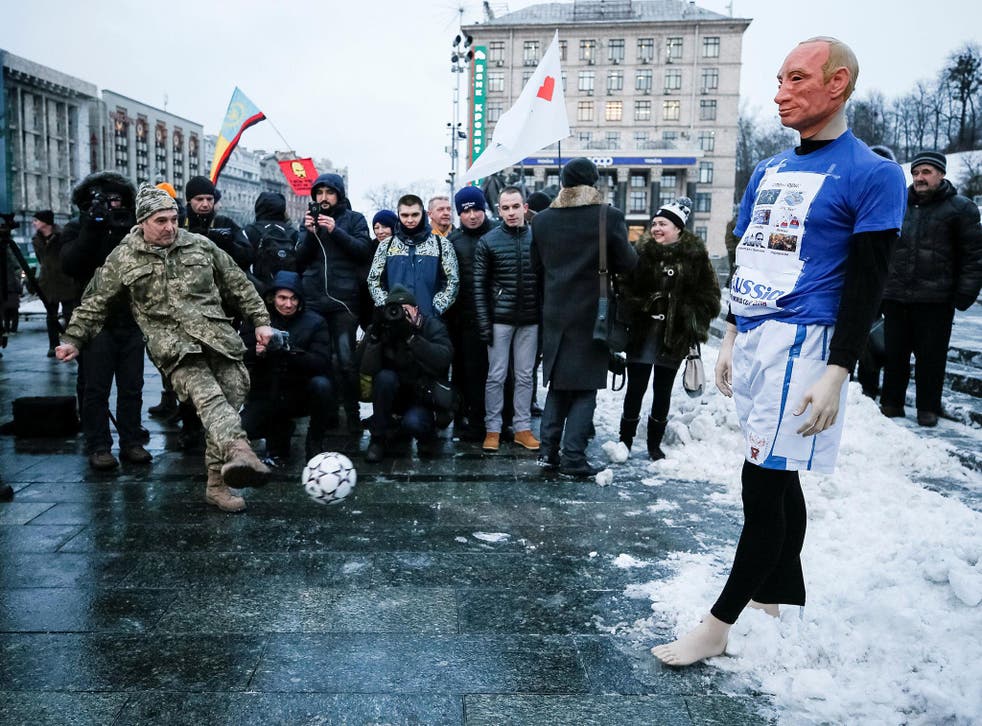 The US Justice Department ratcheted up pressure on Russia on Friday, issuing sanctions to approximately 40 companies and individuals it says were involved in the Ukraine conflict. The list includes bureaucrats, a deputy minister and leading businessmen.
The press release announcing the new measures came just as the US Special Representative to Ukraine Kurt Volker was holding talks with Russian counterpart, presidential aide Vladislav Surkov, in Dubai. It is unlikely to have improved the chances of their success.
Even before today's development, it was expected there would be a further digging in on the Russian side. In an extended interview with the Kommersant newspaper on Tuesday, Foreign Minister Sergei Lavrov, said the West had been infected by "unprecedented" Russophobia, making negotiations impossible. "It wasn't even like this during the Cold War," he said.
Today's announcement placed sanctions on leading Russian enterprises that it says were involved in infrastructure projects in Crimea. The former deputy energy minister Andrey Cherezev is also targeted. The Treasury Department said that 11 of the people in the list are Ukrainian citizens, and include officials of the so-called Donetsk and Luhansk People's Republics. Russia formally annexed Crimea from Ukraine in March 2014 following a disputed referendum.
On Monday, the US Treasury is set to follow up sanctions with its long-awaited "Kremlin report". This document is set to name and shame businessmen who make up Russian President Vladimir Putin's inner circle. Sanctions will not necessarily follow inclusion in the list, but reputational damage is likely.
The imminent delivery of Javelin anti-tank weapons to the Ukrainian army also upped the stakes ahead of today's talks.
Alexei Chesnakov, an expert in close contact with the Russian point man Vladislav Surkov, told the Independent that a breakthrough was not imminent. "It is impossible to have a negotiation with someone who is always looking to worsen your position."
Special Representative Volker explained the delivery of anti-tank weapons as a response to Russia's inflexibility. "There has been no movement by Russia towards actually ending the conflict in Ukraine," he said.
The appointment of Mr Volker as US Special Representative to Ukraine in July was seen by some as a new beginning. The former ambassador to NATO was always considered a Russia hawk, but he was well-respected in Moscow. There had been a six-month absence of the US from foreign policy, and many hoped his knowledge and optimistic can-do approach could, perhaps, force progress.
Volker's strong rhetoric has certainly made him a popular figure in Kiev. Oleksii Makeiv, political director at the Ukrainian Foreign Ministry, told The Independent that Ukraine was "very happy" with the Special Representative's efforts to coordinate his positions. "He talked with President Poroshenko before the Dubai meeting, and he will meet with him afterward," the diplomat said. "The Russians thought they could drive a wedge between us and the West, but Mr Volker has shown that will not happen."
But with high trust comes problems, says the Ukrainian Rada Deputy Oleksiy Ryabchyn. "The political elite all adore what he says, but he has raised expectation so high that the reality is likely to disappoint."
For now, the reality remains a war on the edge of Europe that refuses to go away. Regular losses on both sides continue to add to the estimated 9,940 plus who have lost their lives over the four-year conflict.
According to Igor Sutyagin, Senior Research Fellow at RUSI an international defence and security think tank based in London, the sides have now reached a military parity of sorts. After several bloody defeats, the Ukrainian army has built up a fighting resistance. A major offensive by either side is now likely to prove costly. Dr Sutyagin estimates the number of Ukrainian forces in the conflict zone at 40-50,000 – compared with 30,000 in separatist-controlled eastern Ukraine. A further 30-40,000 troops are located on Russian territory the other side of the Ukrainian border.
Fighting once again draws on the full range of lethal weaponry. It includes the howitzers, tanks and rocket launchers that were supposed to have been withdrawn under the Minsk Peace Accords signed in February 2015. The heaviest of the equipment was once hidden from view, but no one is bothering with the pretence anymore.
"Ukraine tried to withdraw weapons at first," says Dr Sutyagin. "But it had to be realistic. Unilateral disarmament is not popular in eastern Ukraine."
For now, Mr Volker remains the most optimistic man in the room. This week, he suggested the full list of Minsk commitments could be met within 12 months. Including as it does ceasefires, safety guarantees, controversial legislation in Ukraine, elections and the return of control of the eastern border from Russian-backed forces, that seems a tall order.
"Even if you take into account all the technical elements of the agreements, you are looking at a minimum of two and a half or three years," says Mr Chesnakov. "And that doesn't include the politics. Volker always underestimates the political issues — even though Moscow keeps telling him about them."
Register for free to continue reading
Registration is a free and easy way to support our truly independent journalism
By registering, you will also enjoy limited access to Premium articles, exclusive newsletters, commenting, and virtual events with our leading journalists
Already have an account? sign in
Join our new commenting forum
Join thought-provoking conversations, follow other Independent readers and see their replies