Russia hits back at US trade tariffs by increasing import duties on American goods
'No one will win by fighting a trade war,' says China's Li Keqiang – as Beijing also imposes tariffs to combat US measures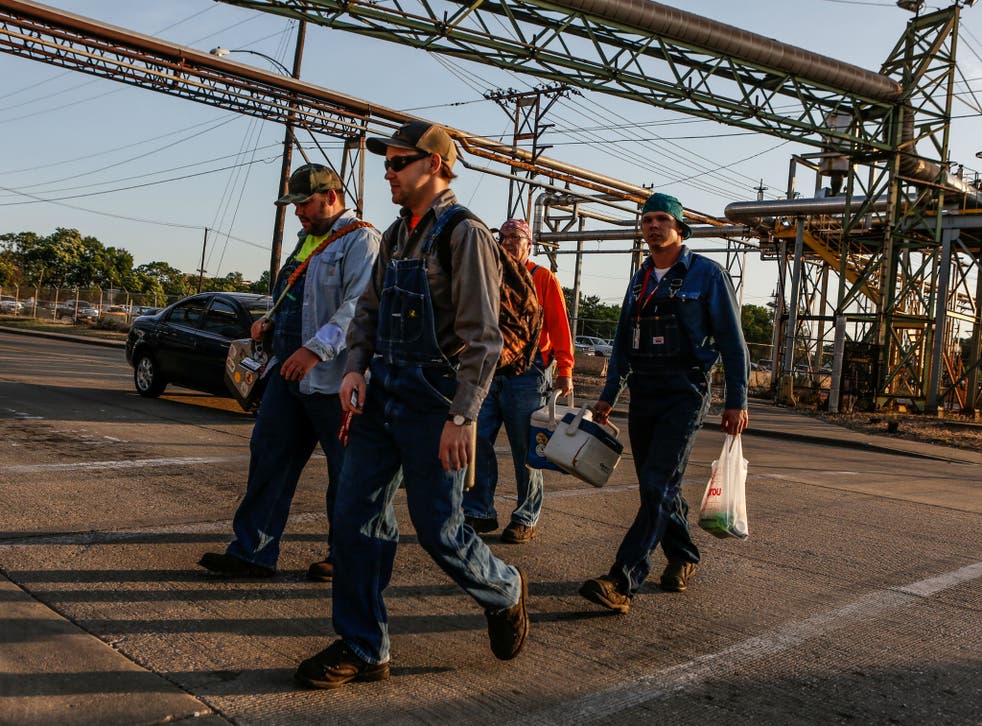 Russia has struck back against the US decision to impose tariffs on foreign steel and aluminium by imposing its own tariffs on US goods, widening a trade spat China has called the "biggest trade war in economic history".
The move comes after Beijing and Washington imposed tariffs on billions of dollars of each other's goods on Friday, amid a spiralling dispute over technology and trade practices.
In Moscow, Maxim Oreshkin, the economic development minister, said that additional tariffs ranging from 25 per cent to 40 per cent have been applied to some road construction equipment, oil and gas equipment, metal processing instruments, drilling equipment and optical fibre.
The EU, India, China and Russia all have applied to the World Trade Organisation (WTO) to challenge the US tariffs of 25 per cent on steel and 10 per cent on aluminium, which mostly took effect back in March. Washington argues they have been put in place for national security reasons.
China later said it had it has filed a second complaint to the WTO over the US impose more tariffs.
Mr Oreshkin said that Russian steel and aluminium makers suffered $537.6m (£405m) in damages from the new US tariffs. He noted that the new Russian tariffs will only allow a partial compensation of $87.6m.
Trump: 'The EU is worse than China'
While President Donald Trump has boasted that trade wars are "good" and "easy to win", the global ramifications of such hardline measures has worried financial markets and many of Washington's international partners.
Cecilia Malmstrom, the EU's trade commissioner, said in a tweet that she was worried about the tit-for-tat tariff hikes between the United States and China, and warned about where the escalation was leading.
"Worrying development with escalation of tariffs between US and China. Clearly damaging for the world economy. Trade wars are bad and not easy to win," she wrote.
Washington imposed 25 per cent duties on $34bn on imports from China, the first in a series of possible increases that Mr Trump says could affect up to $550bn of Chinese goods. Mr Trump believes that the measures will protect metal workers that were a core part of his support that guided him to the presidency in 2016.
World news in pictures

Show all 50
China has retaliated with tariffs on a similar amount of goods. The Communist Party newspaper People's Daily said tariffs were imposed on a list of goods issued last month that included soybeans, pork and electric vehicles. US soybean farmers have been particularly concerned, with the price of soybeans plunging 17 per cent over the past month over tariff fears. Such farmers are another key part of Mr Trump's support base, and the new tariff measures will likely cause problems for the Trump administration.
The president will be happy to gamble on the reactions of allies and the international community, as keeping to his "America First" protectionist polices plays well domestically. But critics have suggested the White House has not thought through the long-term impacts of a drawn-out trade war on sections of the US economy.
Mr Trump has suggested he will not back down until China yields, having accused Beijing of a number of "unfair" trade practices.
Mr Trump said on Thursday that higher tariffs on an additional $16bn in Chinese goods were set to take effect in two weeks. After that, the hostilities could intensify: Mr Trump said Washington is ready to target an additional $200bn in Chinese imports – and then $300bn more – if Beijing does not yield.
That would bring the total of targeted Chinese goods to $550bn – more than the $506bn in goods that China shipped to the United States last year.
Chinese officials reject accusations they steal or force foreign companies to hand over technology. But rules on auto manufacturing and other industries require companies to work through state-owned partners, obliging them to share know-how.
The official China Daily newspaper accused the Trump administration of "behaving like a gang of hoodlums". It said they would damage the global economy unless other countries stop them.
"There should be no doubting Beijing's resolve," the newspaper said.
The American Chamber of Commerce in China appealed to both sides to negotiate.
"There are no winners in a trade war," the chamber's chairman, William Zarit, said in a statement. "We urge the two governments to come back to the negotiation table."
For their part, China has also looked towards the EU as it seeks to put pressure on the US.
In an opinion piece for a German newspaper, Li Keqiang, China's premier, has called on Berlin to sweep aside barriers hindering Chinese firms' investment in Europe, urging German companies "not to be afraid" of cooperating with their Chinese counterparts.
Mr Li's message, in an article for the Frankfurter Allgemeine, comes ahead of an intergovernmental summit in Berlin next week, when German manufacturers' concerns about loss of technological leadership to China are likely to be high on the agenda.
"[I hope] Germany changes its mind and creates a fair, open environment and a stable institutional framework for companies that invest in Germany or Europe," Mr Li wrote.
During an official visit to Bulgaria, as part of his European trip Mr Li said: "No one will win by fighting a trade war, yet China will take countermeasures in the face of unilateral moves."
Associated Press and Reuters contributed to this piece
Register for free to continue reading
Registration is a free and easy way to support our truly independent journalism
By registering, you will also enjoy limited access to Premium articles, exclusive newsletters, commenting, and virtual events with our leading journalists
Already have an account? sign in
Register for free to continue reading
Registration is a free and easy way to support our truly independent journalism
By registering, you will also enjoy limited access to Premium articles, exclusive newsletters, commenting, and virtual events with our leading journalists
Already have an account? sign in
Join our new commenting forum
Join thought-provoking conversations, follow other Independent readers and see their replies