US student in intensive care after being gored by bull during Spanish festival
Mr Miller underwent a three-hour long surgery after being gored multiple times and receiving wounds to his thigh, sphincter and back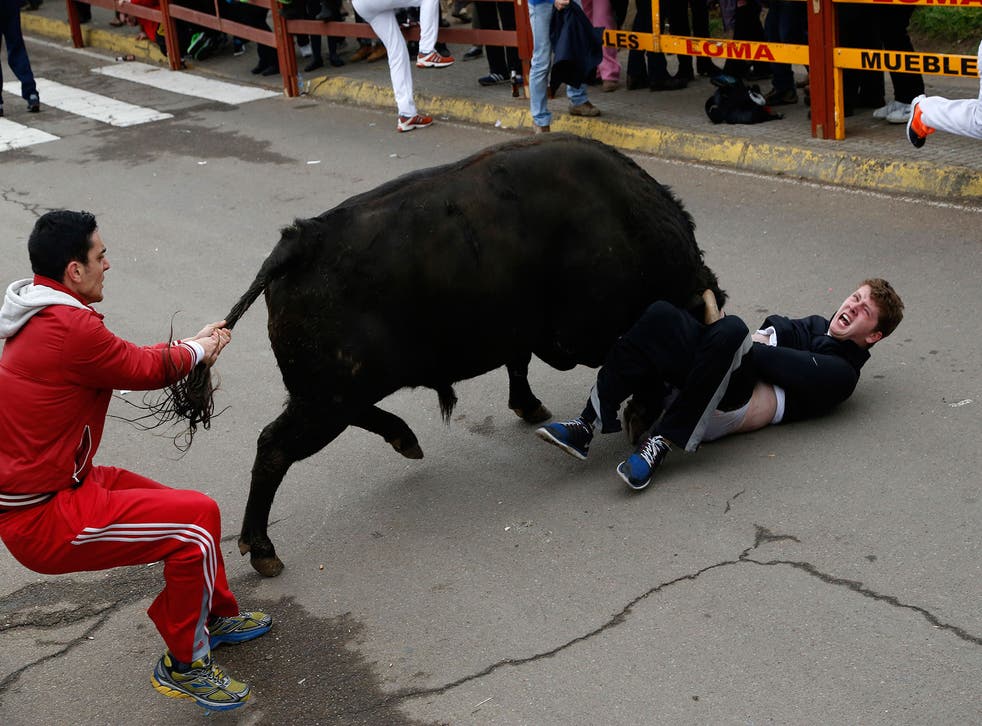 A US student has been hospitalised after being gored and tossed by a bull during the Carnaval del Toro in Spain.
20-year-old Benjamin Miller, of Georgia, is recovering in the intensive care unit of a hospital in western Salamanca after receiving horrific injuries from a large fighting bull on 14 February, officials said.
Mr Miller was gored multiple times and received wounds to his thigh, sphincter and back during the running of the bulls in Ciudad Rodrigo.
Surgeon Enrique Crespo said he was called to operate on Mr Miller's injuries, which included a wound measuring 40 centimetres and was the "the biggest goring wound" he had ever seen, according to a report on Cuatro TV.
Two other men, reported to be a Scot and a Spaniard, were also injured during the encierro although their wounds were described by authorities as minor.
Doctor Crespo said that between 45,000 and 50,000 people had been attracted over the weekend to this year's four-day fiesta, which includes afternoon bullfights and bull-running events.
Earlier this year Morrissey came under fire for calling a bullfighter who was gored in Mexico City a "serial killer", and claiming that he had been "delighted" to hear of the incident.
In pictures: Bull running in Pamplona

Show all 20
Last year Spanish MPs voted to grant bullfighting special cultural heritage status, a move which was condemned by international animal rights organisations. In 2011 the government recognised the event as "an artistic discipline and cultural product".
This was despite the fact that a 2013 Ipsos Mori poll showed that most Spaniards do not approve of public funds being used for bullfighting, that 75 per cent have not attended a bullfight in the past five years, and only 29 per cent were in favour of it.
Additional reporting by AP
Join our new commenting forum
Join thought-provoking conversations, follow other Independent readers and see their replies