Vadim Kostenko: Parents of Russian soldier who died in Syria dismiss official claims he killed himself
The family of Russia's first confirmed casualty in the country have demanded a second autopsy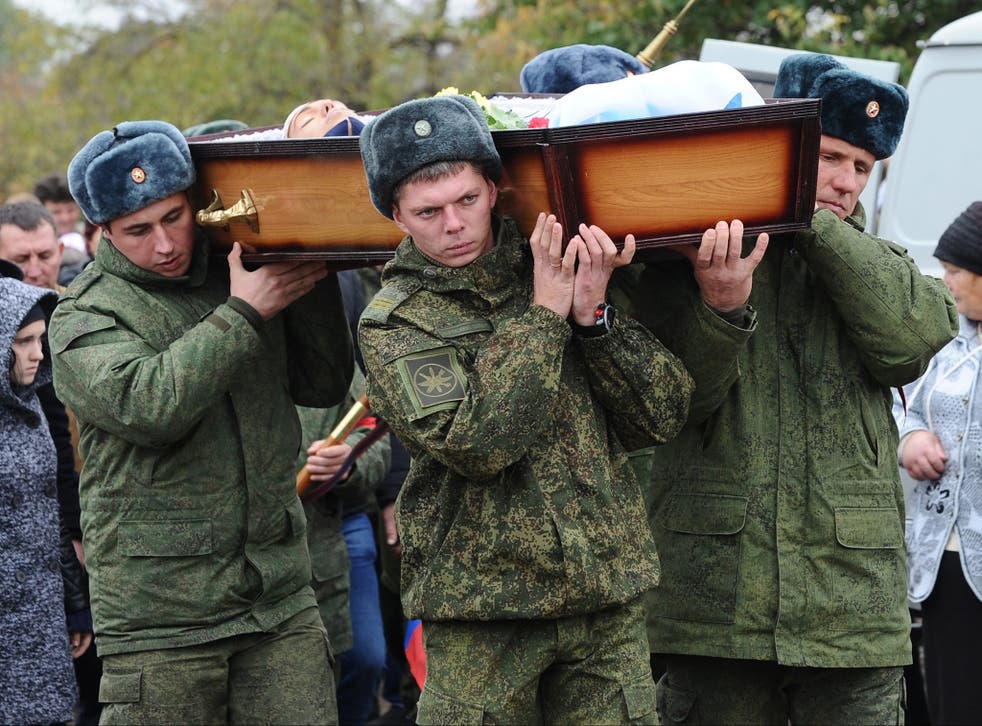 The parents of Russia's first confirmed casualty in Syria have demanded a second autopsy, dismissing official claims that their son killed himself at an airbase in Latakia last week.
The body of 19-year-old serviceman Vadim Kostenko was returned to his family in southern Russia on Wednesday, the day of his funeral. But Mr Kostenko's relatives report a number of strange injuries on his body, and refute the defence ministry's statement that he hung himself after falling out with his girlfriend.
Mr Kostenko's uncle told Novaya Gazeta reporter Yevgeny Titov that in addition to marks on his neck, the body bears a broken jaw, cracked skull and cuts on his stomach.
"Everybody here calls Vadim an optimistic person, who wasn't at all inclined towards suicide," Mr Titov told independent TV station Rain from the funeral. "Moreover, according to one of his friends, the night before his death on Friday, Kostenko called one of the villagers and said that he'd be back from Syria within the week, that everything was fine. The villagers say this fact shows that the official version [of his death] is untenable."
Mr Kostenko is the first Russian soldier to die in Syria since Russia began its airstrikes four weeks ago.
"I will never believe this version [of suicide]," Mr Kostenko's mother, Svetlana, said in an interview with Reuters. "We spoke to him every day by phone for half an hour. [On Saturday, the day he died] he was cheerful, happy and he laughed."
Reports of Mr Kostenko's death circulated after a group of bloggers from open source investigative website Conflict Intelligence Team learned of it from Russian social media. The team confirmed the report after contacting relatives, prompting Russia's Ministry of Defence to make an official announcement about his death.
"According to preliminary information, in particular the analysis of text messages in his phone, the reason for the death of the contract serviceman is problems in his personal relationship with a girl," a source from the defence ministry told Russian news agency Interfax.
Mr Kostenko had signed up to become a contract soldier with the 906th Close Sir Support Regiment in June this year, immediately after finishing his draft in the army. He was deployed to Syria on 14 September, a fortnight before Russia began its air strikes in Syria, where he worked as a technician at an airbase.
The office of Russia's chief military prosecutor said on Wednesday that it is investigating Mr Kostenko's death.
Join our new commenting forum
Join thought-provoking conversations, follow other Independent readers and see their replies