Valentine's Day 2016: Parishioners barricade remains of St Valentine in Italian church after attempted removal
Church-goers link hands around glass coffin supposedly containing bones of the third century saint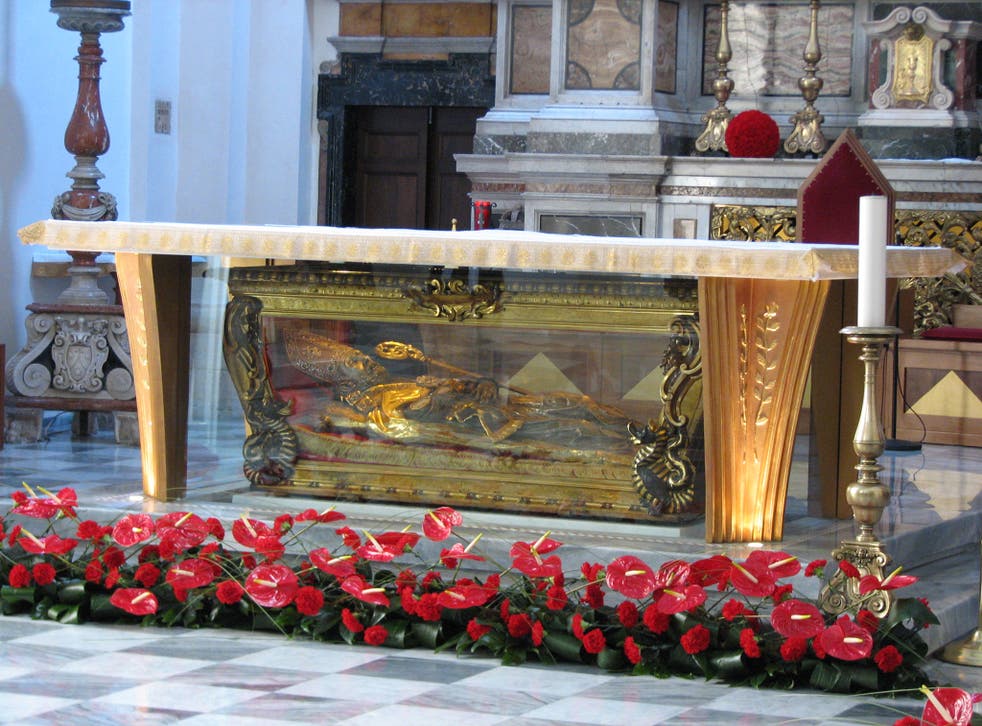 Dozens of angry church-goers have barricaded the remains of St Valentine in an Italian cathedral to block plans for their removal.
Parishioners from the San Valentino Bascilia in Terni in central Italy held hands to form a human barrier around the glass coffin containing bones supposedly belonging to the patron saint of love.
The local bishop, Monsignor Giuseppe Piemontese, had planned to temporarily moved the remains from the cathedral to another basilica three miles away as part of a special Valentine's Day celebration of the Vatican's Holy Year of Mercy.
But the bones were still in the cathedral on Sunday morning as the local community refused to back down, the Telegraph reports.
Locals say the town had seen steep population decline in recent years and was falling into a state of decay as a result.
One resident told local Italian media that they had already "lost everything" and would not allow a piece of their history to be taken from them.
Valentine's Day 2016: What women really want

Show all 11
Another protester said: "If they really want to do it, they're going to have to get past us, because we're not moving even one step backwards."
Monsignor Piemontese insisted the remains would have been returned to San Valentino - where they have been housed since the 17th century - within two days and he is believed to have paid for a specially adapted car to transport them out of his own pocket.
In his Sunday homily to the parishioners he said: "The controversy surrounding the temporary transfer...which was planned to make the celebration even more special for the devoted, is symptomatic of the intolerant, arrogant and disrespectful manner which has showed itself here."
He said the decision had been made after "many consultations and general consensus" within the church and the wider community.
St Valentine - whose birthplace was supposedly Terni - is the patron saint of romantic love and happy marriages and his feast day has been adopted by Western secular culture.
Join our new commenting forum
Join thought-provoking conversations, follow other Independent readers and see their replies