Vanesa Campos: Five charged with murdering Paris transgender sex worker
Peruvian national shot dead in park in latest in string of prostitute killings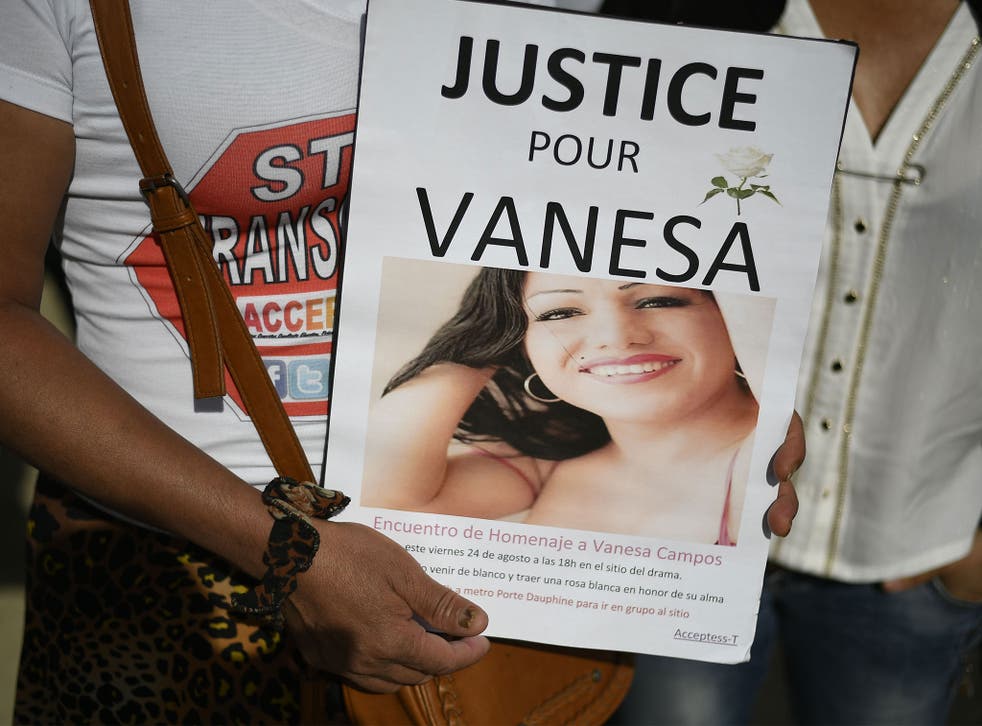 Five people have been charged with the murder of transgender prostitute in Paris who was thought to have been attempting to stop a gang from robbing one of her clients.
Vanesa Campos was shot dead on the night of 16-17 August in the city's Bois de Boulogne, an area regularly frequented by sex workers and their customers.
The 36-year-old, who had immigrated to France from Peru two years prior, was reportedly set upon by a group of men armed with knives and firearms.
Local media reports said Ms Campos had been attempting to prevent one of her clients from being mugged before she was fatally shot in the chest.
World news in pictures

Show all 50
On Monday, Paris prosecutors said five men had been charged in connection with her killing, according to the AFP news agency.
Ms Campos' murder has sparked outrage among LGBT+ campaigners, who have claimed France's media all but ignored her death until recently.
Protesters had held a march through the park on Friday, calling for her killers to be brought to justice.
The case has also drawn attention to the plight of sex workers and their customers in the French capital, who are targeted for robberies by criminal gangs stalking parks late at night.
"We are all Vanesa," trans rights activist Clemence Zamora Cruz told LCI.
Lobsters against Transphobia
"Given the precariousness of the situation, how can we think that criminals are not tempted to attack people in our community?"
At least 12 prostitutes are thought to have been killed in the Bois de Boulogne in recent years, according to Le Parisien.
In a statement regarding Ms Campos' death, France's gender equality secretary Marlene Schiappa said her ministry would work to fight transphobia, and violence against migrants and trans people.
"All women must be protected from gender-based and sexual violence, all of which must be condemned," she added.
Join our new commenting forum
Join thought-provoking conversations, follow other Independent readers and see their replies