Vatican suspends 'bishop of bling' who spent €31m renovating a property
Franz-Peter Tebartz-van Elst suspended by papal decree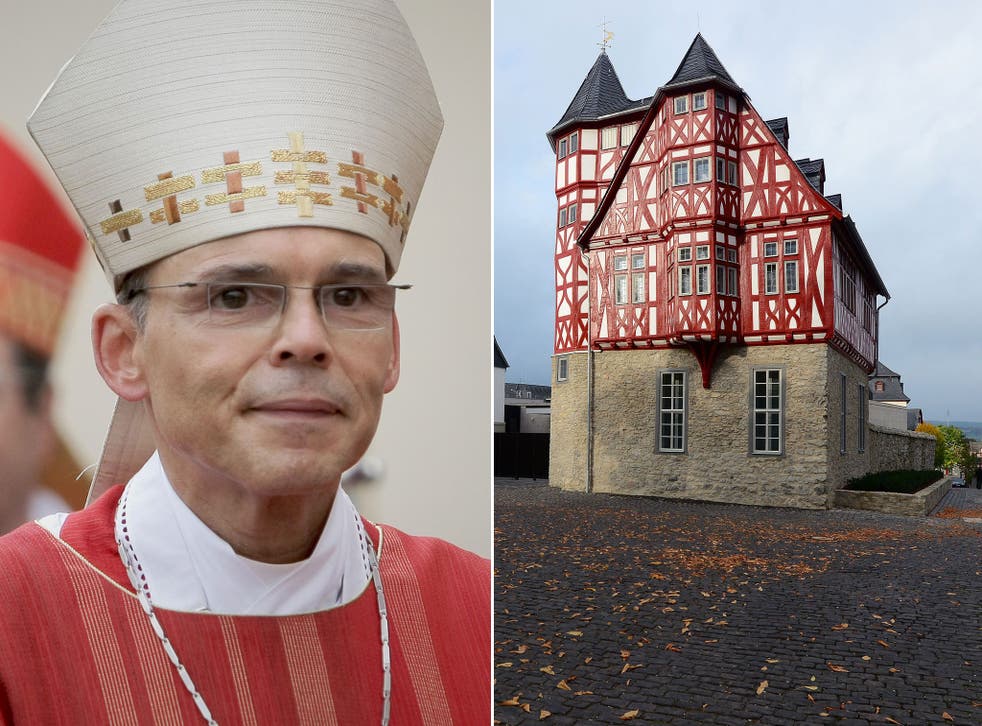 Germany's "Bling Bishop", who sparked outrage after spending €15,000 of diocese money on a bathtub and €350,000 on walk-in wardrobes, has been suspended after falling foul of the famously frugal Francis I.
In a last minute nod to cost-cutting the Bishop of Limburg, Franz-Peter Tebartz-van Elst, flew into Rome at the weekend on Ryanair after been summoned to explain his lavish spending, following protests from local church-goers.
But it appears Francis I, who models himself on the ascetic Saint from Assisi, was not impressed after hearing Tebartz-van Elst's attempts to justify home improvements and renovations totalling €31m – more than double the original €13.5m estimate presented to the diocese.
"The Holy Father has been continuously and objectively informed of the situation," a Vatican spokesman said yesterday. "A situation has been created in which the bishop can no longer exercise his episcopal duties.
"The Holy See deems it appropriate to authorise a period of leave from the diocese for Franz-Peter Tebartz-van Elst."
Tebartz-van Elst was made bishop to the Limburg diocese in 2008 by fellow countryman Pope Benedict XVI, who viewed him as a rising young conservative theologian.
Benedict's very different successor, Francis I, has repeatedly called for a back-to-basics approach, however, and has said he wants today's Catholic Church to resemble Francis of Assisi's "Church of the poor". The pontiff has refused to move into the lavish papal palace in the Vatican, staying instead in the Casa Santa Marta, a residence for visitors.
The bishop's extravagant spending also caused protests locally. Germany's 24 million registered Catholics make a compulsory contribution to the Church from their income tax. And some of them, angered by the diocese's decadence, have already staged protest outside the bishop's expansive residence. One church-goer told the German DW news agency: "I am praying for our Bishop to be healed of his egomania."
The bishop has defended the renovation, saying it involved 10 different projects and that there were additional costs because of regulations on buildings under historical protection.
Domestic costs are not the only cloud hovering over Bishop Tebartz-van Elst though. He is facing claims that he lied about the cost of a flight to India.
The Bishop filed a civil action against the German magazine Der Spiegel over its claims that he flew business class for the trip on which he visited the country's poor. But when Der Spiegel produced a recording of him discussing his expensive tickets, the state prosecutor in Hamburg stepped in and issued an indictment saying he had made false affidavits to the court.
Register for free to continue reading
Registration is a free and easy way to support our truly independent journalism
By registering, you will also enjoy limited access to Premium articles, exclusive newsletters, commenting, and virtual events with our leading journalists
Already have an account? sign in
Register for free to continue reading
Registration is a free and easy way to support our truly independent journalism
By registering, you will also enjoy limited access to Premium articles, exclusive newsletters, commenting, and virtual events with our leading journalists
Already have an account? sign in
Join our new commenting forum
Join thought-provoking conversations, follow other Independent readers and see their replies