'Europe is being overrun': Hungarian leader Viktor Orban steps up anti-immigrant populist rhetoric ahead of elections
'Christianity is Europe's last hope,' Prime Minister tells audience of party faithful. With mass immigration, especially from Africa, 'our worst nightmares can come true'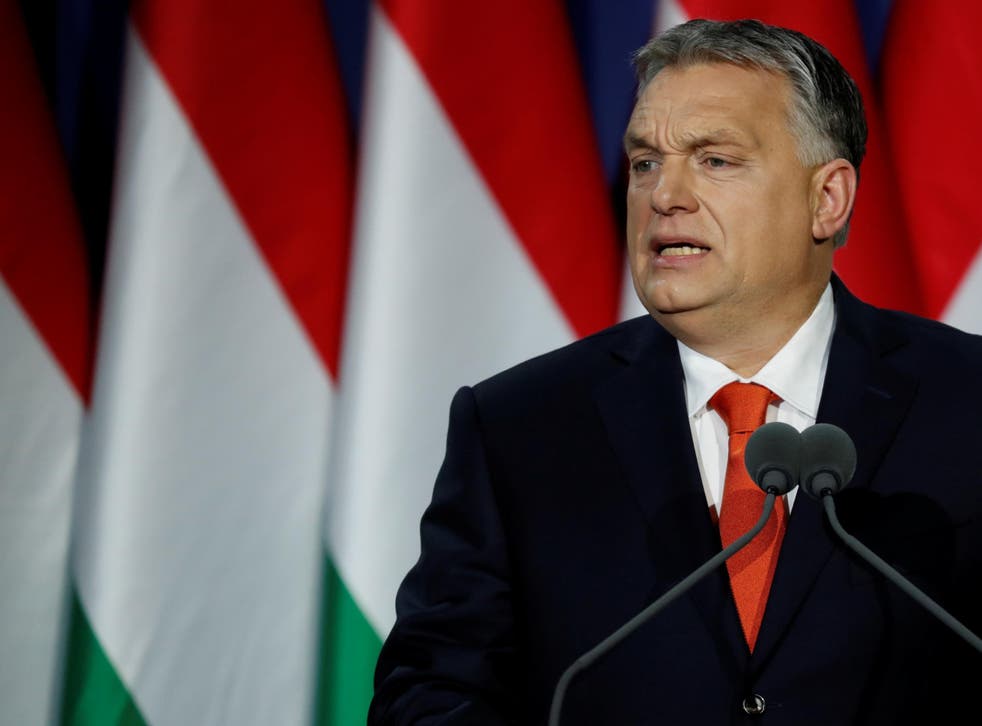 Hungarian leader Viktor Orbán has claimed "Christianity is Europe's last hope" in his latest escalation of populist rhetoric ahead of April's elections.
The Prime Minister warned "dark clouds are gathering" as he accused politicians in Brussels, Berlin and Paris of facilitating "the decline of Christian culture and the advance of Islam".
Speaking at the 20th annual state of the nation, the 54-year-old also outlined government plans to oppose UN and European efforts to make migration acceptable to the world and continue his fight against what he believes is an "Islamisation" of Europe.
He also claimed with mass immigration, especially from Africa, "our worst nightmares can come true. The West falls as it fails to see Europe being overrun."
His speech was the latest example of an increasingly determined anti-immigrant sentiment peddled by his Fidesz party.
Matthew Goodwin, senior Europe fellow at Chatham House, said inciting nationalism had become an effective way for Mr Orbán to gain votes.
"Orbán is now in an incredibly strong position, not only has he got a strong lead in the polls, but he has also discovered populist nationalism has gone down very well with Hungarian voters," he told The Independent.
"Hungary represents a form of nationalism that is much stronger and more ethnic than forms of nationalism in western Europe.
"But it is also clear that an emerging alliance between Hungary, Poland, the Czech Republic and Austria does pose a significant challenge to leaders in Brussels, Paris and London."
World news in pictures

Show all 50
Just 11 per cent of Hungarian voters think that immigration is one of the three most worrying issues in their country, far lower than concern about immigration in Germany (40 per cent), Italy (32 per cent) and the UK (25 per cent), according to newly published data by Ipsos.
But Mr Orbán has inspired confidence and holds at least 50 per cent of intended votes, according to a rolling average of opinion polls ahead of the contest, He also holds a majority of voting intention for those undecided. Polling in second place on 17 per cent is Jobbik, an extreme far-right party.
A landslide victory for Mr Orbán could be difficult news for Western Europe, as divisions deepen between nationalist and liberal member states.
"The refugee crisis has exposed a faultline in Europe between politicians like Merkel and people like Orbán who have responded very differently to that crisis and who have seen it as exposing a deep rift between European member states," said Mr Goodwin. "Europe is divided between a more nationalist alliance and a liberal one."
In January, Mr Orbán increased his attacks on western Europe, saying: "Absurd as it may sound the danger we face comes from the West, from politicians in Brussels, Berlin and Paris...of course we will fight, and use ever stronger legal tools. The first is our 'Stop Soros' law."
Mr Orbán has for years targeted Hungarian-born US financier George Soros, whose philanthropy aims to bolster liberal and open-border values.
The Hungarian leader has advocated "ethnic homogeneity" and compared Mr Soros, a Jew, to a puppet master unleashing immigration onto Europe to undermine its cultural and economic integrity.
Register for free to continue reading
Registration is a free and easy way to support our truly independent journalism
By registering, you will also enjoy limited access to Premium articles, exclusive newsletters, commenting, and virtual events with our leading journalists
Already have an account? sign in
Register for free to continue reading
Registration is a free and easy way to support our truly independent journalism
By registering, you will also enjoy limited access to Premium articles, exclusive newsletters, commenting, and virtual events with our leading journalists
Already have an account? sign in
Join our new commenting forum
Join thought-provoking conversations, follow other Independent readers and see their replies