Astonishing aerial photos show anti-frost candles to protect French and German vineyards
Small grass fires and braziers also lit across winemaking regions as temperatures drop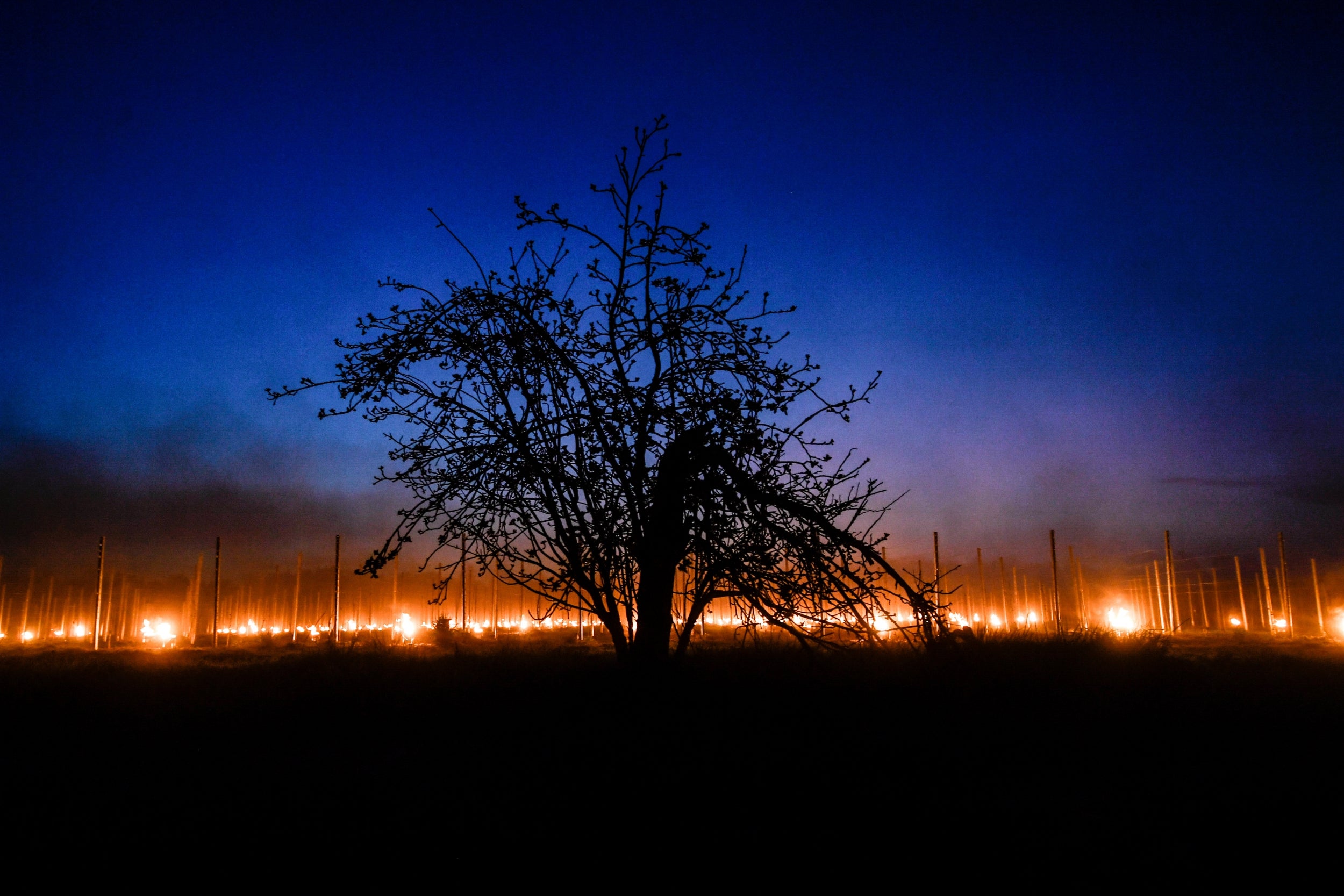 Aerial photos of wine-making regions across France and Germany show vineyards lit up by candles to save crops from succumbing to sharp spring frosts.
Winemakers spent the weekend fighting the plummeting temperatures affecting the already well-developed grape shoots in the Chablis and Côte d'Or regions in eastern France, and the Weinboehla region in eastern Germany.
Hundreds of people also reportedly helped to ward off the frost by lighting small grass fires and burning braziers across the winemaking regions.
The cold snap comes after unusually warm spring temperatures, which mean many vineyards are weeks ahead in growth.
Now wine growers fear a late cold snap could cause greater damage to their crops.
In 2016, Chablis lost about half of its harvest to frost, hail and mildew. And in 2017, the region only picked about two thirds of its usual crop due to adverse weather.
Across France as a whole, a mixture of hail, frost and mildew resulted in one of the country's smallest wine harvests for 30 years in 2016.
Germans burn anti frost candles to protect Vineyards
Show all 26
France is the world's top wine exporter by value, accounting for 29 per cent of the market at $10.3bn in 2017.
Germany is the eight largest wine exporter by value, accounting for 3.2 per cent of the market at $1.1bn in 2017.
Wine importer Great Domaines, which sources wines from Burgundy in eastern France, wrote in a tweet: "Unusually low temperatures for this time of the year have seen many growers fighting frost with fire.
"100s of people have been mobilised to light and monitor straw fires, to create smoke screens before sunrise & to burn braziers to help raise the temperature to protect the buds."
Additional reporting by agencies
Join our commenting forum
Join thought-provoking conversations, follow other Independent readers and see their replies