Vitaly Mutko: 2018 World Cup boss says every country is doping – but only Russia gets blamed for it
Exclusive: In his first interview after Russia was banned from the Winter Olympics, Vladimir Putin's deputy PM says he will not apologise, and will carry on to deliver football's greatest event
Oliver Carroll
Moscow
Tuesday 12 December 2017 15:50 Comments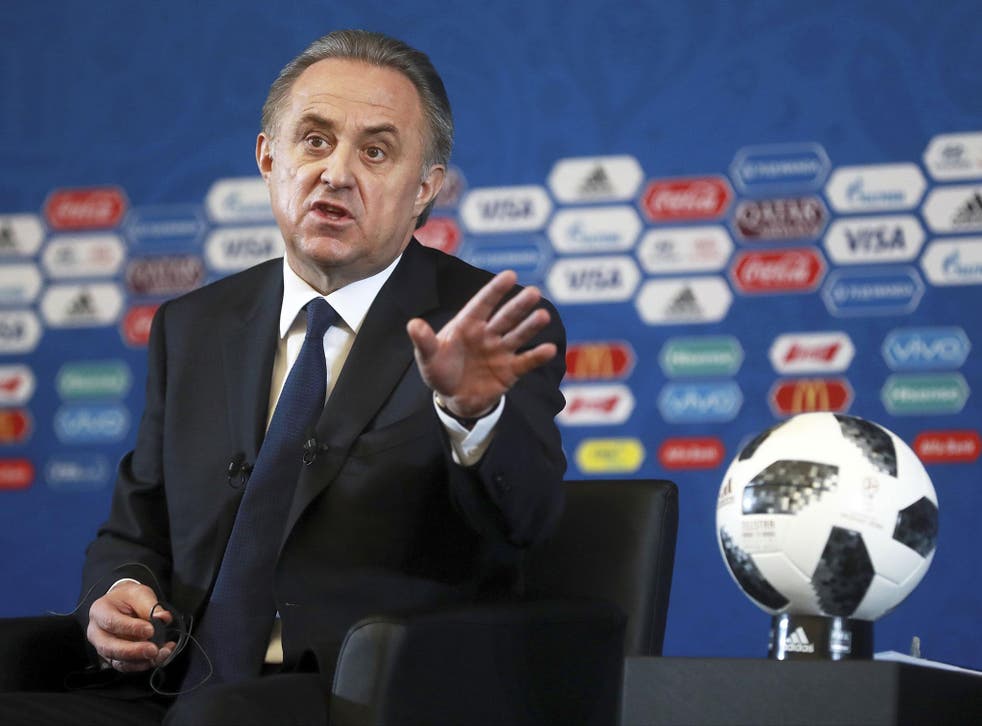 Vitaly Mutko, Russia's embattled deputy prime minister and former sports minister, wants you to know he's going nowhere.
Yes, the decision by the International Olympic Committee to single him out over doping allegations "hurt". Yes, it was hard being at the centre of a media storm. Not least with family – children, grandchildren – watching from the side. But it wasn't the first time he'd found himself embroiled in difficulties. And he has nothing, he says, to apologise for.
We meet at the organising HQ of the 2018 World Cup – a two-storey villa on the embankment by Luzhniki stadium in west Moscow. (While Mr Mutko has been banned for life by the IOC, he remains the man in charge of Fifa World Cup preparations.)
He asks what the aim of the interview is, and whether it will be "objective" – after all, a lot of people have made their minds up about him. I'm given 15 minutes, which is extended, and then extended again, as the minister provides more emotional and interminable answers.
There was doping in Russian sport, he accepts, but "geopolitics had taken over common sense". It had become yet another stick with which to beat Russia, he says. There was no more doping than in other countries – cases that had been proven, and not properly investigated, by the way.
Sure, perhaps, there were chinks in Russia and there was abuse. But those responsible have already been removed from the system. There was no state-sponsored doping and no basis behind the IOC's decision to remove the Russian team from the 2018 Olympics.
"Please don't write that we're now in panic mode, because we aren't – we were well prepared for the decision that came," he says.
The minister refuses to say how President Vladimir Putin's reacted to the IOC decision, though a long pause suggests considerable offence had been taken. "The President is totally committed to sport and wants the country to be active," Mr Mutko eventually replies.
The President and his minister go back a long way. Like many of Russia's top politicians, Mr Mutko was there in St Petersburg, right at the very start of the President's ascent to power. But the minister is no standard career politician. His first job was a sailor, only switching to local politics in the early 1980s – a colourful start that goes some way to explaining the minister's easy, folksy manner. His big break came in 1992, with a call to become deputy mayor to the city's liberal head Anatoly Sobchak. This is where he began to work alongside the future president.
Mr Mutko had a spell outside of government, in sports administration, before being summoned to head up Putin's sports ministry in 2008. It was a high-priority area for the government, which was looking to improve health and national self-esteem. And the minister enjoyed real successes in the post. He oversaw a turnaround in infrastructure investment and, most famously, coordinated a winning bid to hold the 2018 Fifa World Cup.
But if the highs were high, the lows were very low. At Mr Mutko's first major test, the 2010 Winter Olympic games in Vancouver, his country could muster just 15 medals – the worst performance ever by a Russian team. And he gained a reputation for scandal. First, Russia's Audit Chamber revealed that the minister had put in a breakfast expense claim for £3,300, or seven times the average monthly wage in Russia. Then, tennis player Maria Sharapova was found using meldonium, a banned supplement. And then the even bigger doping scandal broke.
World Cup 2018 Russia stadiums

Show all 12
At every moment, Mr Putin stuck closer to his long-time colleague. When the public demanded blood, he even promoted him to deputy prime minister. In the minister's own words, there was "no question" he still enjoyed the president's full support.
The Russian public seems to have a different opinion. In a recent online poll, more than 90 per cent said Mr Mutko's resignation would help restore confidence in Russian sport. The minister's relaxed demeanour leaves him for a moment: "What problems would it solve?" he asks. "I don't see that it would solve anything. You think they wouldn't exclude our athletes if I resigned?"
According to Grigory Rodchenkov, the former chief of Russia's anti-doping lab now in hiding in the United States, it was failure at Vancouver that triggered a massive government rethink on doping. There had long been a state programme, but now there was a step change. In testimony given to US investigators, he said he was entrusted with devising new steroid "cocktails" for athletes, and that he took part in a secret services-led operation to switch the urine samples of cheating athletes at the 2014 Sochi winter games. He alleged both the government and Mr Mutko were complicit in the plan.
Diaries reported by The New York Times purported to show the chemist met with his then-sports minister regularly. "I ate Mutko's grapes," Mr Rodchenkov wrote in one entry during the Sochi games.
Mr Mutko made no immediate comment on Mr Rodchenkov's claims, saying he had no time to read the diaries. Now, he says, he has, and he isn't impressed: "If you understood just a bit about what it means to be a minister, you'd understand. I was responsible for preparing the games, for building new labs, for making sure the sports facilities were right – everyone and everything. I had no time to have all these meetings with him. It's only now he's become famous around the world"
In 2015, when the World Anti-Doping Agency authorities were just beginning to investigate the Russian lab, Mr Mutko defended Mr Rodchenkov as a "true scientist". Such pleasantries disappeared soon after the chemist fled to America.
Mr Rodchenkov's conversion to the anti-doping cause was certainly a bizarre affair. In the documentary Icarus, he says he was motivated by a desire to expose an "Orwellian" system. Unsurprisingly, Mr Mutko offers a less charitable reading. The chemist had acted entirely on his own initiative in devising a "criminal doping system", he says. When Mr Rodchenkov realised the game was up, and there would be no more perks, he fled.
As for the serious allegations Mr Rodchenkov now makes against the Russian state – and Mr Mutko in particular – these were driven by "peculiarities of character", "the mania of a genius" and overriding "anger". The two men fell out at the moment he dismissed him, says the minister: "He begged me not to fire him. He said he had all kinds of compromising materials with which we could blackmail the West."
The International Olympic Committee, on the other hand, has verified much of the detail of the Mr Rodchenkov's claims, including the switching of sample bottles, and adding salt to urine samples to avoid detection. Investigators found scratches on some of the bottles, "consistent with the use of a mechanical device", and repeated tests showed elevated levels of sodium in the samples.
Mr Mutko says neither finding represented proof of wrongdoing by the Russian government. Both irregularities could "just as easily" have been engineered by Mr Rodchenkov himself.
He says he is prepared to defend his position in a "British" court. "Show me one state doping programme with my signature. Let me see the evidence – and something more substantial than eating imaginary grapes."
What certainly isn't on offer is a personal apology. "Understand me right, but doping can only happen with a sportsmen's consent," he says. "We are disappointed that some of our athletes broke the rules, and cheated, so, of course, we apologise for them."
This was not a time for him to leave the helm, and not with a World Cup around the corner. If people wanted to make him accept responsibility for mistakes, then they should allow him the responsibility to make things right.
"As long as I know how to do that, I will carry on doing what I'm doing," he says.
Register for free to continue reading
Registration is a free and easy way to support our truly independent journalism
By registering, you will also enjoy limited access to Premium articles, exclusive newsletters, commenting, and virtual events with our leading journalists
Already have an account? sign in
Join our new commenting forum
Join thought-provoking conversations, follow other Independent readers and see their replies