Vladimir Lenin is once again on display to visitors in Moscow's Red Square as mausoleum reopens
Shaun Walker meets the Communist party faithful as the Soviet leader goes back on display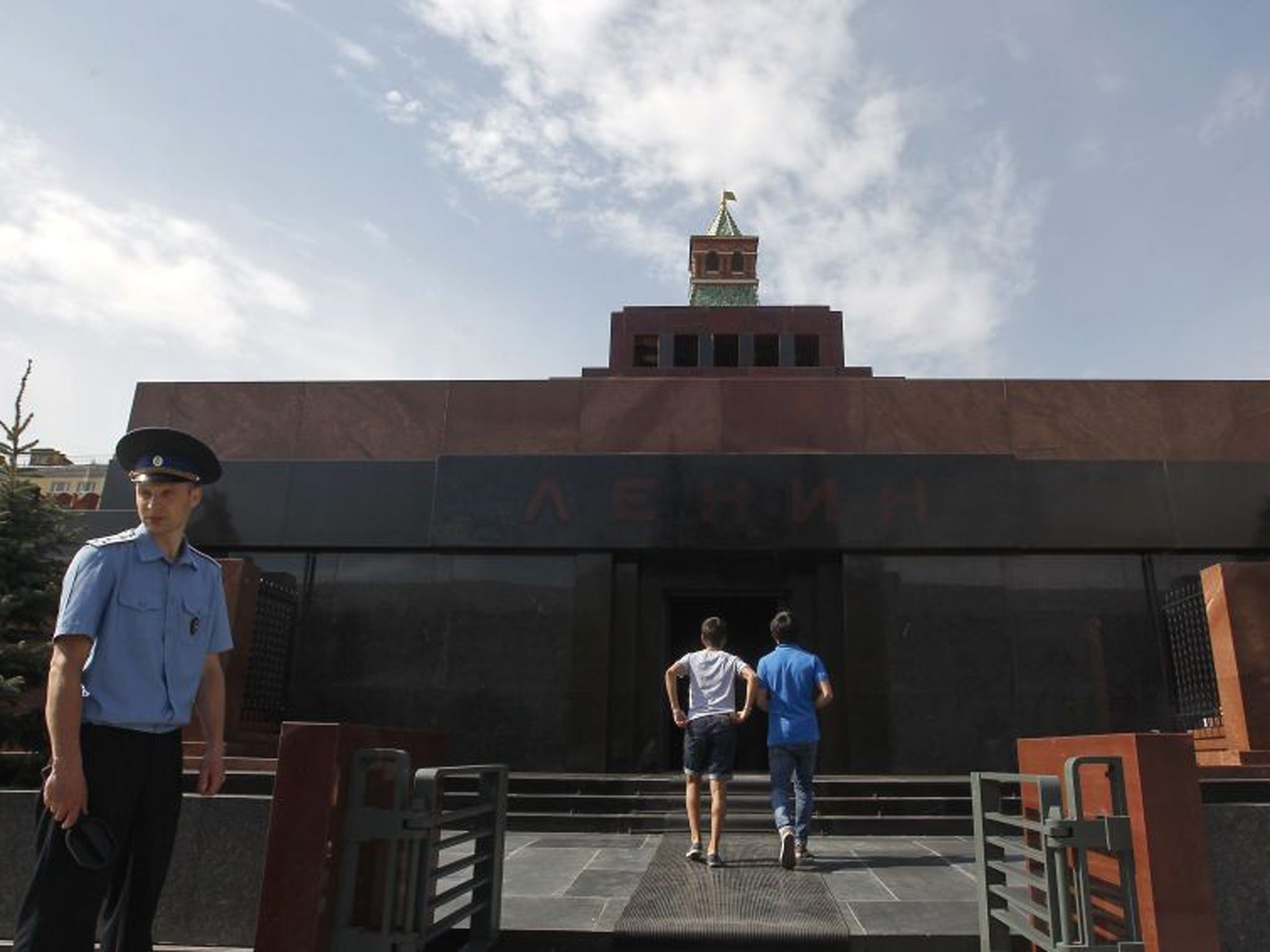 One shiny hand clenched into a fist, the other with its fingers rested gently on his thigh, an eerie half-light beams out from the glass coffin of the father of Bolshevism. His head is raised slightly and rests on a soft black pillow, the waxy hairs of his short ginger beard are coiffed into a sharp point, and his body is dressed in a suit and navy tie with white polka dots.
Nearly a century after the Russian Revolution he led, the mummified body of Vladimir Lenin is once again on display to visitors in Moscow's Red Square, after the mausoleum was closed for several months for renovations. More than two decades after the fall of the country he brought into existence, and 89 years after his death, Lenin's corpse continues to reside in the marble mausoleum in the very heart of the Russian capital. Debate continues to simmer about whether the first Soviet leader should be removed and reburied in a more conventional fashion.
The iconic mausoleum, built from red and black marble and embossed with five giant Cyrillic letters that spell "LENIN" above its entrance, has been encased in a huge white bubble for several months while renovations were carried out on its foundations, but reopened for the public on Wednesday.
By the opening time of 10am, there was a queue of around 100 people at the entrance to Red Square. Among them was a large tour group from China, none of whose members could speak either Russian or English, but who enthusiastically proclaimed "Renin! Renin!" repeatedly, giving a thumbs up sign.
Amid the Western and Chinese tourists there were a few Russians. Nikolai, 67, had travelled to Moscow from his home town of Bryansk with his son. "I first saw Lenin in 1967," he recalled. "I was part of an Arctic construction brigade going to build a power station in the far North, and on our way through Moscow we all stopped and came to see him." Having seen the Soviet leader over a dozen times since, he wanted to show Lenin to his son. "I brought him to see Moscow, and to see Lenin." He described the Soviet leader as "a great, unique man".
Others were less hagiographical about Lenin, who has been painted by some historians as a ruthless leader with plenty of blood on his hands. "I was walking past by chance and saw the queue, so I thought I'd go and have a look," said Natalia, a 24-year-old marketing manager. "I don't think Lenin should still be here, on display though, to be honest. He's part of our history, but a bad part. There is so much negative energy radiating from that coffin."
The inside of the mausoleum is dimly lit, causing temporary blindness for visitors who have stepped in from the bright spring sunshine of Red Square, and who are ushered in the right direction by solemn soldiers. There is no talking allowed, and no stalling inside, with guards moving on visitors and demanding that they keep walking around the coffin and towards the exit.
Lenin's body has been on display in the mausoleum since shortly after his death in 1924, except for a four-year break during the Second World War, when the corpse was evacuated to Siberia. To keep the body preserved, he is given regular baths and chemical treatments by a group of Russian scientists. The preservation experts are also believed to have worked on embalming the body of the late North Korean leader Kim Jong-il after his death in late 2011.
Lenin briefly shared his mausoleum with Joseph Stalin after the latter's death in 1953, but Stalin's body was later removed and is now buried nearby, close to the Kremlin walls.
A survey carried out in December last year found that only 25 percent of Russians thought that Lenin should remain on display in the mausoleum. Others thought he should be buried in the Kremlin wall, or in St Petersburg. Politicians have periodic debates about what to do with the Soviet leader but so far no decisive plan has been made to remove Lenin from public display.
President Vladimir Putin has said that the Russian people could decide to remove the body "when the time is right". Last year he said that Lenin should remain in the mausoleum, comparing his embalmed body to the Russian Orthodox tradition of preserving the relics of saints.
Join our commenting forum
Join thought-provoking conversations, follow other Independent readers and see their replies