Vladimir Putin is awarded grandmaster rank in taekwondo and given black belt - despite not practising the sport
Russian president now ranks higher than Chuck Norris in South Korean martial art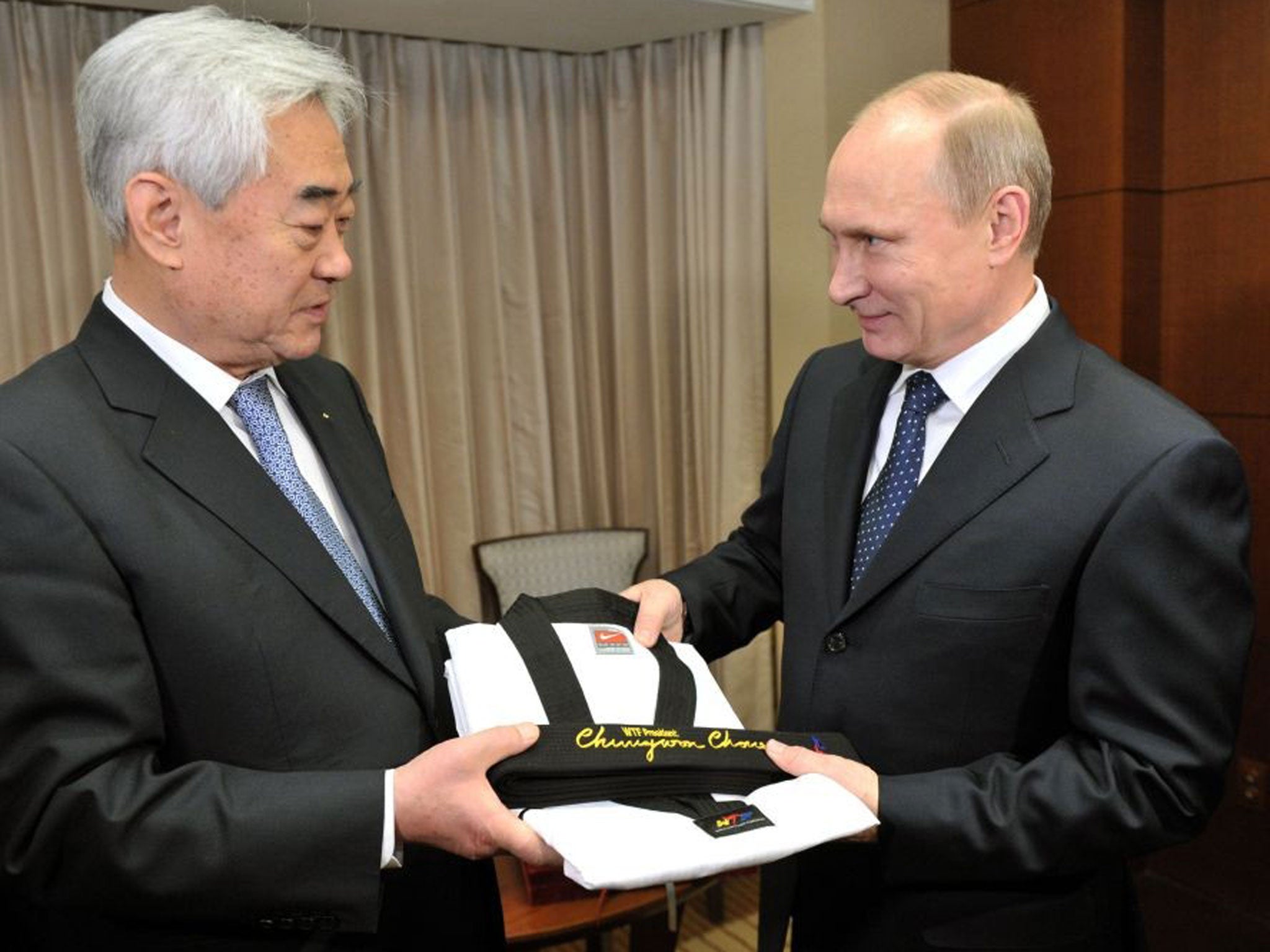 Russian president Vladimir Putin has been presented with a black belt and made a grandmaster of taekwondo during an official visit to South Korea, state media said.
Despite not actually practicing taekwondo himself, Mr Putin has achieved the elusive ninth Dan – meaning he now ranks higher than famous US martial artist Chuck Norris, who is stuck on the eighth.
A softer side: Scroll down for video of Putin crying  
On Wednesday the head of the World Taekwondo Federation, Choue Chung-won, presented the Russian leader with the belt and a diploma bestowing the honorary status, according to reports from the official RIA Novosti news agency.
It means Mr Putin now actually ranks higher in taekwondo than he does in judo, a sport which he still takes part in despite being 61 years old.
Named judo champion of Leningrad – now St Petersburg – in his youth, the president also starred in an instructional video entitled "Let's Learn Judo With Vladimir Putin" in 2008. He is a black belt – but only holds the eighth Dan.
Visiting South Korea to promote plans for a new Asian-European rail trade route, Mr Putin modestly said: "I don't think I have earned such a high Dan," adding that he would continue to do his part promoting the South-Korean-born fighting style in Russia.
An estimated 70 to 80 million people practice taekwondo worldwide, and previous honorary black belts have included US president Barack Obama, his South Korean counterpart Lee Myung-bak, and other leaders from Spain, Croatia, Pakistan, Indonesia and Honduras.
This week, Mr Putin let his tough guy persona slip while attending a concert dedicated to police officers who have died in the line of duty.
Surrounded by uniformed police generals, veterans and servicemen, the president was shown wiping a tear from his eye as a soft-rock ballad about police bravery came to a close.
Join our commenting forum
Join thought-provoking conversations, follow other Independent readers and see their replies