Vladimir Putin tells Russian media to 'cut back on fawning Donald Trump coverage'
Order reflects growing concern among senior Kremlin officials that new US administration will be less friendly than first thought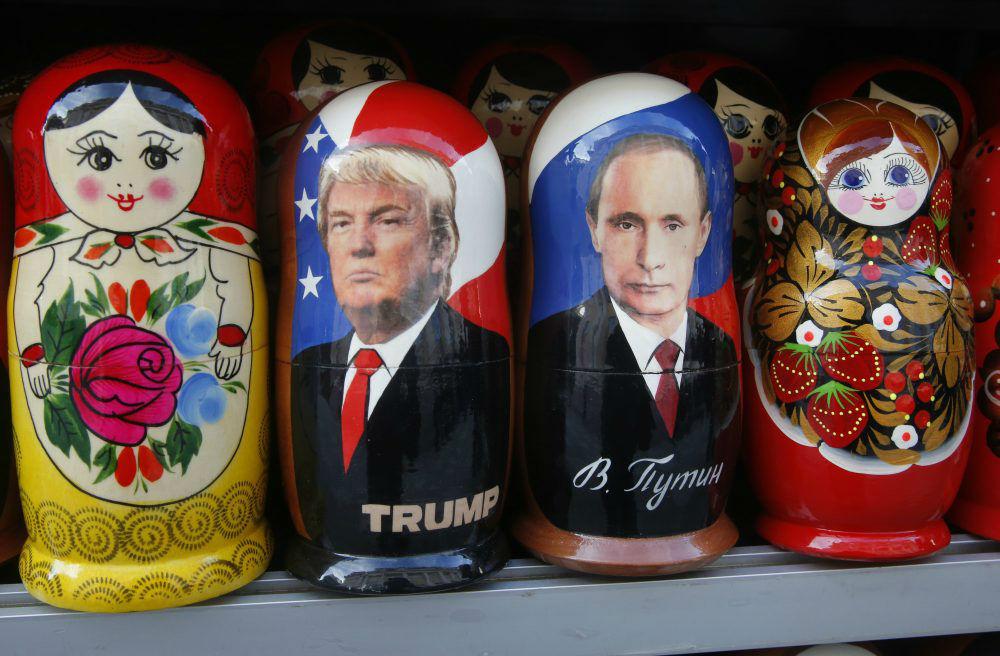 The Kremlin ordered state media to cut back on their fawning coverage of President Donald Trump, reflecting a growing concern among senior Russian officials that the new US administration will be less friendly than first thought, three people familiar with the matter said.
The order comes amid a growing chorus of anti-Russian sentiment in Washington, where US spy and law-enforcement agencies are conducting multiple investigations to determine the full extent of contacts Trump's advisers had with Russia during and after the 2016 election campaign.
Vladimir Putin's administration justified the decision to curb coverage of Trump by saying that Russian viewers no longer find details of his transition to power interesting, according to one of the people. In reality, some of the most popular TV segments on Trump touched on ideas the Kremlin would rather not promote, such as his pledge to "drain the swamp," the person said.
"They won't pour buckets of criticism on Trump, they just won't talk about him much," Konstantin von Eggert, a political commentator for TV Rain, Russia's only independent channel, said by phone. "The fate of Russia-American relations is much less predictable than it was just a few weeks ago."
The order marks a stark turnaround from just a few weeks ago. Trump's unexpected triumph over Hillary Clinton in November has been widely hailed in Russia as the beginning of a new era of cooperation between the former Cold War foes. Trump's campaign was watched with rapture as news anchors gushed over the novelty of hearing an American presidential candidate praise Putin.
But the wall-to-wall coverage went too far for the Kremlin's liking. In January, Trump received more mentions in the media than Putin, relegating the Russian leader to the No. 2 spot for the first time since he returned to the Kremlin in 2012 after four years as premier, according to Interfax data.
Russian media "determine their editorial policies absolutely independently" and it's "complete nonsense" that they were ordered to reduce coverage of Trump, Kremlin spokesman Dmitry Peskov told reporters on a conference call Friday.
The decision to temper the public's expectations for better relations follows the resignation of Trump's national security adviser, retired Lieutenant General Michael Flynn, who sat with Putin at a media event in Moscow in 2015 and is widely reported in Russia to be a sympathetic voice in Washington.
Other Trump associates whose activities the FBI and other agencies are examining include former campaign chairman Paul Manafort, who worked for a Putin ally in Ukraine for years, and energy consultant Carter Page, who used to live in Moscow and gave a speech here last summer. Manafort said in a statement he never had "any connection" to Putin or the Russian government.
Trump on Wednesday accused Putin of seizing Crimea from Ukraine in a series of Twitter posts that were delivered amid a flurry of allegations that his team has ties to Russia.
World reaction to President Trump: In pictures
Show all 29
"Crimea was TAKEN by Russia during the Obama Administration. Was Obama too soft on Russia?" the US president tweeted.
Russian officials, who had readily commented to local media on earlier news from Washington, suddenly became less talkative after the Crimea comment.
Bloomberg
Join our commenting forum
Join thought-provoking conversations, follow other Independent readers and see their replies