Vladimir Putin meets Italian Prime Minister amid effort to 'weaken' EU efforts against Russia
Mr Putin's meeting came 48 hours after G7 leaders threatened to step up sanctions against Russia over its intervention in Ukraine
Michael Day
Wednesday 10 June 2015 20:50 Comments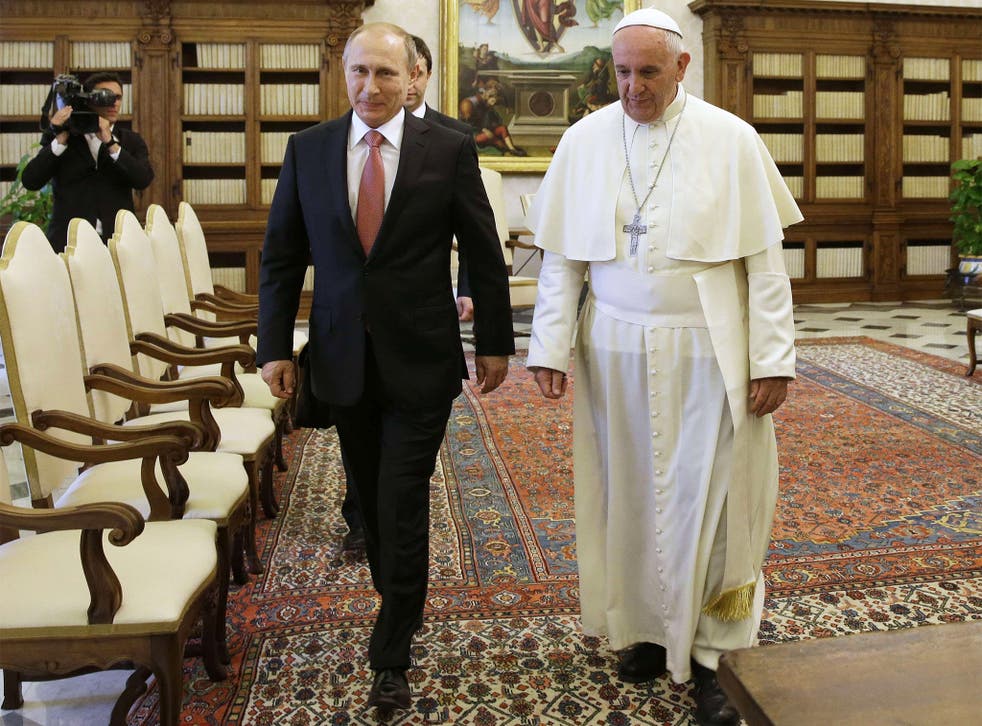 The Russian President, Vladimir Putin, has met with the Pope and the Italian Prime Minister as part of a diplomatic offensive in the last major Western European country that he can conceivably call an ally.
Mr Putin's meeting with the premier Matteo Renzi came 48 hours after G7 leaders led by Barack Obama and Angela Merkel threatened to step up sanctions against Russia over its intervention in Ukraine.
The Italian and Russian leaders discussed the G7 statement but, significantly, economic ties between the two nations, which burgeoned in the era of Silvio Berlusconi, were high on the agenda at the meeting at Milan's Expo 2015 trade fair.
An indication of how Rome wants the best of both worlds came last week when Italy's Foreign Minister Paolo Gentiloni said during a visit to Moscow that Italy sought to combine "fidelity and loyalty with its allies, plus a special relationship, strong in the economic sense, as well, with Russia".
La Repubblica said that Putin understood this, and saw his relations with Italy, as "a way to divide and weaken the EU and Nato's stance against him".
After the meeting with Mr Renzi, Mr Putin hailed the close political and economic relationship that he said had bound the two countries. But he warned that current sanctions, imposed after the annexation of Crimea by Russia last year, had already backfired. "Italian companies missed out on a billion euros," he said. "They could have given their enterprises work, created jobs. That didn't happen because of the sanctions."
Mr Renzi' statement could be described as diplomatic. He said: "The international picture is difficult," before adding: "Italy will work to resolve the Ukrainian affair," by helping to ensure the Minsk ceasefire agreement gets through its "current critical phase". However, the Italian Prime Minister showed no sign of withdrawing support for sanctions, as some observers had said he might. Some populist anti-EU movements including Italy's Northern League and France's Front National have criticised sanctions against Russia.
Mr Putin met Pope Francis at the Vatican later in the day. Ahead of the encounter, the US urged the pontiff to take the Russian leader to task for his country's actions in the Ukraine. "Maybe this is an opportunity where the Holy Father can privately raise concerns," said Ken Hackett, the US ambassador to the Vatican. Until now the Holy See has stopped short of condemning outright the Russian offensive.
Unconfirmed reports suggested that Mr Putin planned to dine later with his old friend Mr Berlusconi in the mogul's Rome residence.
Pope Francis has approved an unprecedented Vatican tribunal to judge bishops accused of covering up or failing to prevent the sexual abuse of minors. The tribunal will come under the auspices of the Congregation for the Doctrine of the Faith, the Vatican's doctrinal arm. Victims' groups have for years been urging the Vatican to establish clear procedures to make bishops more accountable for abuse in their dioceses.
REUTERS
Register for free to continue reading
Registration is a free and easy way to support our truly independent journalism
By registering, you will also enjoy limited access to Premium articles, exclusive newsletters, commenting, and virtual events with our leading journalists
Already have an account? sign in
Join our new commenting forum
Join thought-provoking conversations, follow other Independent readers and see their replies